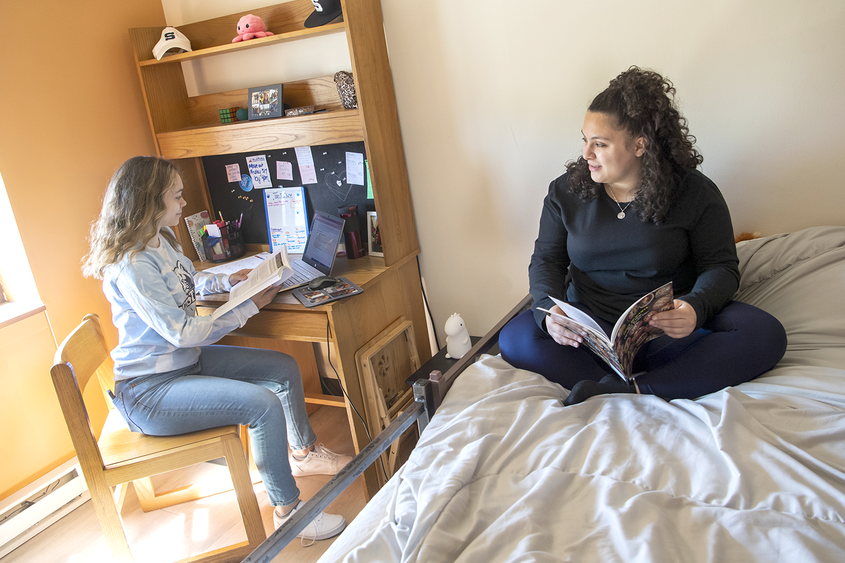 SCHUYLKILL HAVEN, Pa. — During its quarterly meeting this spring, the Penn State Schuylkill Advisory Board approved on-campus housing rates for the 2021-22 academic year. The competitive rates offer Penn State Schuylkill's students an on-campus living opportunity starting year one of their undergraduate experience. In addition, based on student feedback, a new option for single residency will now be offered in the campus's green-living residence hall, Nittany V.
Jonathan Kukta, Penn State Schuylkill's director of business services, led the team that conducted a benchmarking study to develop recommendations for the new rates and is currently implementing strategies to save costs and increase efficiencies throughout the housing lifecycle.
"Penn State Schuylkill is committed to providing our students with an accessible and affordable education that includes a safe and robust on-campus living experience," Kukta said. "We work hard to make sure our housing is available to students at a fair price while maintaining best-in-class amenities and service. With the support of our advisory board and campus leadership, we have been able to decrease our most popular standard double room rates in Nittany II, III, and IV by 7.9% this year."
Below are Penn State Schuylkill's housing rates for the upcoming 2021-22 academic year. These rates include all utilities plus unlimited wireless internet access.
Nittany I adult student and family housing
one bedroom $1,017 per month
two bedrooms $1,200 per month
Nittany II, III, and IV 3-bedroom apartment
double occupancy $3,210 per semester
single occupancy $4,210 per semester
Nittany V 3-bedroom, green-living apartment
double occupancy $3,800 per semester
single occupancy $4,400 per semester
Contemporary housing with students in mind
Every Nittany apartment suite comes equipped with a full-sized kitchen, as well as furniture and blinds to outfit the apartment's common areas. Bedrooms are furnished with beds, desks and dressers and feature a large walk-in closet; students provide bedding and linens, kitchen gear, rugs and other personal touches. Laundry facilities are conveniently located in each building.
The campus café, located in the Student Community Center, is close to the Nittany apartment complexes and open weekdays, offering a variety of affordable made-to-order and ready-made items plus Starbucks coffee and beverages.
Regard for student safety and security is a guiding concern, and access to all buildings requires a key card. Each complex has a staff of student resident assistants, and full-time, professional student affairs staff live on campus — providing educational and social programming and accessible support when student need arises. Additionally, the campus police unit is available and on-call 24 hours a day, seven days a week.
Learn more about living on-campus at Penn State Schuylkill, or contact Lauren McCarthy, associate director of Student Affairs, for more information about all the benefits, activities and perks that are part of the on-campus living experience at Penn State Schuylkill.