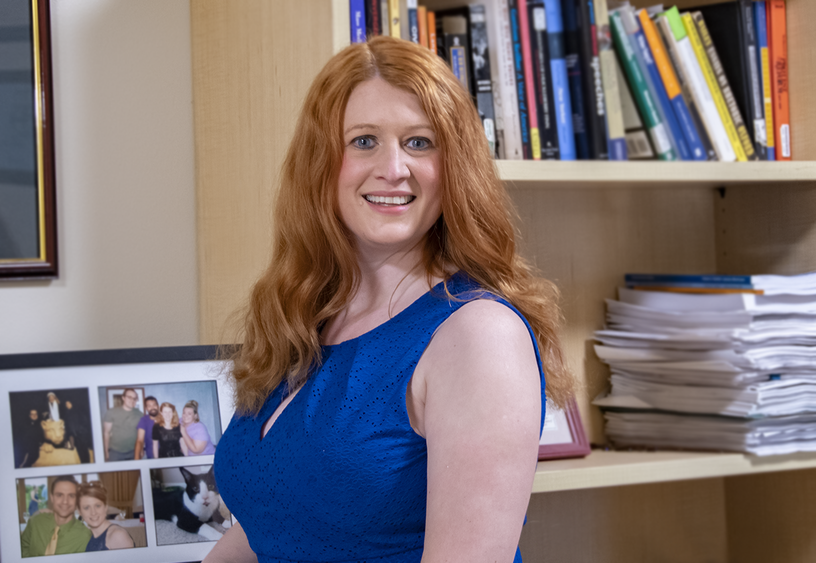 SCHUYLKILL HAVEN, Pa. — Valerie Schrader, Penn State Schuylkill associate professor of communication arts and sciences and Honors Program coordinator, was recently named to the Distinguished Honors Faculty Program (DHFP) of the Schreyer Honors College for a term of two years. The Distinguished Honors Faculty Program links Schreyer Scholars with some of Penn State's most esteemed faculty in innovative and interactive gatherings — to encourage the sharing of ideas, perspectives and academic research interests that expand upon classroom curriculum.
Beginning fall 2021, Schrader will be meeting with the Schreyer Scholars for small, informal discussions related to her research in rhetoric and musical theater. Currently, Schrader is planning for in-person events at University Park and in collaboration with other Schreyer campuses. She will also schedule virtual events that will allow Schreyer Scholars at any Penn State campus to participate. In the spring, she said, she will revisit her plans, and depending on federal, state and University health guidelines, she hopes to schedule a field trip with the Schreyer Scholars to see a theatrical production in person.
While Schrader said her schedule for the 2021-22 academic year is still in the works, thus far she is planning two events, including an in-person event at University Park where she will share a recorded performance with the Schreyer Scholars and then walk participants through an analysis of the performance. Schrader is also planning a virtual event — where she will engage with a broader topic regarding the general analysis of musical theater through rhetorical constructs and communication theories — that will allow Schreyer Scholars across all the campuses to participate.
Schrader will continue as Honors Program coordinator at Penn State Schuylkill — planning activities and advising and mentoring honors students. Additionally, Schrader's teaching schedule and her work with the communication conference honors students will remain unchanged.
"My Schuylkill honors students are extremely important to me," emphasized Schrader, "and I will continue to provide a positive honors experience for them in addition to my work with the Schreyer Honors College."
Schrader said she is ready to assume her new role as part of the DHFP as she looks forward to working with Schreyer Scholars at University Park and across the commonwealth. In part, she envisions it as an extension of her current responsibilities as the Honors Program coordinator and the work she has done at Penn State Schuylkill for many years — creating an immersive and well-rounded extracurricular cultural experience.
"I look forward to mentoring the Schreyer Scholars," stated Schrader. "Working with honors students is one of my favorite parts of the job, and here at Schuylkill I have always sought to contribute to our honors students' experience by providing them with as many opportunities as possible, whether that's a cultural experience to a city they've never visited or presenting research at a conference. I'd like to bring this outlook to my new role with DHFP."
Schrader is the first Penn State Schuylkill faculty member appointed to the DHFP, and Darcy L. Medica, director of academic affairs, acknowledges the uniqueness of the opportunity.
"Dr. Schrader goes above and beyond in the classroom, in her research, and in her dedication to the Penn State Schuylkill Honors Program," Medica said. "This honor is well-deserved, and I look forward to seeing how Dr. Schrader makes the most of this incredible opportunity."
Schrader, herself a Schreyer Scholar, credits her honors experience as pivotal in shaping her undergraduate academic journey and her professional career. She explains her connection to, and passion for, her new role: "In a lot of ways, being able to contribute to the Schreyer Honors College programming feels like coming full circle or coming home."
Learn more about Schrader's research and work, and the many advantages of the Penn State Schuylkill Honors Program.