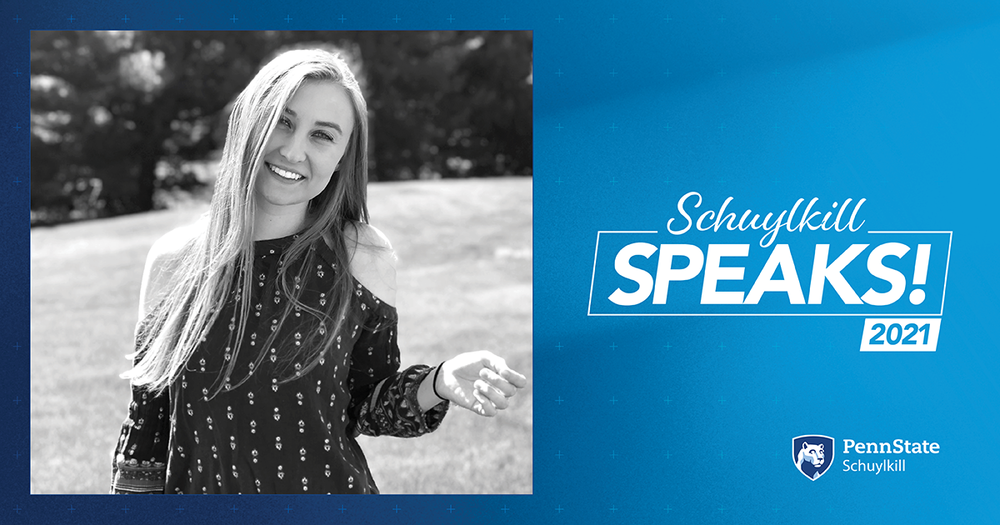 Editor's note: This story is part of a series profiling exceptional members of Penn State Schuylkill's spring 2021 graduating class. For more stories like Hahn's, visit schuylkill.psu.edu/2021-graduates.
SCHUYLKILL HAVEN, Pa. — Julia Hahn is a Schuylkill County native with insatiable ambition and unbridled passion. Last weekend, she earned her bachelor of science degree in biology and next will apply to medical school, where she hopes to specialize in pediatrics.
After graduating from high school in 2015, Hahn began her college career at a university in northern Pennsylvania, but shortly decided to return home to Schuylkill County. After becoming a mother to her son, Ryker, she knew she wanted to finish what she started and complete her undergraduate degree. With her family's support, she returned to the classroom as an undecided major at Penn State Schuylkill, ultimately pursuing a degree in biology.
Hahn is a busy woman. She has not only managed a full-time course load, but also a job at Goodwill Keystone Area, shuttling Ryker to and from daycare, and conquering rigorous upper-level course work. And her hard work paid off. This spring, Hahn earned Schuylkill's Biology Award, an honor granted to one student annually at the campus's Academic Program Awards Ceremony in celebration of students who perform outstanding work in their disciplines.
"Julia is an exceptional student and such an inspiration," said Brenna Traver, associate professor of biology. "She has persevered and accomplished so much, all while working and raising her 5-year-old son Ryker. In her very limited free time, she decorated her cap for graduation with the words, 'When I wanted to give up, I remembered who was watching ...' along with a picture of Ryker. It has been a pleasure to have been part of her journey."
For the next year, Hahn said she plans to slow down and take a breath before continuing her education. She will be taking a gap year as she prepares for the MCAT, researches medical schools, and helps Ryker prepare for kindergarten.
Despite her jam-packed schedule, Hahn took a few moments to reflect on her time at Penn State Schuylkill and ponder her next steps.
Q: Outside of academics, what was the most valuable lesson you learned?
Hahn: The only person who stands in your way of achieving something is you. You've heard this a million times. Your mom might have a magnet on the fridge that says this exact slogan. But I've found it to be an important lesson in my life. So many times, I received plenty of negative comments and doubts about being a young, single mother. There were times when I questioned, "Can I realistically accomplish this?" While I questioned my abilities, I found strength and determination. Once I got back into my college journey, with a baby on my hip, I worked incredibly hard. I was so determined to finish my college education. With the help of babysitters, family members, and daycare, and after long days and even longer nights sometimes, I am a proud Penn State graduate.
I didn't let negativity prevent me from chasing what I wanted. I had to push myself over a huge hill of doubt that stood in my way after having a child. With each passing semester after that, I gained more and more confidence in myself. You can do this. You can accomplish anything you set your mind to. There will be days when you find yourself questioning if you can continue, if you can really do this. Let the doubt fuel you and drive you to keep going. Frequently take time to look at how far you've come and what you've accomplished and realize that you've got this, and you can finish strong and achieve your goals. 
Q: Do you have a favorite Penn State Schuylkill memory?
Hahn: I genuinely loved my time at Penn State Schuylkill. Picking one memory is hard because I can't label them all my favorite, but each one made my journey so unique and so special.
One of my favorite memories was being a teaching assistant for Dr. Brenna Traver. That was the moment that I realized that she saw true potential in me and gave me more confidence in myself and my path in biology. I remember things like measuring trees in the woods behind campus in a torrential downpour in one of Dr. Lucas Redmond's classes. I remember racket sports with my former tennis coach, Dr. Mark Abel. I have so many memories that didn't seem so important at the time, but looking back, I realize that I will never forget them.
Q: What will you miss most about campus?
Hahn: More than anything, I will miss my professors. Especially those who I have gotten a chance to connect with and bond with. I have been very grateful to have an incredibly supportive adviser and teachers, who have been nothing short of critical on my college journey.
Q: As a new graduate, what advice would you give to an incoming student about college in general, and Penn State Schuylkill, specifically?
Hahn: The best advice I could give to someone entering college is that college is a journey. The years spent in college will define you. They will define the person that you present to the "real world" when you walk out the other side with a degree. The path you choose to take on this journey is entirely your own. You get to control your classes and your major, and don't take that lightly because that's ultimately what controls your future. If you are unhappy in your major, change it! Do not force yourself to stick with it because you've pursued it for years. Don't force yourself because your parents think you should. You will have so many opportunities in college to discover where you fit and where you are meant to be.
Another important piece of advice is to not let setbacks get in your way. Life will never be perfect, and it will never pause itself for you. You will endure heartbreak, loss and important life-changing moments on your college journey. You can push past anything. Your teachers and advisers can be a tremendous help in this regard — if you openly communicate with them. Don't let anything stop you or hold you back from your degree and from your future.
To students beginning their journey at Penn State Schuylkill, you should be proud knowing that you may be at a small campus, but a mighty one. You have the opportunity to continue your journey here for the duration of your college career, or you may transfer to University Park, or even another campus. You have these amazing choices, which is an incredible tool for your success. But one of the best parts about Penn State Schuylkill is the small classes. This gives you a much more personalized education, and the opportunity for your professors to see who you are as an individual.
I can't stress this enough: make those connections! Personal communication and connections with your professors are so important. Take advantage of the small, tight-knit nature of the campus.
Q: When you pursue medical school, what would you like to specialize in and why?
Hahn: Pediatric medicine. I have always connected well with children and have always loved to be around them — babysitting, volunteering in a childcare center and more. I think this coincides well with my love and desire to enter the medical field. I have also gained many experiences at various doctors and specialties with my son, and it just furthers my desire to enter pediatric medicine.
Q: Where do you see yourself next year? In five years?
Hahn: In the next year, I see myself gaining experiences at medical facilities, preparing myself to take the MCAT, and putting in applications to medical school. In my personal life, my son begins kindergarten next school year, which is a huge milestone for us. It is exciting watching him grow, and learn, and develop his personality. In the next five years, I hope to be a medical school student.