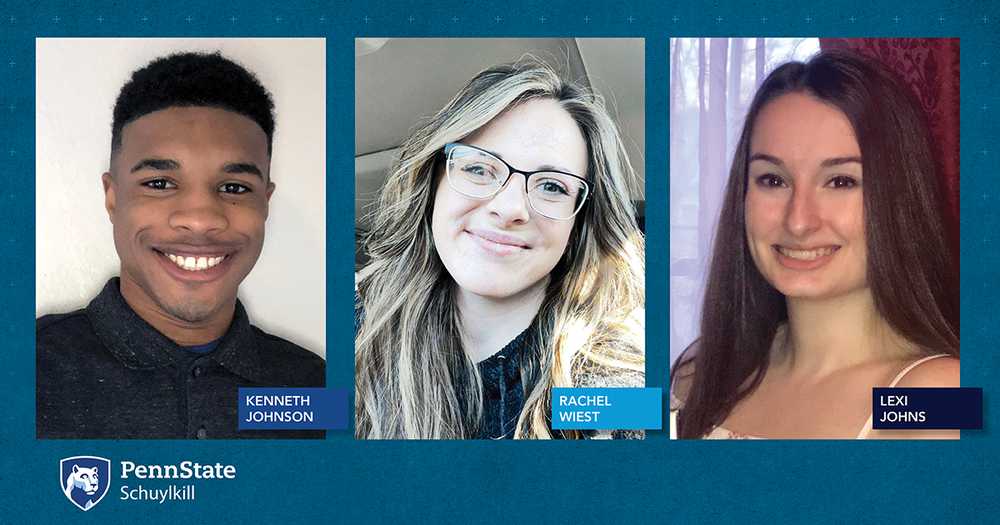 SCHUYLKILL HAVEN, Pa. — Members of the Penn State Schuylkill chapter of Pennsylvania Phi Beta Lambda (PBL) — part of a national student business organization, Future Business Leader of America (FBLA) — participated in the 49th annual Pennsylvania Phi Beta Lambda State Leadership Conference from April 9-10. The annual state conference hosts students from more than 25 local chapters to compete in various contests designed to bolster professional development and simulate real-world experiences.
Six members of the campus Phi Beta Lambda chapter competed in the spring competition, with two students earning top finishes.
Junior Rachel Wiest, a business major with a management and marketing option, earned first place in the Statistical Analysis event. This objective online test measures abilities in descriptive statistical analysis, organizing and presenting data, sampling techniques, confidence intervals, and hypothesis testing. Her first-place finish qualifies Wiest to compete in the national competition that will take place virtually June 24-26.
"My participation [in PBL] has provided a chance to meet new people and expand my network for future employment," said Wiest. "I am so grateful for the many opportunities PBL has given me as I move forward with my undergraduate degree."
Sophomore Kenneth Johnson, whose major is currently undeclared, took third place in the Public Speaking competition with his speech on money management. This five-minute performance comprises a speech with a business-related or current event topic developed from one or more of the Future Business Leaders of America-Phi Beta Lambda (FBLA PBL) goals.
Other members of the Penn State Schuylkill PBL chapter who participated in the state competition include:
Joahlana Najunas (sophomore, business – marketing; psychology minor)

Lexi Johns (junior, biology)

John Lindenmuth (junior, business – management and marketing; communication and mass media minor)

Evan Sukeena (senior, project and supply chain management)
Schuylkill student selected for statewide office
Johns also was selected to serve as vice president of the Pennsylvania Phi Beta Lambda (PA-PBL) State Executive Council for the 2020-21 academic year by the State Executive Board. In this role, Johns has helped plan events, workshops and this year's first-ever virtual state leadership conference. She helped execute plans related to service projects, social media engagement and membership recruitment.
In addition to her position at PA-PBL, Johns is the president of the campus chapter, as well as a founding member of note. After participating in the Future Business Leaders of America organization in high school, Johns felt the collegiate arm of the organization would be a good fit at Penn State Schuylkill. She presented the idea to the campus Business Society club, which voted unanimously to apply for chapter membership. In fall 2019, the business club transitioned to become an official chapter of the Phi Beta Lambda national honor society.
"I am so proud of the campus Phi Beta Lambda chapter for staying involved and connected in such an unprecedented year," said chapter adviser Lisa Robinson, instructor in business at Penn State Schuylkill. "2021 was the first year that the Pennsylvania PBL leadership conference went virtual. It was a new experience for all of us, but the team at PBL did an amazing job at keeping everyone engaged through workshops and interactive events. The national conference for FBLA-PBL is coming up at the end of June, and we are looking forward to attending — virtually, of course."
Penn State Schuylkill's Phi Beta Lambda chapter is just one of more than 30 student organizations on campus that help enrich the student experience. Learn more about extracurricular and academic opportunities at Penn State Schuylkill.