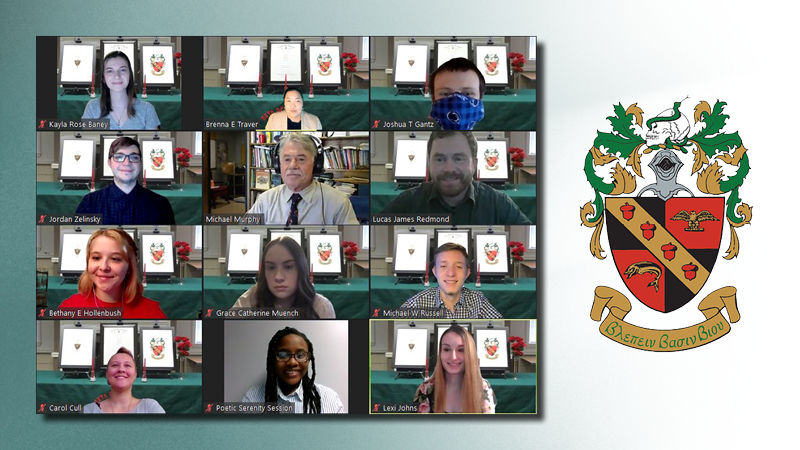 SCHUYLKILL HAVEN, Pa. — Penn State Schuylkill held a virtual induction ceremony for Theta Chi Theta, the campus chapter of TriBeta, the national biological honor society, on Friday, April 16. Six new students were inducted as associate members, and five others were promoted from associate to regular membership.
Michael Russell, junior biology student and TriBeta president-elect, said, "As president-elect of TriBeta, I would like to say just how proud I am to be involved with such a motivated and caring group of peers and faculty. I am proud of all of our accomplishments and I am thankful that all of our hard work has allowed us to keep the Theta Chi Theta chapter of TriBeta strong at Penn State Schuylkill."
The following students were promoted to regular membership:
Carol Cull
James Devlin
Caitlyn Goggin
Bethany Hollenbush
Joseph Medica
The following students were inducted as associate members:
Dominic Agnello
Briana Butler
Cierrah Ford
Poetic Session
Elizabeth Stahl
Jordan Zelinsky
In addition to inducting and promoting members, several students were recognized as the organization's officers-elect for the upcoming 2021-22 academic year. Those students include:
President-elect: Michael Russell
Vice president-elect: Lexi Johns
Secretary-elect: Caitlyn Goggin
Treasurer-elect: Grace Muench
Historian-elect: Bethany Hollenbush
This event featured guest speaker Michael Murphy, professor of biology at Portland State University, who offered students advice as they continue and complete their studies. He also spoke about his work in a talk titled, "Chasing Kingbirds: There and Back Again."
The objectives of the society are to "promote scholarship in the biological sciences, to promote the dissemination of biological knowledge and to encourage research," Penn State Schuylkill's new inductees look forward to contributing to that objective.
Senior biology student and TriBeta secretary Kayla Baney said, "TriBeta has been a welcome distraction from the past year. Our weekly virtual meetings have given us the opportunity to meet with friends safely and stay connected with professors. This induction represents a new beginning for old and new members — a chance to start planning for the fall semester and get excited for what the future holds."
To learn more about Penn State Schuylkill's biology program and options, visit the campus's biology webpage.