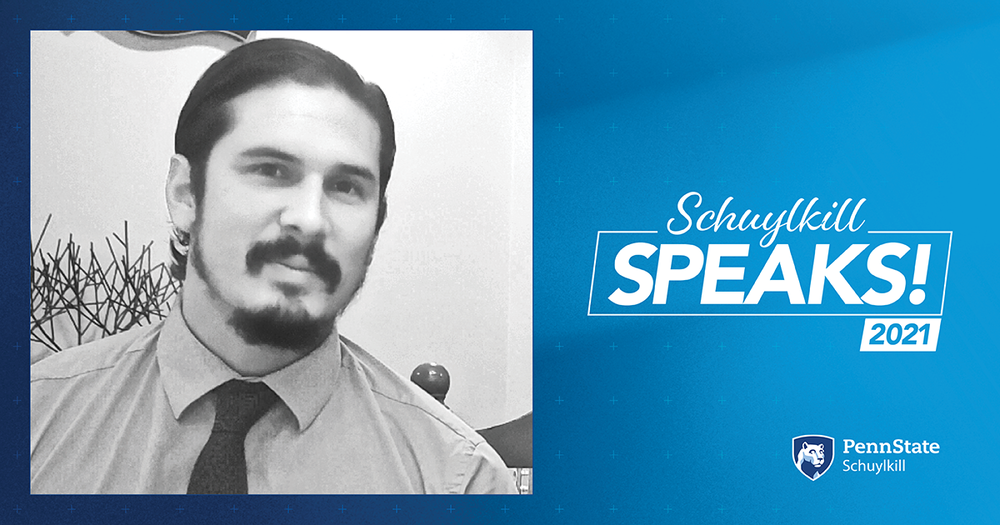 Editor's note: This story is part of a series profiling exceptional members of Penn State Schuylkill's spring 2021 graduating class. For more stories like Mitchell's, visit schuylkill.psu.edu/2021-graduates.
SCHUYLKILL HAVEN, Pa. — Mitchell Stokes is a high-achieving adult learner with an extensive list of responsibilities. A Navy veteran, Stokes is an entrepreneur who owns and operates his own gym in Schuylkill Haven; he is a father to a little girl; and he will continue his studies after he earns his undergraduate degree this spring.
The Orwigsburg, Pennsylvania, native and Blue Mountain High School alumnus said he was initially hesitant to return to the classroom, but has excelled in his undergraduate studies. In 2019, he was inducted into SALUTE Veterans National Honor Society as well as Alpha Sigma Lambda, a national adult honor society. That same year, he would speak at Penn State Schuylkill's annual Veterans Day Ceremony.
Stokes has broadened the perspective of fellow students by sharing some of his experiences in the armed forces in an unconventional way: through theater.
In spring 2019, Penn State Schuylkill's THEA 282: Production Practicum students wrote, produced and performed "You Matter," a production about suicide prevention. The subject matter was difficult, but sparked meaningful discussion among the student body. Following the production, Catherine Fiorillo, associate teaching professor of theater and speech, invited Stokes to speak about how mental health, suicide, and serving in the armed forces has impacted him and other veterans. These experiences are what have motivated him to pursue a degree in psychology.
"Mitch is an awesome student and person," said Fiorillo. "He shared personal, powerful stories about his military service prior to his time at Penn State Schuylkill, and they really enriched the entire class. I know Mitch will have an amazing future because he is not only driven and passionate to better himself, but also naturally connects with people and genuinely cares."
Though fatherhood, owning a business, and end-of-semester projects are keeping him busy, Stokes took time to reflect on his years at Penn State Schuylkill.
Q: What extracurricular activities were you involved in, and how did they impact your time on campus?
Stokes: I currently manage my own small business and spend my winter coaching wrestling at Blue Mountain High School. Between that and being a single father, I didn't have much chance to engage on campus besides lecture. Oftentimes I was in a hurry to get to my next obligation rather than socialize with other students and faculty. I did get the chance to speak at the annual Veterans Day Ceremony in 2019 and a suicide awareness presentation, which I really enjoyed being a part of.
Q: Outside of academics, what was the most valuable lesson you learned?
Stokes: I am never too old to learn. I was apprehensive about pursuing a degree after such a long absence from the classroom. The people at Penn State Schuylkill were very helpful in getting me started and were enthusiastic about me attending classes. Cathy Fiorillo was great at getting me out of my shell during the first semester, and that got me feeling more confident. I may not be the typical student, and sometimes I have to review more to remember details. But at 35, I feel very capable as I head into graduate school.
Q: Do you have a favorite Penn State Schuylkill memory?
Stokes: I really enjoyed my chats in the campus police office with Sergeant Steve Guers. It's always fun talking about wrestling with a former coach who loves the sport. In general, running into familiar faces was great. Some of my neighbors from my childhood work on campus, and it's been fun to run into them.
Q: What will you miss most about campus?
Stokes: I will miss the small-community feel. Several people who work on campus I have known personally since I was a kid growing up locally. I wouldn't have gotten that somewhere else.
Q: As you near graduation, what advice would you give to an incoming student about college in general, and Penn State Schuylkill, specifically?
Stokes: The faculty and other supporting staff are here to see you succeed, so engaging with them and asking for help when needed is paramount. No one can help you if you do not communicate with others. Also, set the bar high for your academic goals. If your sole goal is to earn a degree by passing classes, I think you are missing out on your higher education experience. "Cs might get degrees," but they do not always help expand your mind. Set your sights higher than simply eking by; you will learn far more about yourself as well as your chosen major. Go the extra mile when you can; you will be happier with yourself by setting yourself apart from being average and instead being excellent. That's what a Penn State education has always meant to me: excellence.
Q: How did your time in the armed forces impact your education?
Stokes: During my time in the Navy, I had the opportunity to attend Basic Underwater Demolition/SEAL training. It was through this experience that I learned to be comfortable being uncomfortable. At one point I fractured my tibia during a training accident involving a nighttime amphibious exercise. I was given a choice to quit or try to make it through the week. I continued for an entire hell week, running easily over a hundred miles, completing miles of ocean and bay swims, boat races, and lifting heavy logs — all of this with no sleep. It proved to me that I can do anything, regardless of any disadvantageous circumstances. No difficulty I have encountered since then has been able to keep me down for long. Bringing that no-quit spirit allowed me to power through difficult late-night hours studying for exams and writing long research papers. It was difficult. Things got hard sometimes, especially during the COVID-19 lockdowns. Remote learning was not advantageous for me as I did better with in-person instruction. But I was warm and dry, and I got to sleep in my own bed each night. I just kept telling myself, "This is the easy stuff. You have been through far worse."
My choice in major and career path also was heavily influenced by my service. Many great people I have served with have suffered from mental illness over the last decade. Seeing the growing problem of an underserved group of people who gave so much to others really bothers me. That is why I shifted majors from exercise science to psychology. I decided I wanted to be part of the solution.
Q: Where do you see yourself next year? In five years?
Stokes: I will be attending Kutztown University to pursue a master's degree in social work and ultimately become a licensed clinical social worker. It is my goal to be able to serve as a mental health professional within the U.S. Department of Veterans Affairs.