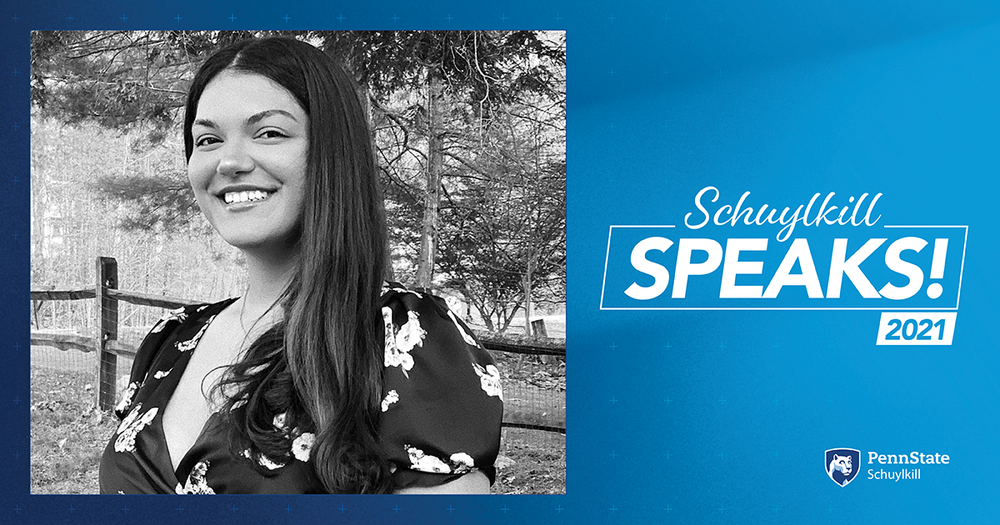 Editor's note: This story is part of a series profiling exceptional members of Penn State Schuylkill's spring 2021 graduating class. For more stories like Rivera's, visit schuylkill.psu.edu/2021-graduates.
SCHUYLKILL HAVEN, Pa. — Kiana Rivera is a Schuylkill County native who juggles a wide array of responsibilities. Rivera works a part-time job while committed to a full-time college course load, and she and her fiancé, Erech, are in the process of purchasing their own home. While navigating work and the purchase of her first home coupled with college commitments, she will earn a bachelor of arts degree in psychology with a minor in sociology this spring. Rivera has been selected to deliver the student speech at the upcoming spring commencement ceremony.
Rivera grew up in Auburn, Pennsylvania, and graduated from Blue Mountain High School in 2017. She recently had the opportunity to return to her high school alma mater to serve as a teaching assistant for the "Introduction to Psychology" course offered through Penn State Schuylkill's Dual Enrollment Program.
During her time at Penn State Schuylkill, Rivera received financial aid awards for academic excellence, including the Commonwealth Campus Advance Standing Scholarship and the Chancellor Award. This standout student is a member of the campus's Honors Program and will graduate with cum laude distinction.
"Kiana is a hard-working, high-achieving student who truly represents what it means to be a Penn State Schuylkill honors student," said Honors Program Coordinator Valerie Schrader. "Kiana puts her heart into everything she does, and it has been wonderful working with her over the past two years. I know she's going to go on to do amazing things."
Following graduation, Rivera will work as a blended case manager at Service Access and Management in Pottsville. This work allows her to immediately employ her degree, and she eventually plans to pursue graduate studies in the same discipline. Ultimately, Rivera seeks to help women and children who are victims of abuse and assault and hopes to have her own practice devoted to these individuals.
When she is not working or studying, Rivera enjoys spending time with family and friends as well as outdoor activities such as hunting and kayaking. While she looks forward to a break from her studies to spend more time outdoors, she took a few minutes to think back on her time at Penn State Schuylkill.
Q: What extracurricular activities were you involved in, and how did they impact your time on campus?
Rivera: I was only part of the Honors Program because of having a part-time job. However, being part of the honors program impacted me greatly. It encouraged me to work harder and get out of my comfort zone.
Q: Outside of academics, what was the most valuable lesson you learned?
Rivera: The most valuable lesson I have learned is that in order to succeed, you have to get out of your comfort zone. Do things you never thought you would be capable of and you will be prouder of your accomplishments in the end.
Q: Do you have a favorite Penn State Schuylkill memory?
Rivera: My favorite memory was having the opportunity to be a teaching assistant for one of my favorite professors, assistant professor of psychology Jessica Saalfield.
Q: What will you miss most about campus?
Rivera: I will miss all of the professors and all of the amazing people I have met along the way.
Q: As you near graduation, what advice would you give to an incoming student about college in general, and Penn State Schuylkill, specifically?
Rivera: I would advise incoming students to not worry about every little bump in the road. Face your obstacles head on and be proud of every single accomplishment, no matter how small. Because no matter what obstacles we face in life, they always allow us to grow.
Q: What made you want to pursue a psychology degree, and what was the most memorable part of the program for you?
Rivera: I have changed my major many times, like most students. However, psychology interested me because I am passionate about helping people and guiding them down a path to success. The most memorable part of the program was preparing research for the on-campus poster conferences and being able to present my work.
Q: Where do you see yourself next year? In five years?
Rivera: In the next year I see myself working independently in the field. I recently got hired for a blended case manager position at Service Access and Management Inc., in Pottsville, so I see myself working with individuals with a broad range of disorders. My end goal is to help women and children who are victims of abuse and assault. Eventually, I hope to have my own practice focused on that.