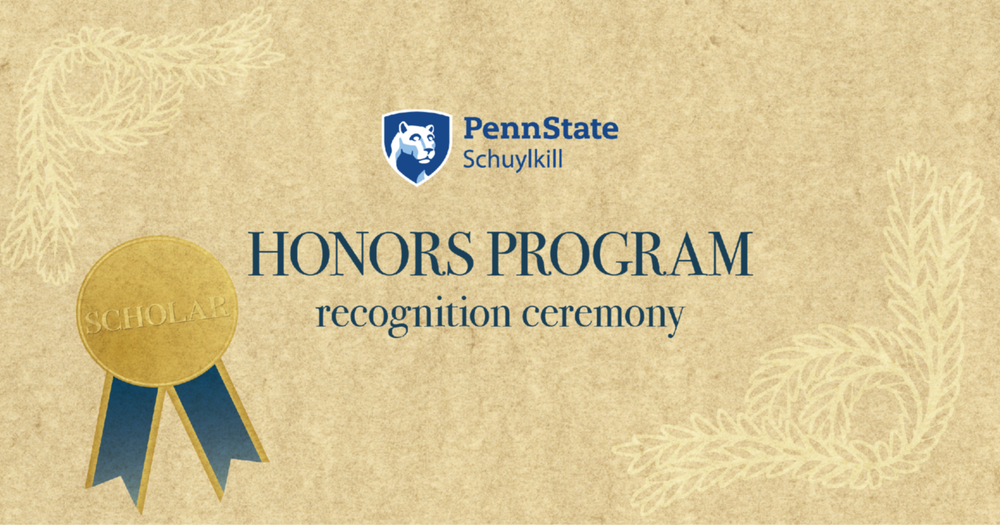 SCHUYLKILL HAVEN, Pa. — Penn State Schuylkill celebrated the achievements of its Honors Program students during a virtual ceremony held on April 20. This annual event recognizes the exemplary effort and dedication required of Penn State Schuylkill Honors Program students. Opening addresses by Chancellor Patrick Jones and Darcy Medica, director of academic affairs, extolled the merits of the program and the importance, now more than ever, of the student experience in rigorous, fact-based research and academics.
The program offers opportunities for students to enrich their education through honors coursework, research with faculty, and educational extracurricular activities, including visits to museums and historical sites, team-building workshops with peers, and, in more typical times, attendance at various live performances, travel opportunities and more.
Incoming first-year students with a 3.5 GPA or higher may apply to the program, and eligibility is incumbent upon maintaining the minimum honors course load, a 3.3 GPA, and meeting all other program requirements, including the upholding of the Honors Code based on the Penn State values. Honors courses and independent honors options are part of individualized academic plans developed collaboratively with students, academic advisers, and Honors Program coordinators.
"We are so proud of all of our honors students," said Valerie Schrader, associate professor of communication arts and sciences and program coordinator. "To achieve academic excellence, especially during a global pandemic, is no easy task. I think many people assume that being an honors student is just about being smart, but it's also about working hard, being a good person, and embodying the Penn State values. Our Penn State Schuylkill honors students exhibit all of these characteristics, and working with them as honors coordinator is one of the favorite parts of my job."
The Honors Program awardees for spring 2021 are:
Honors Cord Recipients
Honors cord recipients are students who are graduating with a baccalaureate degree who have also achieved the required number of Honors credits for each year of membership.
Richard Harper (two year member, graduated fall 2020)
Adam Moyer (four year member, graduating summer 2021)
Kiana Rivera (two year member, graduating spring 2021)
Rebecca Vilella-Perez (one year member, graduated fall 2020)
Honors Program Graduating Students
All graduating students who are members in good standing in the Honors Program.
Richard Harper (bachelor of arts in psychology, minor in sociology)
Adam Moyer (bachelor of arts in corporate communication, minor in communication arts & sciences)
Kiana Rivera (bachelor of arts in psychology, minor in sociology)
Rebecca Vilella-Perez (bachelor of science in administration of justice, minor in sociology)
Rachel Wiest (associate of science in business administration)
Students are awarded certificates based on the number of honors course credits completed. Each year signifies seven honors course credits earned. Those students who complete at least one honors course credit earn a certificate of participation.
First-Year Certificate
Caitlyn Albitz
Jeffrey Alloway
Almadelia Cardona
Emily Carestia
Brendan Dotter
Karandhir Flora
Dominique Hughes
Michael Johnson-Ponce
Hannah Meyer
Kathryn Muth
Paige Pratt
Kayleigh Raczka
Caleb Reedy
Hayley Salen
Logan Seddon
Poetic Session
Jonathan Stacey
Rachel Wiest
Second-Year Certificate
Sophia Bates
Shannon Domermuth
Sean Duffy
Gabriel Fleming
Morgan Lusch
Dylan Miller
Grace Muench
Joahlana Najunas
Dylan Reber
Colleen Reed
Kiana Rivera
Amber Rupp
Cassandra Ward
Third-Year Certificate
Corinne Ellis
Lexi Johns
Saige Lowe
Adam Moyer
Colleen Reed
Michael Russell
Courtney Weikel
Fourth-Year Certificate
Honors Participation Certificate
Emily Alarcon
Dean Amato
Kayla Baney
Daiquon Banks
Aridayli Cespedes Beltre
Saidah Burke
Austin Cain
Bryan Daniels
Kevin Devine
James Devlin
Joshua Gantz
Christina Gerlott
Ximena Gonzalez
Kyla Guillermo
Bethany Hollenbush
Seth Hubler
Sunnie Jones
Madison Meyer
Matthew Panaro
Allison Peterman
Carol Rayos
Tiffany Reid
Saliyah Sebro-McQueen
Lucas Centola E Silva
Branden Snider
Anna Stoever
Madison Throne
Brendan Welsh-Lowe
Haylea Winand
Jordan Zelinsky
Learn more about the Penn State Schuylkill Honors Program or contact the Office of Admission to learn about all of the academic opportunities available to students at Penn State Schuylkill.