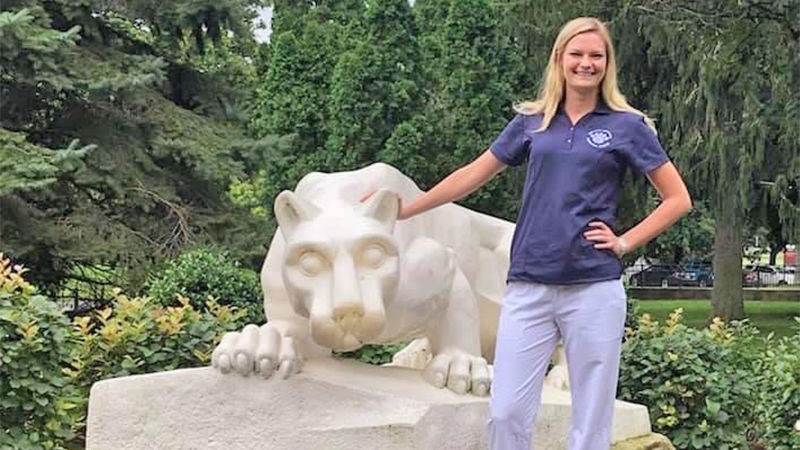 SCHUYLKILL HAVEN, Pa. — Penn State Schuylkill fall 2020 graduating student Olivia Stauffer has been awarded a Certificate of Excellence Award for Outstanding Performance in the Radiological Sciences.
The award is provided by the Joint Review Committee on Education in Radiologic Technology, the Radiological Sciences program's accreditation agency. The award recipient is selected through a peer vote, and the winner must meet or exceed criteria established by program faculty.
To determine the award winner, each student in the class is given a ballot with the award criteria and list of graduates, and they each select the person who they think best meets the criteria.
The award is granted to the graduating radiological sciences student who:
exemplifies the qualities of a competent, caring, professional technologist;
demonstrates initiative and works will with others; and
is a good team member to and role model for other students.
One voter wrote, "Olivia is a hard worker and everyone enjoys working with her. She is always friendly and positive." Another voter spoke to Stauffer's bedside manner, writing, "Olivia has good patient-care skills and does well in clinical."
Stauffer resides in Hummelstown, Pennsylvania, and she will be working at the Penn State Milton S. Hershey Medical Center as a radiologic technologist after graduation.
"Olivia is a deserving recipient," said Hilary Yotko, Radiological Sciences program coordinator. "She is a model student and great person who will be an excellent addition to the Hershey Medical Center team."
To learn more about the Radiological Sciences program at Penn State Schuylkill, visit schuylkill.psu.edu/radsci.