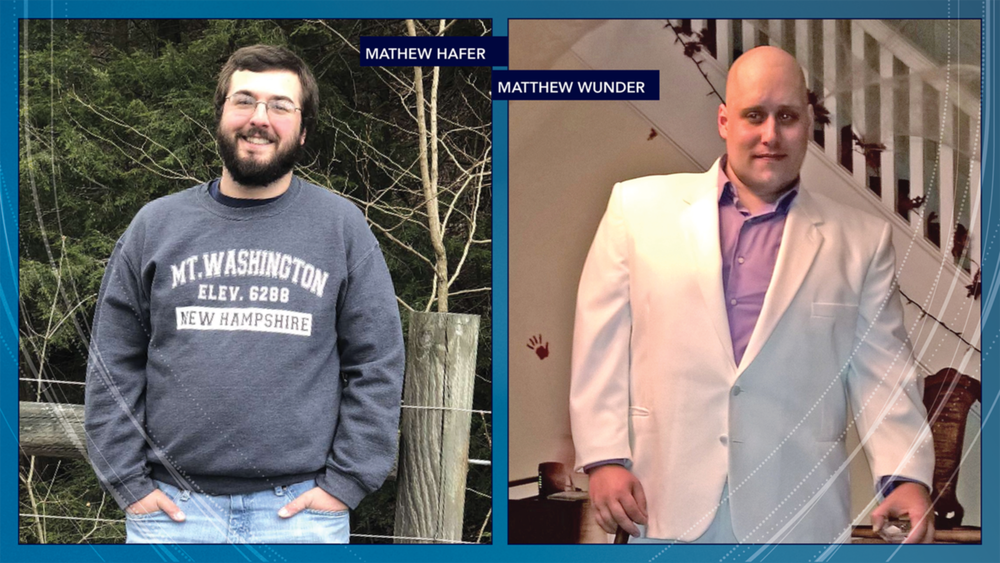 SCHUYLKILL HAVEN, Pa. -- The Penn State Schuylkill Alumni Society recently established a $20,000 scholarship endowment that will benefit full-time undergraduate students at Penn State Schuylkill who exhibit superior academic performance or who show promise of academic success.
In fall 2020, the first two recipients of the Penn State Schuylkill Alumni Society Award were announced: Mathew Hafer, a senior administration of justice major from Port Clinton, Pennsylvania, and Matthew Wunder, a senior business major from Pottsville, Pennsylvania.
Providing a student with "peace of mind"
Hafer says that, in part, his decision to attend the Schuylkill campus was because he had the opportunity to stay local and work while attending classes. Additionally, Penn State Schuylkill offered a degree program, administration of justice, that reflected his goal to "help make a difference in the world."
On receiving the scholarship, Hafer said, "This award has helped me have peace of mind for after graduation. It has also shown me that hard work and dedication pay off, and I am so thankful to Penn State Schuylkill and the Alumni Society for this gift."
Hafer is interested in pursuing a career after graduation in conservation with either the Pennsylvania Fish and Boat Commission or the Pennsylvania Game Commission.
Helping an adult student finish what he started
Wunder's Penn State story started in the fall of 1999 when he first attended the Schuylkill campus. After two years, he transferred to University Park, but ultimately did not complete his degree. After watching his partner complete her bachelor's degree program and graduate this past spring, he was inspired to re-enroll.
Like Hafer, Wunder is working full-time while finishing his degree, and although he admits to feeling "stretched thin" at times, he credits his current employer with allowing him the flexibility to schedule time for classes. Wunder will use his degree to continue moving forward in the corporate world, although he is interested in the possibility of starting his own business as well.
And, like Hafer, Wunder acknowledged that, in addition to the financial benefit, receiving the award helped validate his achievement and perseverance.
"The stress of 2020 and all that it brought has been constant, along with trying to be a provider while investing in improving myself," Wunder stated. "The award helped lighten the financial burden and reminded me that I am not alone and have the support of Penn State Schuylkill and so many alumni behind me."
Helping students with unmet financial needs
With more than 90% of current Penn State Schuylkill students receiving some form of financial assistance, the support from award endowments and the community of Penn State alumni is critical. Carl Rosenberger, president of the Penn State Schuylkill Alumni Society board, understands the importance of that role.
"We recognize that there are significant financial needs to be met, and every board member has contributed to the effort to endow this award," explained Rosenberger. "The Penn State Schuylkill Alumni Society is proud to provide this scholarship for hard-working students. It is our honor to help students become part of the Penn State Schuylkill pride. As we move into the future, our scholarship fund will continue to be a major focus for the board."
Penn State Schuylkill Chancellor Patrick M. Jones said, "We are so grateful to the Penn State Schuylkill Alumni Society, and its board members in particular, for recognizing this need and rising to meet it through endowing this new scholarship. Through this gift, our alumni are giving back to their campus community and will be helping new generations of Penn Staters for years to come."
Patty Shoener, alumni relations and stewardship officer, worked closely with Rosenberger and the rest of the board members to raise funds to establish the scholarship. "We worked extremely hard by having events and connecting with alumni to reach this milestone," explained Shoener. "As a Penn State Schuylkill alumna, and a first-generation college student myself, I'm especially gratified because I know the impact that a scholarship makes on a student. I couldn't be prouder of the board and the entire Penn State Schuylkill Alumni Society."
The Penn State Schuylkill Alumni Society Award will advance "A Greater Penn State for 21st Century Excellence," a focused campaign that seeks to elevate Penn State's position as a leading public university in a world defined by rapid change and global connections. With the support of alumni and friends, "A Greater Penn State" seeks to fulfill the three key imperatives of a 21st-century public university: keeping the doors to higher education open to hardworking students regardless of financial well-being; creating transformative experiences that go beyond the classroom; and impacting the world by serving communities and fueling discovery, innovation and entrepreneurship. To learn more about "A Greater Penn State for 21st Century Excellence," visit greaterpennstate.psu.edu. To discuss ways to make a gift to Penn State Schuylkill, contact Eileen Kuperavage, director of development, at 570-385-6260.