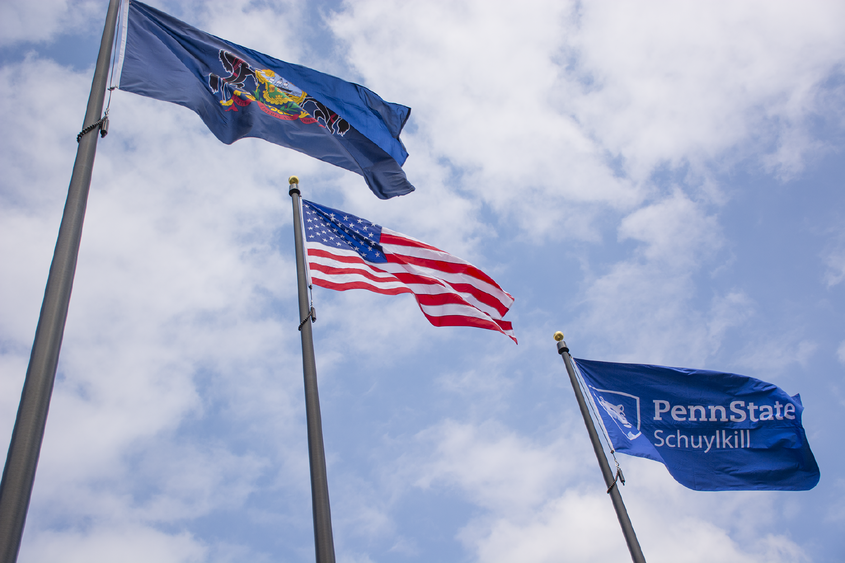 When life as Americans knew it was turned upside down this past March due to the COVID-19 pandemic, a main thread of the national conversation was focused on the U.S. supply chain. In grocery stores and big box stores alike, customers struggled to find available essentials such as soap, hand sanitizer, antibacterial wipes, and even toilet paper.
"COVID-19 has upended the entire global supply chain," said Kathy Fabrizi, Penn State Schuylkill lecturer and program coordinator for Project and Supply Chain Management. "This has been a real wake-up call for industry everywhere to step back and realize they might not be prepared. The conversation now is, 'How are we going to sustain today? How will we survive the next crisis? How are we going to get our products where they're needed?'"
These sorts of events have always been planned for in the military, which Fabrizi knows firsthand as a 21-year member/veteran of the U.S. Air Force and Pennsylvania Air National Guard. In fact, when COVID-19 first struck this spring, Fabrizi was activated to serve as officer in charge of current operations in the Pennsylvania National Guard Joint (Emergency) Operations Center.
Despite those credentials, it still came as an immense honor when Fabrizi was asked to serve as the keynote speaker for this fall's Defense Logistics Agency (DLA) Troop Support Academy, held online this year for more than 90 new employees of the agency. The nation's combat logistics support agency, the DLA is responsible for moving more than $42 billion in goods and services annually, managing nine supply chains and about five million items.
Fabrizi's talk, titled "DLA: Warfighter and the Global Supply Chain," aimed to help attendees understand how critical the DLA's role is in supporting U.S. military operations through a lean supply chain process.
"Once the DLA employees have completed their job, then the customer — in this case, the military — begins phase one of their own processes. Understanding this, I talked to them about process improvement and how shortening their own process by a day, or even a few hours, could mean a world of difference for military operations," Fabrizi explained.
U.S. Army Brigadier General Gavin A. Lawrence, commander, DLA Troop Support, shared, "DLA Troop Support Academy strives to provide common groundwork and a shared vision for DLA's future leaders. Providing context through the eyes of partners like Ms. Fabrizi helps our workforce understand the holistic logistics and sustainment mission we proudly carry out."
Kimberly Maund, management and program analyst at DLA Troop Support in the Philadelphia Command Support Office, added, "The DLA is always looking for bright new Troop Support Academy graduates. What they got from Kathy Fabrizi's Lean Six Sigma expertise is invaluable. It was a fantastic partnership opportunity."
A key thread of Fabrizi's talk was the importance of continuing education in topics such as Lean Six Sigma, and supply chain and project management methodologies.
"Once you're doing the job, it can be easy to feel like you don't need additional training, but the concept of supply chain and global logistics is growing exponentially," Fabrizi said. "So much is changing so fast, and additional education in those topics can certainly help shape and improve what they're doing every day at work."
This philosophy is also true for civilians right here in Schuylkill County. With a strong manufacturing and logistics industry in the area, employers are searching for ways to retain their workforces and promote from within.
"There's a tremendous opportunity with all the warehouses and the transportation operations in our county. We can help our county thrive by helping students find and succeed in this in-demand degree program in Project and Supply Chain Management. There are endless opportunities."

-- Kathy Fabrizi, lecturer and program coordinator for project and supply chain management at Penn State Schuylkill
Penn State Schuylkill's Project and Supply Chain Management program provides students with a foundation in business fundamentals along with theories, concepts and practical knowledge critical to success in project and supply chain management roles in areas such as project management, warehousing, logistics, purchasing, systems analysis and more. Email [email protected] to learn more.
Organizations interested in having a faculty member from Penn State Schuylkill's business division speak at a professional event should contact Gina Whalen at [email protected].