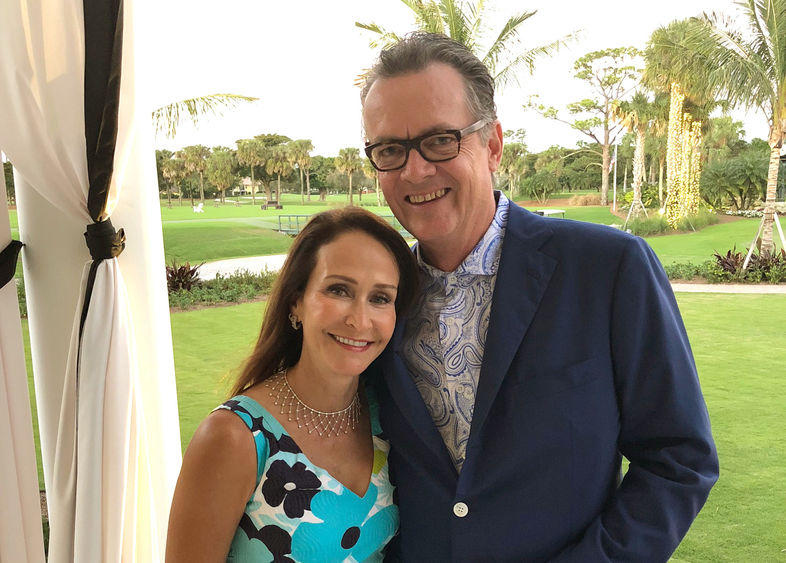 SCHUYLKILL HAVEN, Pa. – Matthew "Bo" Bates and Samantha Bates recently established the Albert L. Evans, Jr. Honorary Scholarship to provide financial support to exemplary Penn State Schuylkill students as well as recognize the precedent of philanthropy that Evans, Samantha's father, has set throughout his life.
Albert L. Evans Jr. is board chair of the Evans Network of Companies located in Schuylkill Haven, Pennsylvania. Bert, as he is known, is an engaged member of the local business community and has served on the boards of several nonprofits, including the Schuylkill YMCA, Boy Scouts of America, and the Schuylkill Haven Area School District. He is a member of the executive committee of the Hawk Mountain Council and has been active in various youth sports leagues. He previously served on the Penn State Schuylkill Advisory Board and received Penn State's Honorary Alumni Award in 2015. Evans himself has established several Penn State Schuylkill scholarships.
"We established the Albert L. Evans, Jr. Honorary Scholarship to say thank you, and to honor Bert for setting such a great example of philanthropy," said Bo Bates, president and CEO of the Evans Network of Companies and a member of the Penn State Schuylkill Advisory Board. "We wanted to give back a little something to the community that continues to help our business succeed."
The Albert L. Evans, Jr. Honorary Scholarship will be awarded to full-time undergraduate students with a high school or college GPA of 3.0 or higher who are currently enrolled or planning to enroll at Penn State Schuylkill. Recipients can reapply in succeeding years, providing they continue to meet the conditions of eligibility. The annually funded scholarship was established with a gift of $12,500, pledged over five years.
"In establishing this scholarship, Bo and Samantha Bates continue an important philanthropic tradition established by Bert Evans," Penn State Schuylkill Chancellor Patrick M. Jones said. "This new gift demonstrates how the local business community understands the value of our campus to the region's economy."
Bo Bates elaborated, "We firmly believe that the success of the students at Penn State Schuylkill is vital to the continued development of our county, and we see this scholarship as an investment in our local community."
In the last decade, the Evans Network of Companies has funded more than 50 scholarships for the families of their employees. "Not only are they a workplace committed to this culture of philanthropy, but they are also a company that places a high value on the opportunities that education provides," said Eileen Kuperavage, Penn State Schuylkill director of development.
Samantha Bates reflected, "Growing up, we were taught that a good education is something that no one can ever take away from you. The idea that education is the ticket to a better life was instilled in us by my father at an early age. We were blessed to have these opportunities ourselves and to be able to provide them for our children. Establishing this scholarship was a chance for us to give something back."
Chancellor Jones reinforced the importance of champions of education such as the Bates and Evans families. "Bert and Bo both have given so much to Penn State Schuylkill through their service on our advisory board. We are both humbled and grateful to count them as friends of Penn State. This gift by Bo and Samantha is yet another generous scholarship gift to help our students. Their philanthropy has changed students' lives by putting a Penn State education within reach."
Bo and Samantha reside in Orwigsburg, Pennsylvania, and have two children, Matthew J. Bates, of Gilbertsville, Pennsylvania; and C. Ryan Bates, of Pottsville, Pennsylvania.
The Albert L. Evans, Jr. Honorary Scholarship at Penn State Schuylkill will advance "A Greater Penn State for 21st Century Excellence," a focused campaign that seeks to elevate Penn State's position as a leading public university in a world defined by rapid change and global connections. With the support of alumni and friends, "A Greater Penn State" seeks to fulfill the three key imperatives of a 21st-century public university: keeping the doors to higher education open to hardworking students regardless of financial well-being; creating transformative experiences that go beyond the classroom; and impacting the world by fueling discovery, innovation and entrepreneurship. To learn more about "A Greater Penn State for 21st Century Excellence," visit greaterpennstate.psu.edu. To discuss ways to make a gift to Penn State Schuylkill, contact Eileen Kuperavage, director of development, at 570-385-6260.