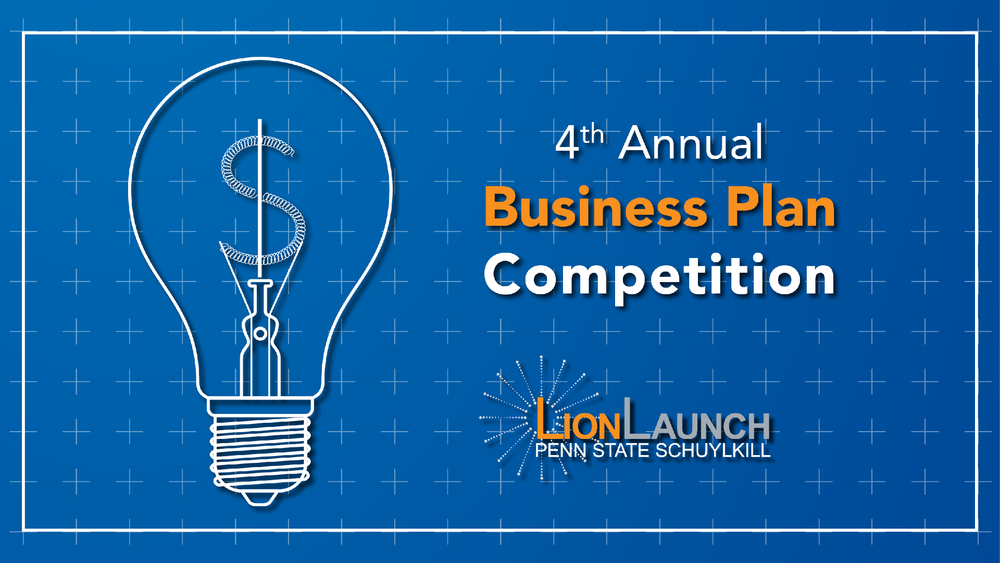 SCHUYLKILL HAVEN, Pa. – Penn State Schuylkill LionLaunch hosted its fourth annual Business Plan Competition online this year, awarding $6,000 to three businesses. Four aspiring businesses pitched their business plans to a panel of judges, which consisted of established local entrepreneurs and community leaders.
The evening began with welcome remarks from Penn State Schuylkill Chancellor Patrick M. Jones. "Small businesses are the backbone of many communities. And, during this COVID-19 pandemic, they are being hit particularly hard. However, another story also needs to be told. It is the entrepreneurial spirit we see that has businesses converting seemingly overnight to make products necessary to combat this virus. We see clothing manufacturers producing hospital masks and gowns, engineering labs 3-D printing face shields, distilleries producing hand sanitizer, and automobile plants converted to produce N95 respirators… Without creative entrepreneurs and innovative business leaders like those in this Zoom room tonight, the life-saving products we need would not be manufactured, scaled and brought to market."
The pitches
The Uprising
Buddy Touchinsky, Jess Tarleton, and Sarah Zimmer presented the first pitch of the evening. Their business, called The Uprising, aims to improve Schuylkill County residents' health. In their executive summary, they wrote, "People deserve more than to just survive. They deserve to thrive."
The Uprising is a health management business that advises their customers regarding issues such as:
proper nutrition,
staying hydrated,
staying active and exercising,
getting enough sleep and
managing stress.
The team sought funding to expand their business into a robust online learning management system. The online learning management system will allow them to serve more clients and offer peer support on their journey to greater health.
By expanding their business into an online learning management platform, The Uprising can serve anyone living anywhere, though their main focus is Schuylkill County residents between the ages of 35 and 64.
Cairn Consulting Solutions
Amy Lafko pitched her idea for Cairn Consulting Solutions next. Cairn Consulting Solutions helps businesses create a positive working culture and employee experience, helping recruit and retain the right people for the job while decreasing employee turnover.
To establish a positive employee experience and workplace culture, Cairn Consulting Solutions works with business leaders to create a plan tailored to each business's unique needs. These plans often include:
leadership development programs,
team dynamics workshops and
group coaching and advisory services.
By training and cultivating skilled leaders and aligning teams' missions, Cairn Consulting Solutions helps decrease employee turnover and increase productivity and customer satisfaction.
With additional funding, Lafko aims to develop an online video library for her business and deliver more programs and workshops to businesses and the general public.
Bossy B. Cosmetics
Samantha Mihoda, founder and CEO of Bossy B. Cosmetics, pitched her idea next. Mihoda's cosmetics business manufactures high-quality, vegan, cruelty-free makeup. According to the Bossy B. Cosmetics business plan, "Our products will be pigmented, easy to apply, and will stay where you put it until you decide to remove it."
What makes Bossy B. Cosmetics unique is the business's commitment to offering typically expensive vegan, cruelty-free makeup at an affordable price while also marketing to a larger customer base. Bossy B. encourages everyone—regardless of age or gender—to feel confident in their skin.
Bossy B. Cosmetics believes that filling the need for an all-inclusive, vegan and cruelty-free business is a problem worth solving, and her request for funding would help her deliver the solution by:
purchasing manufacturing tools,
creating marketing materials,
developing a website and
cultivating her brand.
Nurture Your Nature
The final presenter for the evening was Kate Stufflet, owner and lead developer of Nurture Your Nature. Nurture Your Nature is a service-based business consisting of trained holistic practitioners who teach stress management techniques to the everyday person, who learn self-honor and self-care to reach individuation.
Nurture Your Nature endeavors to improve clients' well-being and mental health through group interaction, live and online workshops, retreats, and classes. Specific programs include:
psycho-educational classes,
team building exercises,
bonding and conflict resolution,
creative movement and artistic expression,
rhythmic therapy,
mindfulness and stress reduction strategies,
and nature-based experiences incorporating outdoors and nutrition.
To deliver her plan, Stufflet intends to work with independent contractors who possess the expertise to manage each client's individual needs. In her funding request, Stufflet would like to expand her outdoor course offerings by investing in an outdoor speaker system and wireless headset microphone and also improve her online course delivery through the development of a website, investment in a video camera and professional audio equipment.
And the winners are…
Once the presenters pitched their plans and answered the judges' questions, it was time for the judges to deliberate. After a 30-minute deliberation period, the judges awarded $2,000 apiece to The Uprising, Cairn Consulting Solutions and Nurture Your Nature.
Though Bossy B. Cosmetics was not awarded any funds, the choice was a strategic one. The judges could have awarded Mihoda's business a small amount of funding, but opted to withhold in lieu of offering her the opportunity to polish her plan and pitch again at next year's competition for a larger funding amount.
This inspiring competition introduced four new businesses to Penn State Schuylkill LionLaunch's audience. Three businesses won funding, but ultimately, Schuylkill County won three new businesses to support the local economy.
About Penn State Schuylkill LionLaunch
Established in May 2016, Penn State Schuylkill LionLaunch supports the local economy by providing programming, training, and mentorship for budding entrepreneurs and small business owners. It is part of the Invent Penn State program, Penn State's Commonwealth-wide initiative to spur economic development, job creation, and student career success.
To learn more about Penn State Schuylkill's Community Engagement Office and LionLaunch program, contact [email protected].