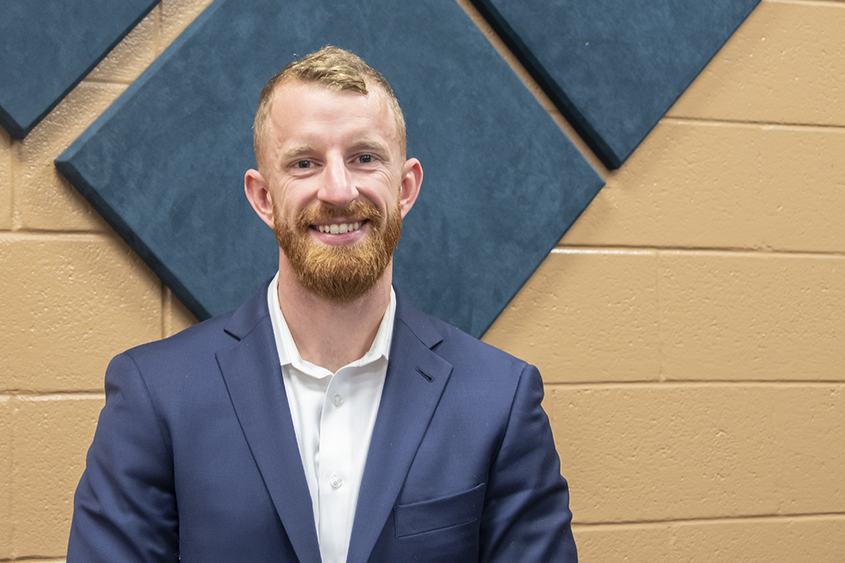 In 1994, when Vincent Carrano was just 13 years old, his younger sister Lauren was diagnosed with Acute Lymphoblastic Lymphoma. It was through Lauren's diagnosis that the Carrano family first became acquainted with Penn State's THON and Four Diamonds — a subsidiary of Penn State Children's Hospital that helps pediatric cancer patients and their families with financial and other supports.
The Carrano family attended their first THON event the following year, and Carrano recalls it as a joyful occasion for his family who were bearing the weight of his sister's devastating illness. "I can remember Lauren being so happy and having the most fun since her diagnosis," recalled Carrano. "It was like she was never sick … and that is the magic of THON."
When Lauren died just a few weeks after her 9th birthday, Carrano made a promise to himself that he would make it part of his life's mission to help in the fight against pediatric cancer.
"Lauren lit a fire inside of me that continues to grow, and that fire is what helps me keep the promise every day."
Not just a career, a life's mission
That promise still burns brightly today as Carrano carries out his current role as the director of development and engagement at the Emily Whitehead Foundation — an organization dedicated to finding new and innovative ways to treat pediatric cancer. And his path to that fulfilling position began at Penn State Schuylkill.
Born and raised in Pottsville, Pennsylvania, Carrano had typically operated from a point of certainty about the course his life would take. Determined to enter military service after high school, he did his research, selected the U.S. Marine Corps Infantry as the best fit, and when he graduated from Pottsville Area High School in 2007, headed to basic training in Parris Island, South Carolina, to begin the next chapter of his life as a Marine.
But in 2011, with his military service completed, Carrano was ready to move on. By August of that year, he was enrolled at Penn State Schuylkill. Carrano was so certain that Penn State Schuylkill was the right choice, that it was the only option he considered. He enrolled in the administration of justice program with an eye on pursuing a career in law enforcement or corrections.
Before switching his major to criminology and transferring to University Park, Carrano found success at Penn State Schuylkill in both professional and peer relationships, and his growing involvement with Schuylkill Benefiting THON. Carrano became a leader in the campus THON organization and helped to reinvigorate and grow the chapter. Ultimately, he was named THON chair, and as part of a team of more than 100 students, raised a record sum of over $56,000.
The power of THON
As Carrano neared graduation, he realized that the law enforcement career he always envisioned for himself no longer resonated, so he took a step back to reexamine his options.
"I had to figure out what my passions were," explained Carrano, "and where I wanted to take my career path. I remember talking it over with a lot of people, and the conversation always came back to THON."
Carrano began to research careers in the nonprofit sector. He was living in Connecticut when he interviewed for a position at the Eastern Pennsylvania chapter of the Leukemia and Lymphoma Society (LLS). When the job offer came through, Carrano quickly accepted. Within days, he was living in Philadelphia and working as a campaign manager for one of their premier fundraising events, "Big Climb Philly."
He spent the next three years at the Leukemia and Lymphoma Society until his ongoing connection with THON resurfaced bearing a new opportunity.
Emily Whitehead is a THON child, and Carrano had come to know the Whitehead family through numerous THON events. Over the years, Carrano had kept in touch with the family, and they, in turn, followed his success at the LLS. When the Whiteheads decided to expand the foundation named after their daughter, they reached out to Carrano to come on board.
"Tom asked if I was interested in joining the team, and this was absolutely an opportunity that I could not pass up," Carrano recalled.
And so, Carrano became the first director of development and engagement at the Emily Whitehead Foundation.
Do what you love
As he strives to expand the Emily Whitehead Foundation, Carrano often looks back to his time on the Schuylkill campus. "In my current position, I am thinking, creating, and executing ideas on how to build and expand this foundation. This is exactly what we did at Penn State Schuylkill as we worked to expand the THON chapter to raise more money for the kids."
The experience he gained while building the THON chapter at Penn State Schuylkill informs how he approaches the challenges in his current position.
"Teamwork, in almost any environment, is so important. We have a small but mighty team at the Emily Whitehead Foundation, and we depend on each other to complete the daily task at hand. When something doesn't work out, we rely on our problem-solving skills, and communication is the key to successful outcomes!"
Carrano's route to his current job is a reflection of decision-making, adaptability, and following one's heart. During a visit to the Schuylkill campus last fall, Carrano addressed a group of students, including members of the current campus THON organization, and offered words of advice and encouragement to those in attendance.
"Be patient and work hard," Carrano emphasized. "In most cases you are not going to find your dream job or dream position right out of college. But if you work hard and make sure that what you are doing makes you happy, then that will lead you to success."
Learn more about the Penn State Schuylkill campus chapter of THON, Schuylkill Benefiting THON, and how you can help in the fight against pediatric cancer.