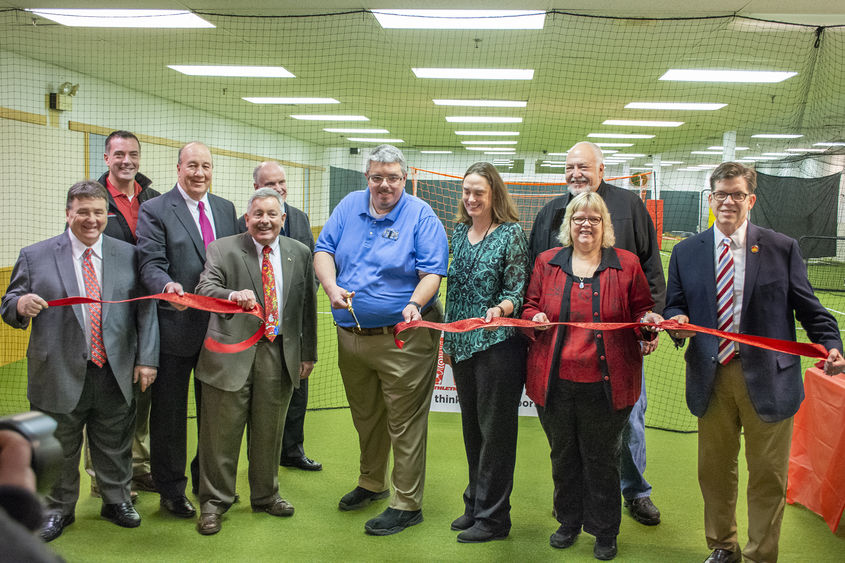 SCHUYLKILL HAVEN, Pa. – In 2017, Joe Medica competed in Penn State Schuylkill's LionLaunch Business Plan Competition. He pitched an idea for an archery range — a place where hunters could practice, families could have fun together, and athletes could learn a new skill. His idea earned him $3,000 in seed money, and this week, his dreams materialized at a ribbon-cutting ceremony for his storefront, Athletics in Motion.
In Medica's original pitch, he intended for his space to cater to archers. However, his business has since evolved into a space that accommodates a wide variety of athletes. At 5,500 square feet, Medica's new facility offers abundant space for team sports and individual practice.
Athletics in Motion boasts an indoor practice facility featuring batting cages, pitching machines and a padded turf floor. In the future, he plans to open a golf simulator.
To prepare for his pitch and ready himself for the immense responsibility of entrepreneurship, Medica enrolled in the LionLaunch Business Boot Camp. Penn State Schuylkill's LionLaunch program has offered this boot camp at least once a year since 2016, expertly preparing aspiring entrepreneurs for not only the competition, but also small business ownership. He powered through 10 weeks of intensive coursework exploring topics such as business law, marketing, finance and writing business plans.
"The boot camp was a great experience. It certainly opened my eyes about a lot of things I'd never considered," said Medica. "For instance, it never would've occurred to me to hire an accountant."
The idea for this business stemmed from Medica being a coach himself. "I was a coach for my kids' athletic endeavors — baseball, soccer, football. All of them have needed space for when it's cold or raining, and we didn't have anything like that in the area," he reported. "So instead of complaining about it, I decided I'd like to do something about it."
Medica considers this business an opportunity to give back to the community. Many sports are beholden to academic calendars, which results in teams beginning their practices during the winter to align the end of their season with the end of the school year. In order to be prepared for competitions, however, starting earlier and being able to play somewhere inside gives competitors an edge.
"I did this to give the other organizations in the county the opportunity to have a place to go where they can get their season started earlier, get their teams warmed up sooner, and do it with a little bit of room," Medica said.
Before he established Athletics in Motion, community members had to travel to other counties to access all-weather athletic facilities. "Many of my clients love the fact that Athletics in Motion is so close because they once used facilities nearly an hour away," he says. "Proximity is a big deal."
In the future, Medica sees opportunities for collaboration and expansion. A few community members have approached him with fascinating proposals to use the space, including someone who races drones and another person who proposed using the space to race radio-controlled cars. "I'm open to just about anything, but I never would've thought of that."
Three years ago, Medica was one of the first participants to go through the LionLaunch Business Boot Camp. One year later, in 2017, he was one of the first competitors in the LionLaunch Business Plan Competition. Today, in 2019, he is the first seed money winner to open his own storefront, providing a much-needed service to Schuylkill County. He stands as a shining example of the intersection between community service and entrepreneurial spirit.