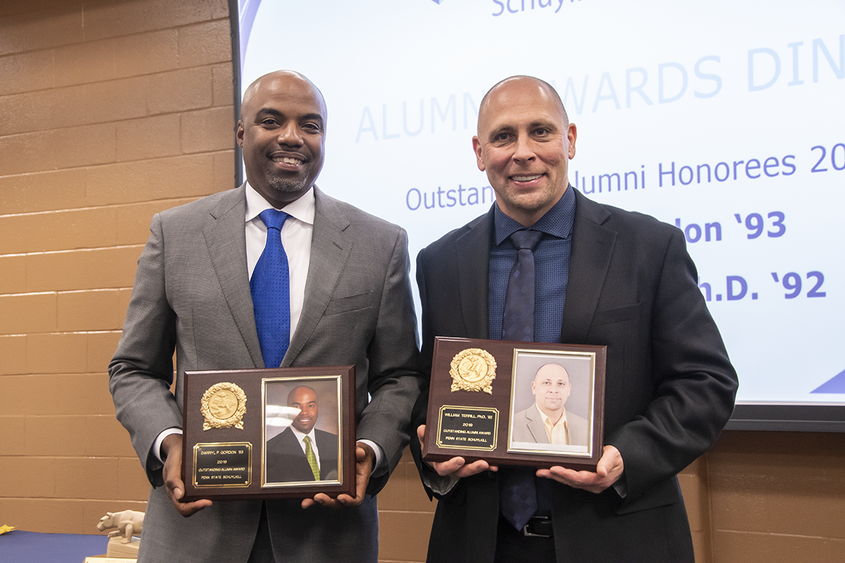 SCHUYLKILL HAVEN, Pa. — Last week, Penn State Schuylkill honored two exceptional alumni at its annual Alumni Awards Dinner. This year's Outstanding Alumni distinctions went to William Terrill, class of 1992, and Darryl P. Gordon, class of 1993. Terrill and Gordon are impressive examples of distinguished alumni and authentic embodiments of Penn State's land-grant mission in action. They both represent the first generation of college graduates in their families, and they express a similar spirit of gratitude to the campus that provided a pathway to a lifetime of success.
Darryl P. Gordon 
Currently vice president of human resources at High Company LLC in Lancaster, Gordon graduated in 1993 with a bachelor of science degree in operations management from the Smeal College of Business at Penn State's University Park campus. However, his academic career began when he was accepted at Penn State Schuylkill four years prior. Gordon recalls his acceptance as a "defining moment in my life." Although his high school transcript did not reflect his academic ambitions, he knew that he wanted to do more with his life.
"My high school profile and grades countered what a successful college graduate would look like," said Gordon. "However, Penn State Schuylkill gave me a chance."
He credits Penn State Schuylkill with providing both the opportunity and the tools he needed to succeed.
"Penn State Schuylkill taught me how to learn and study," Gordon said. "It was here I learned about benevolence and giving back. Their strong, caring culture and the resources they surrounded me with helped me to achieve my goals. Penn State Schuylkill was key to both my professional and personal success. I would not be who I am today without their talented and professional faculty."
Penn State Schuylkill also profoundly changed the course of Gordon's personal life. It was on campus that he met his future wife, Dominique, who nominated Gordon for this year's honor.
"It was here that I found my soulmate, now married for 22 years with three children. I will be forever indebted to Penn State Schuylkill," he said.
William C. Terrill
Terrill, a professor and associate dean at Arizona State University, also credits Penn State Schuylkill with providing him the opportunity that would alter the course of his life. Terrill recalls growing up in a household where college was not emphasized or considered — it was something for "smarter folks, richer folks," he said, something unattainable. Using those life experiences, he planned for a career in the military. Following his high school graduation, Terrill enlisted in the U.S. Air Force. However, it was while serving as an MP (military police) in Mississippi that Terrill began to rethink college.
"I started contributing to the GI Bill and, when I left the Air Force on my 22nd birthday, I took the SAT for the first time," said Terrill. "I applied to Penn State Schuylkill with a high school GPA of 2.4 and an SAT score of 890. Needless to say, I was not a great candidate on paper. Yet, this very campus gave me an opportunity."
Terrill seized the opportunity and ran with it. He recounts taking remedial courses and using the campus tutoring resources to catch up academically, and he remembers that a dormant, yet strong, drive to learn began to emerge. It was during his first years on campus that he discovered what he calls an "incredible thirst for knowledge."
"Penn State Schuylkill admitted me, guided me, assisted me and engaged me," said Terrill. "It allowed me to examine who I was and what I wanted. Of course, there was determination, hard work and sacrifice, but I needed an opportunity, and that's what Penn State gave me and continues to give so many students year after year."
After earning a bachelor of science degree in criminal justice from Penn State in 1992, Terrill went on to earn master's and doctoral degrees in criminal justice from Rutgers University. 
Both of this year's honorees describe an academic journey to successful professional life that began first with an opportunity — an offer of acceptance to Penn State Schuylkill. These shared stories help illustrate the greater purpose of a public institution of higher education and the mission of a land-grant university — providing educational opportunities to any individual who steps forward, regardless of background or experience.
In that spirit, the Penn State Schuylkill Alumni Society is celebrating 85 years of providing those critical educational opportunities in Schuylkill County through funding its first student award endowment. Please consider helping the next generation of alumni by making a gift in any amount to the Penn State Schuylkill Alumni Society Award.
Please note: ''GI Bill" is a registered trademark of the U.S. Department of Veterans Affairs. More information about education benefits offered by VA is available at the official U.S. government Web site.