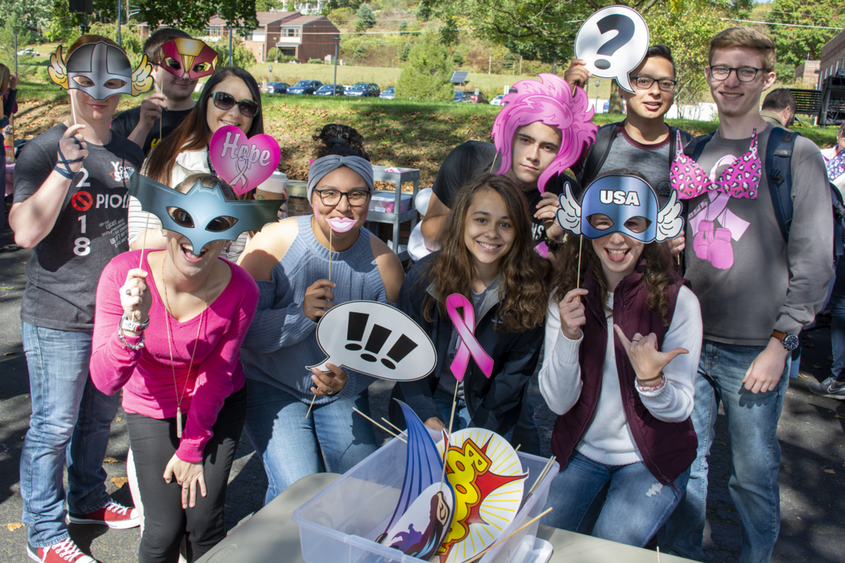 SCHUYLKILL HAVEN, Pa. – Penn State Schuylkill students, faculty and staff joined together to raise awareness of and funds for breast cancer advocacy and research this October. For the first time, the Schuylkill campus dedicated an entire week — the "Week of Hope" — to this worthy cause.
The campus's fundraising efforts benefited the Pennsylvania Breast Cancer Coalition, a statewide nonprofit organization dedicated to educational programming, legislative advocacy and securing breast cancer research grants. Recently, the coalition established a traveling photo exhibit titled "67 Women, 67 Counties: Facing Breast Cancer in Pennsylvania," which showcases one woman from each of the commonwealth's 67 counties. The exhibit encourages women to learn about and practice early detection through yearly mammograms, monthly self-breast exams and annual clinical exams.
To kick off the exhibit and Week of Hope, Schuylkill hosted a launch party on Oct. 8. The event included a speech from Pennsylvania Sen. David Argall, who committed in his remarks to supporting legislation requiring insurance companies to cover mammograms for women with dense breast tissue.
Other speakers included Dr. Gregory Elberfeld, radiologist at Lehigh Valley Hospital — Schuylkill, who spoke about advances in 3D mammography; his wife and breast cancer survivor Dr. Jeanne Elberfeld, executive director of Schuylkill County's VISION, who shared her survival story; Andrea Solinski, Schuylkill's lab supervisor who also spoke about surviving breast cancer; and Joanne Grossi, executive vice president of the Pennsylvania Breast Cancer Coalition, who acted as emcee.
The following day, the Schuylkill campus hosted its second annual Carnival of Hope, with proceeds from carnival games and basket raffles going to support the Pennsylvania Breast Cancer Coalition.
"I'm grateful to have helped not only the coalition, but also the young women on campus," said Solinski, who is credited with bringing the "67 Women, 67 Counties" exhibit to Penn State Schuylkill. "For me, it was about teaching young women how to do self-breast exams and stress the importance of mammograms so, hopefully, they never have to go through chemo."
The carnival also featured a dunk tank sponsored by Alpha Sigma, a smoothie bike, face painting, and a pie-in-the-face contest. To determine who would get "pied," the campus and local community voted with their money. The campus group who raised the most money in donations — contenders including men's basketball players, women's basketball players, maintenance and operations staff, and Schuylkill Benefitting THON members — was pied at the carnival. Schuylkill Benefitting THON won the contest.
Lastly, the committee sold luminaries for a Tribute of Hope, which honored and memorialized people with all types of cancer. On Oct. 10, the committee placed the luminaries on the campus mall walk.
In all, Penn State Schuylkill raised nearly $1,000 for the Pennsylvania Breast Cancer Coalition. But beyond that, the Week of Hope helped to raise critical awareness and educated the campus community and the public about practical steps everyone can take to improve the chances of prevention and early detection.