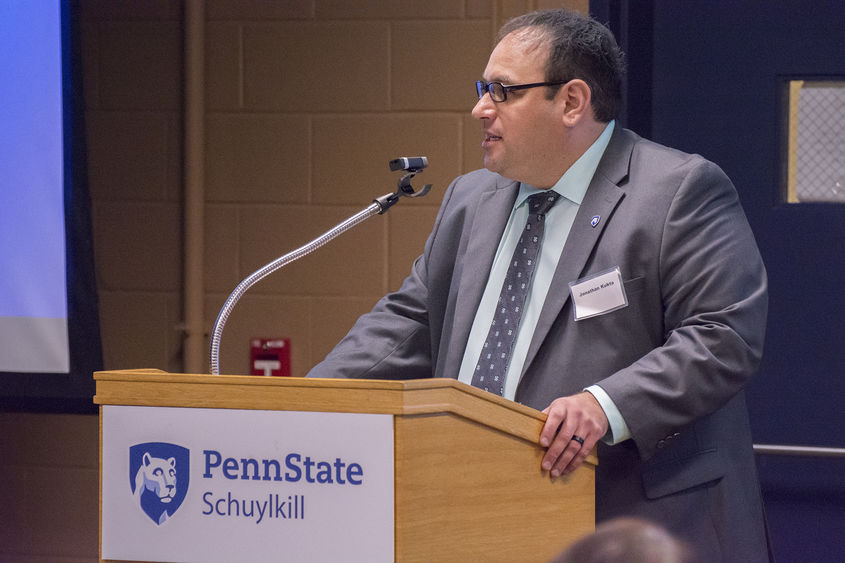 SCHUYLKILL, Pa. — Jonathan Kukta, instructor in business administration and director of Housing and Food Services for Penn State Schuylkill and Penn State Berks, has been appointed to serve a three-year term as a member of the board of directors of the National Association of College Auxiliary Services (NACAS) for the East Region as membership coordinator.
Founded in 1969, NACAS is a professional trade association that supports the nonacademic segment of higher education responsible for generating business through a diverse array of campus services that students need and value — such as food services, bookstores, housing and transportation.
The East Region of NACAS is comprised of 13 U.S. states, Ontario, the Atlantic Provinces, the United Kingdom, and Ireland. The NACAS supports the mission of the National Association by offering extended, accessible and regionally relevant value to its members through a suite of programs designed to foster professional development, facilitate a cherished network of colleagues, and cultivate collaboration.
"I am excited to have Jonathan on the East board," said Jason Levy, NACAS East president and senior director of Student Center Operations and Conferences at Temple University. "He brings a wealth of knowledge and drive to the membership process for our region and I am more than confident that East membership will both thrive and increase under his watch. I know he'll work hard to exceed expectations and look forward to his service to NACAS East."
"Currently there are over 700 colleges and universities that are NACAS members and 250 are in the East Region," said Kukta. "I look forward to working with the board to continue to grow our region with the amazing leadership development opportunities and the network of professional relationships to share best practices. Since 2002 I have been involved with NACAS, and over the last 17 years I have found the organization to be so valuable as a resource to explore new ways to provide the services that attract and retain students to our institutions."
"This is a great opportunity for Jonathan as he has been enthusiastically involved with NACAS for many years," said Karen Kreger, senior director of Penn State Housing and Food Services for the Commonwealth Campuses. "One of his strengths is fostering his employees' growth through professional development opportunities, which will translate nicely as he provides leadership in this NACAS role. I am excited for Jonathan and happy that he will represent Penn State University on the east board."
Prior to his appointment as membership coordinator on the NACAS East board, Kukta served as a member of the NACAS Communication Services committee from 2016 to 2019.
Kukta has been with Penn State since 2002. Prior to his current role at the University, he was the director of Housing and Food Services for Penn State's Hazleton, Wilkes-Barre and Scranton campuses. During his time at the University, he has received the Finance and Business Quality Service Quality People Leadership Award (2010) and the Mentoring Award (2012). In 2015, his Housing and Food Services operation at Penn State Hazleton received the Student Government Association's Service to Student Award" In 2017, he was the recipient of the Housing and Food Services William H. Reiber Award for Outstanding Management. That same year, he also received Penn State Schuylkill's Outstanding Alumnus Award.