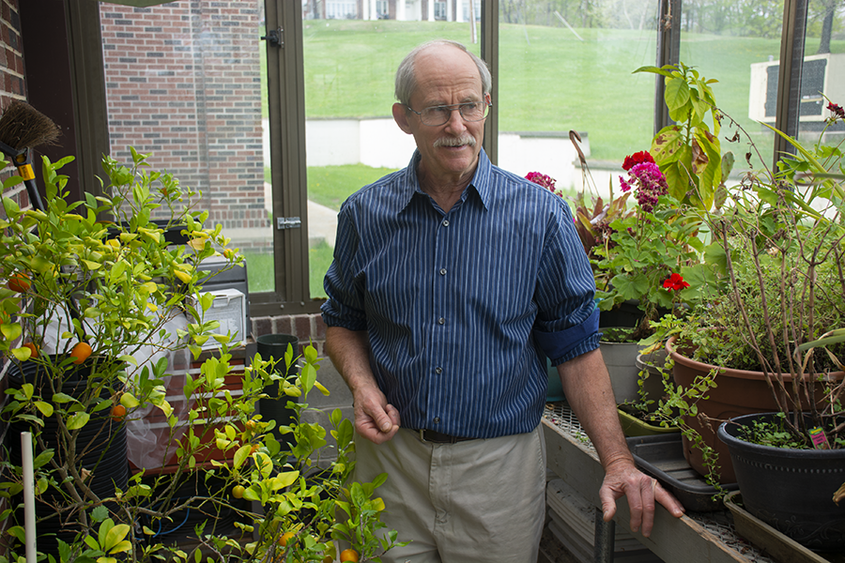 After nearly 30 years of service, Rod Heisey, professor and program coordinator of Biology at Penn State Schuylkill, will retire. An avid researcher and lifelong teacher, Heisey looks forward to exiting the classroom and returning to something he did as a boy: working the land on his family farm.
Early career
Rod Heisey grew up in Lancaster County, Pennsylvania. Growing up on a farm, he was inherently exposed to nature. Over the years, he developed a love for the living world, and his family fostered that fascination.
After completing high school, Heisey began college at Millersville University. He continued to the University of Connecticut where he earned his master's degree in botany and plant ecology, and rounded out his studies with his doctorate in ecology from the University of California, Davis. He was passionate about his studies, and was fast learning how he could impact his field.
He followed his passion to the Bronx. At the onset of his career, Heisey worked as a biology professor at Fordham University in New York City. "Coming from Pennsylvania, that was kind of a foreign territory to me," he said. "As a biologist, I like to be in rural areas because that's where we do our work." After four years of teaching in New York City, he and his wife Teresa, who was teaching at a high school in New Rochelle at the time, left the Big Apple and returned to Pennsylvania in 1990.
They settled in Orwigsburg, a small town located in Schuylkill County. Now in a rural area, Heisey was eager to conduct real research. Initially, he was uninterested in teaching; his affinity for research eclipsed all else. But Heisey said, "If you want to do research, you have to teach, too, and they both became fun for me over the years." And so, Heisey began his decades-long career at Penn State Schuylkill.
Finding his niche
When he began his tenure at Penn State Schuylkill, Heisey was invested in tree-of-heaven research. "It contains chemicals that are inhibitory to the growth of other plants," said Heisey, whose curiosity was piqued.
For those unfamiliar with tree-of-heaven, it is a tree native to northeast and central China. While it was deliberately introduced to Philadelphia as an urban street tree, later lining city streets on both the east and west coasts, the Penn State Extension reports that it has become an invasive plant: difficult-to-control with an extensive root system.
Originally, Heisey's research tried to determine if there was a chemical within tree-of-heaven that could be utilized in medicine or as a weed killer. Today, Heisey's research examines what helps the plant survive and expand as robustly and rapidly as it does. With the introduction of yet another invasive pest, the spotted lanternfly, Heisey's research helps build upon a larger body of knowledge as the invasive insect prefers to feed on tree-of-heaven.
Conducting research
Heisey's love for ecology and plant biology sprouted when he was a graduate student at the University of Connecticut. Initially, he wanted to research wildlife, but became more interested in plants by working with his graduate adviser, a plant biologist. "When I came to Penn State Schuylkill, I felt like a fish out of water," he said, "because students want to study animal biology and plants aren't as cute."
In hindsight, it likely benefited Heisey to focus his interests in plant biology as opposed to animal biology because, 30 years ago, the Schuylkill campus was not equipped to conduct animal research. "If it was an animal with a backbone, we weren't allowed to keep it here [on campus] overnight," he recollected. "The research facilities are so much better now than they were decades ago," he said, speaking of Penn State Schuylkill's science and research lab renovations that occurred shortly before the campus introduced the major in Biology. Today, Schuylkill's science facilities are abuzz with plant, animal, and insect research.
Looking to the future
On the cusp of his retirement, Heisey will come full circle. During his interview, he spoke about returning to his family farm, where he and his wife Teresa have since purchased adjoining land. "We've committed some of the land to the Conservation Reserve Enhancement Program," which is operated by the USDA, he said. "We will plant trees and grasses to encourage wildlife growth, and we'll also control invasive species."
Beyond conservation projects, Heisey and Teresa will also tend to crops including soy beans and corn. Some of the couple's land is also managed by a farmer who rents some of their property.
When he is not tending to his family land, he and Teresa plan to travel the world. "When she has more time, I'd love to travel overseas," he said, expressing an interest in visiting Europe in addition to an upcoming trip he has planned for visiting Colorado.
Ending an era
"I'm still not sure that retiring is the right decision," Heisey said, lost in thought. "I feel very lucky to have worked here, but what I would really like to do is have multiple lifetimes," he said, continuing, "because I have lots of things I'd like to do, and I need to do them."
After three decades of service to Penn State Schuylkill, Heisey can feel confident about his commitment to Penn State, his colleagues, and the droves of students who have filtered through his classrooms over the decades. Though apprehensive about leaving a career he loves, he has land to tend, conservation practices to enact, and places to see. Through decades of work, Heisey has made an indelible impact on Penn State Schuylkill.