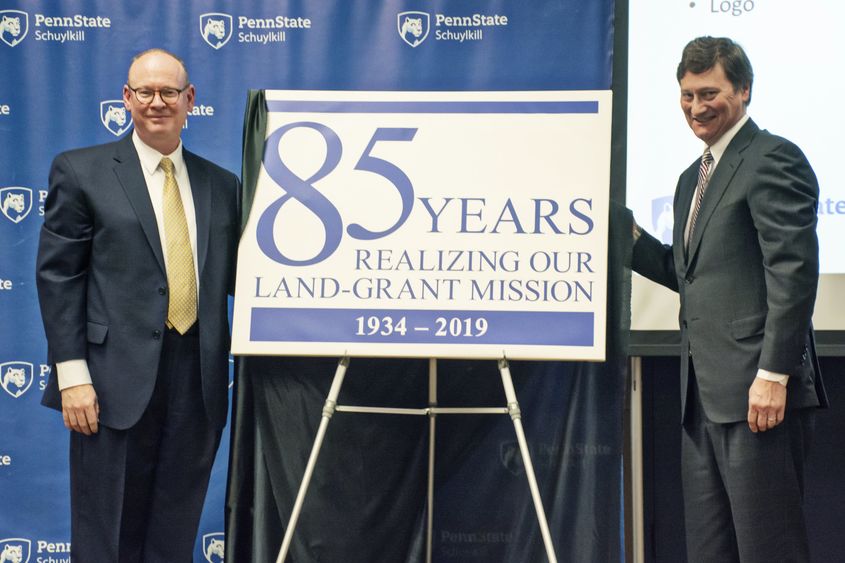 SCHUYLKILL HAVEn, Pa. — Eighty-five years ago, a group of local community leaders began investigating ways to bring affordable post-secondary education to Schuylkill County. At the same time, the Pennsylvania State College was looking to create regional undergraduate centers that would make programming more accessible to Pennsylvanians. Those two missions converged in the spring of 1934 with the establishment of the Pottsville Undergraduate Center. By September of that year 27 students, including six women, had enrolled for the inaugural semester.
The next several decades saw continued growth in enrollment, programming and other campus-based opportunities. By the late 1960s the center had outgrown its setting and was moved to its current location to become the Penn State Schuylkill Campus.
In 2019, under the new leadership of chancellor Patrick M. Jones, Penn State Schuylkill will recharge its commitment to the three pillars of Penn State's land-grant mission – providing access to an affordable high-quality education, conducting and promoting research that changes lives, and engaging with our communities to make them better places to live – as part of its 85th anniversary commemoration.
From the outset, Jones stated that this anniversary "symposium-commemoration" would be more introspective than celebratory. Jones envisioned a half-year-long dialogue that would purposefully speak to the tenets of the land-grant mission and its continued relevance to the daily and ongoing work of Penn State Schuylkill's students, faculty and staff.
"The purpose of the 85th anniversary commemoration is multifaceted and dynamic," said Jones. "It is not a celebration of what we have accomplished but, rather, a conversation about why we exist, how well we are realizing our mission, and how we can better accomplish our mission in today's context."
The schedule, still in the planning stages, will involve exhibitions, scholarly panels and lectures, performances, and student and faculty presentations.
On April 18, Jones and Richard Wiest, president of the Penn State Schuylkill Advisory Board, unveiled the anniversary logo at the board's quarterly meeting. The logo will be used to both distinguish and tie together all activities related to the 85th anniversary. It will be on display from now until the end of the year, including signage on the campus mall walk and other strategic areas on campus.
Penn State Schuylkill will welcome the community to campus with a kick-off celebration on Sept. 19. This 85th-anniversary "birthday party" will feature a student carnival, art exhibit, performance by the alumni chorale and, of course, birthday cake and Penn State Berkey Creamery ice cream. The evening will conclude with a special presentation and book signing by Roger Williams, author of "Evan Pugh's Penn State: America's Model Agricultural College." Many of the 85th anniversary events will be designed to engage students, faculty and staff as well as draw members of the community to campus.
To keep up to date with events related to the special anniversary observance please click here. To learn more about Penn State Schuylkill's academic programming, continuing education opportunities and other public events please visit sl.psu.edu.