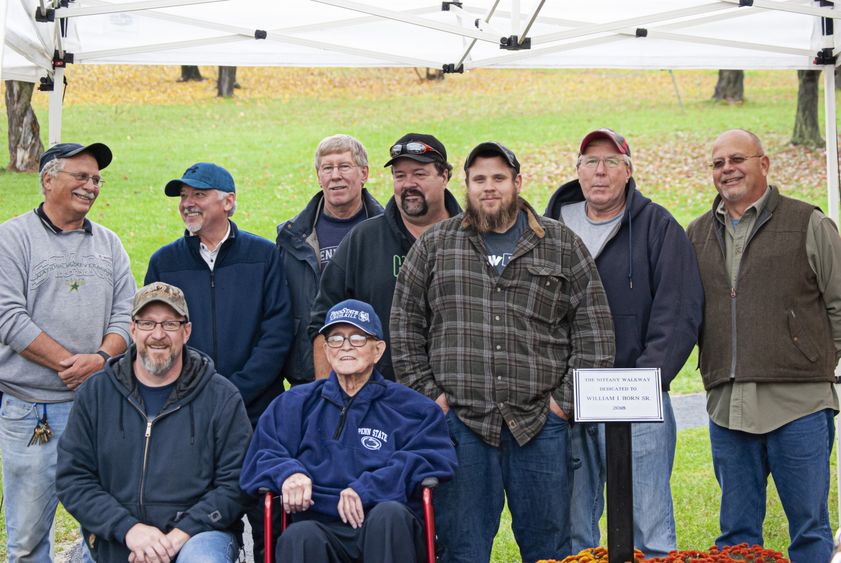 SCHUYLKILL HAVEN, Pa. — Bill Horn was a member of the Penn State Schuylkill physical plant crew for 35 years, from Jan. 3, 1971, until his retirement on Jan. 6, 2006. Horn was devoted to the campus during his long tenure and well into his retirement, periodically returning to visit the campus that he loved. In fact, Horn so loved the campus grounds he tended all those years that in 2005 he established the William I. Horn Sr. Campus Beautification Fund.
Horn may have loved the campus, but he also was loved by those who worked with him, and the endowment established in his name continues to be funded throughout the year with gifts from Penn State Schuylkill staff, faculty and friends.
On Tuesday, Nov. 6, many of his co-workers, including former and current faculty and staff, joined with his friends and family to pay tribute to Horn, as the newly named Nittany Walkway was dedicated in his honor. It was an especially fitting place for Horn's dedication, as Penn State Schuylkill facility manager Jerry Cresswell credits Horn and his trusty Ford tractor with clearing out the brush and trees from the east side of campus where the walkway now winds behind the Ciletti Memorial Library.
Cresswell recalls that a typical workday would find Horn whistling and singing and always ready with a corny joke.
"Bill was always able to cheer people up and leave them in a better state of mind," said Cresswell.
When asked to say a few words at the ceremony, Horn lived up to his jovial reputation by delivering a couple of classic one-liners before declaring, "It took me 13 years to get the plaque, and it may take me 13 more to figure out what to say."
All who knew Horn recognize him as the true embodiment of the Penn State spirit, possessing an affection and appreciation for the Penn State Schuylkill campus that few can match. So, it is no surprise that he would leave the kind of legacy that he did. But his legacy is much more than the financial legacy of his campus beautification fund, it is also a legacy of hard work and love for what you do. It is the kind of legacy that reveals a true and lasting connection to place and people, that forever roots you to that place and from where you are never truly gone.
To make a gift to the William I. Horn Sr. Campus Beautification Fund or learn about other giving opportunities at Penn State Schuylkill, contact Eileen Kuperavage, director of campus development, at 570-385-6260.