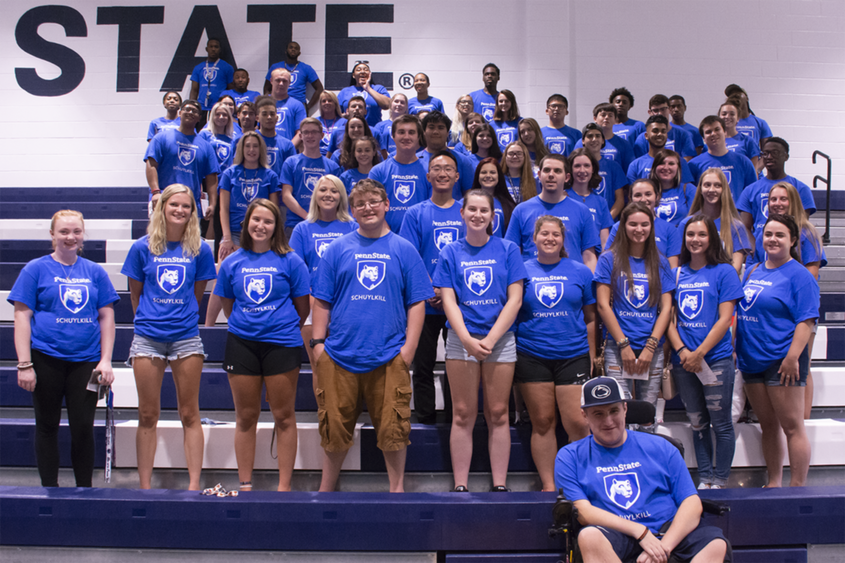 SCHUYLKILL, Pa. — Penn State Schuylkill Interim Chancellor Darcy Medica and faculty and staff campus leaders welcomed the class of 2022 on Friday, Aug. 17, at the 2018 Convocation. Despite the heat of the day, faculty, staff, parents and friends turned out to join the platform party in welcoming the incoming freshman class.
Medica advised students to make good use of the resources available to them as part of the Penn State system and encouraged them to embrace the networks provided by the international Penn State alumni family. She remarked on the strong camaraderie and fellowship with those who came before them, and with those who will one day follow. Alumna Catherine Mahon, class of 2017, echoed that sentiment with her story of greeting a Parisienne stranger on a street corner in France who was wearing Penn State apparel with "Nous Sommes!" ("We Are!")
Mahon also encouraged first-year students to use their time at Penn State Schuylkill to find what truly inspires them and to pursue those passions. She cited her own journey of discovery as an example. She noted the engagement of faculty with students, and the opportunities of small class sizes and scholarly programs — all hallmarks of the Schuylkill campus.
Bryan Valentine, director of student affairs and enrollment services, outlined the expanding opportunities available to students at Penn State Schuylkill, including recent membership in the National Association of Intercollegiate Athletics (NAIA) and new relevant academic majors. Additionally, Valentine challenged new students to create a meaningful college experience by fully engaging in their college career. He urged them to make connections, join groups, study abroad and perform community service.
Corey Scherer, interim assistant director of academic affairs, offered some sage advice to new students when he exhorted them to show up — in other words, he said, "Don't skip class!"
New lecturer and former director of admissions Janelle Gruber ended the convocation by leading the audience in their first time singing Penn State's Alma Mater.