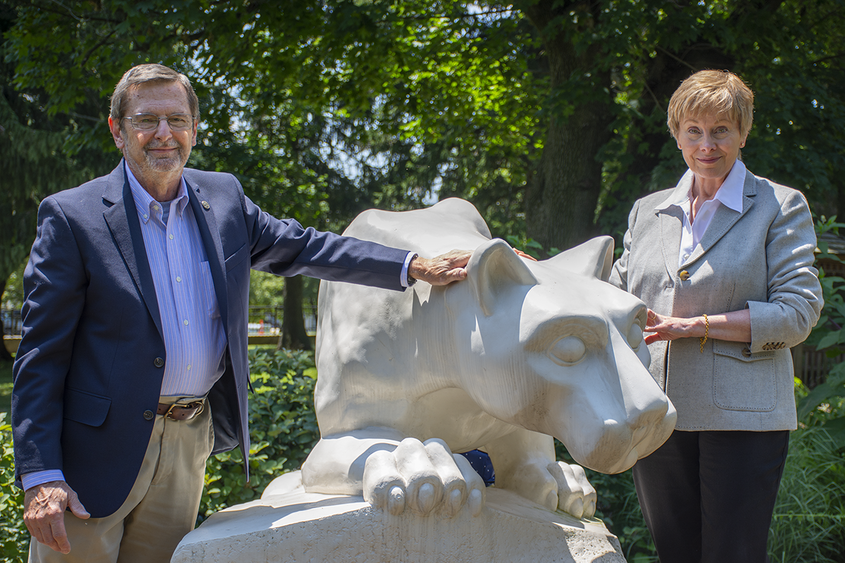 SCHUYLKILL HAVEN, Pa. — The Cardamone family bleeds blue and white through and through. Michael Cardamone, who taught physics at Penn State Schuylkill for 47 years; his wife, Barbara Cardamone; and their two daughters, Deborah and Lori, have collectively accrued nine Penn State degrees. More degrees are in the family's future, as the couple's eldest grandson is currently a Penn State student.
Michael and Barbara Cardamone recently showed their gratitude to Penn State through a gift of $30,000 to create the Dr. Michael and Barbara Cardamone Renaissance Scholarship.
Renaissance Scholarships benefit high-achieving students with the greatest financial need. The University will match the gift 1:1 through the First-Time Endowed Scholarship Donor Matching Program, a featured giving opportunity of "A Greater Penn State for 21st Century Excellence," the University's current fundraising campaign.
"Barbara and I want to provide a way for talented students to receive a world-class education, whether they stay at Penn State Schuylkill for all four years or participate in the 2+2 degree plan," Michael said.
"Mike and I find it very gratifying to see the success of the Schuylkill students," Barbara said. "Schuylkill is a hidden gem with very, very good faculty. The campus provides a wonderful education and is a great service for the local community."
In addition to serving as a professor of physics for 47 years, Michael was the Schuylkill campus' director of academic affairs for six years and associate dean for three years, during which time he hired many tenured faculty members who are still at the campus. He was first employed by Penn State as a graduate student in 1966, earning both a master's degree and a doctorate in physics while attending the University Park campus.
"Dr. Cardamone has been an outstanding mentor to generations of faculty and students. He continues his tremendous leadership and contributions to the campus through the generous gift that he and Barbara have made to help talented students obtain a quality education," said Darcy Medica, interim chancellor of Penn State Schuylkill.
"Mike has taught many generations of Schuylkill students," Barbara said. "He often hears from his students, including several who are currently retired. It's very heartening that the students valued their Schuylkill education and write back and forth with Mike."
Many of Michael's students often recall his mantra: "Ask what you know about a topic and then identify what you want to find out." They also have benefited from his simple, yet profound, advice: "You won't remember all the theory and formulas you learned in class, but be sure to commit the basic principles to memory and work from there."
Giving back is important to this Penn State couple.
"By creating this scholarship, we want to ensure that promising students who need a little financial help are able to remain in school and pursue their dreams," Michael explained.
The Cardamones are lifetime members of the Penn State Alumni Association. In the community, Michael serves on the board of directors for both Pottsville Area School District and Schuylkill Intermediate Unit 29. He also is a member of the Penn State Schuylkill committee for the "A Greater Penn State for 21st Century Excellence" campaign.
The Cardamones' gift will advance "A Greater Penn State for 21st Century Excellence," a focused campaign that seeks to elevate Penn State's position as a leading public university in a world defined by rapid change and global connections. With the support of alumni and friends, "A Greater Penn State" seeks to fulfill the three key imperatives of a 21st century public university: keeping the doors to higher education open to hard-working students regardless of financial well-being; creating transformative experiences that go beyond the classroom; and impacting the world by fueling discovery, innovation and entrepreneurship. To learn more about "A Greater Penn State for 21st Century Excellence," visit greaterpennstate.psu.edu.