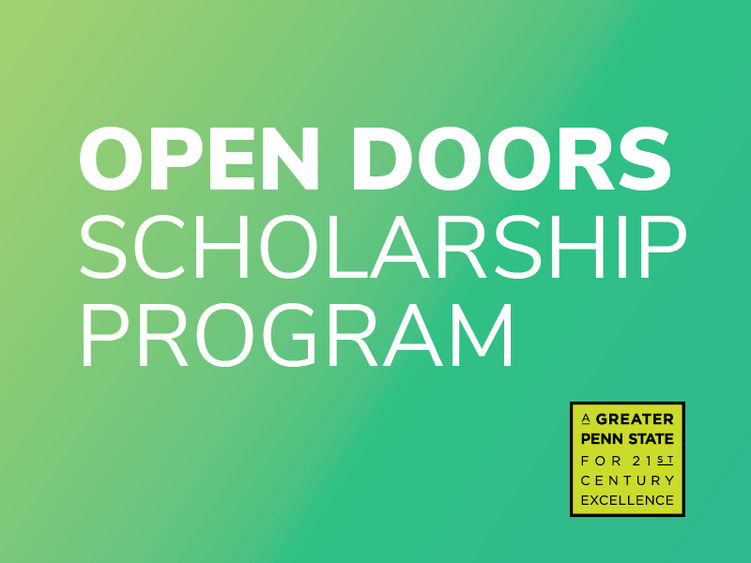 UNIVERSITY PARK, Pa. — In the spirit of helping students find financial success through a Penn State education, Penn State alumnus Ken Schoener recently created a new Open Doors Scholarship with a gift of $30,000, which the University will match 2:1 through the Open Doors Scholarship Program. He also made an estate commitment to give another $125,000 to the University for the Dorothy L. Schoener Memorial Scholarship he established in 2000.
"These contributions directly help students by enhancing the University's ability to provide financial aid," said Rob Pangborn, vice president and dean for Undergraduate Education. "We're continuing to see a great response to the two-to-one match from generous contributors. Thanks to Ken's endowment of another Open Doors Scholarship, we're able to provide even more financial support to motivated, driven students who otherwise might find the cost of a Penn State education out of their reach."
Schoener's Open Doors Scholarship, which will be named after his father, J. Edward Schoener, will provide financial assistance for students at all Penn State campuses enrolled in RaiseMe, the Pathway to Success: Summer Start program, the Student Transitional Experiences Program, or Complete Penn State.
Schoener has also chosen to invest even more into the fund he created in memory of his mother, Dorothy L. Schoener, in 2000. All full-time undergraduate students enrolled in or who are planning to enroll at Penn State are eligible for funds through the memorial scholarship, provided they have proven outstanding academic success and have financial need.
A 1960 graduate of Penn State, Schoener went on to work in the water supply and wastewater disposal field as an engineer. He worked first for the Department of Environmental Resources, and later for the Department of Environmental Protection after DER was split into two.
He retired from full-time work in 1982. He later took up bicycling and biked across the U.S multiple times.
As an avid performing arts fan, Schoener travels back to Happy Valley to see shows at Eisenhower Auditorium at Penn State, as well as other local colleges and universities.
The Orwigsburg, Pennsylvania, native said his mother encouraged him to go to college and he was the first in his family to do so. Schoener started at Penn State Schuylkill and later transferred to University Park. He now lives in Juniata County.
"I think it's important to have a well-educated country," Schoener said. "Through these scholarships, I want my legacy to be helping talented, hard-working students earn a Penn State education just as I once did."
Gifts from Penn State's alumni and friends have been essential to the success of the University's historic land-grant mission to serve the public good. To fulfill that mission for a new era of rapid change and global connections, the University has begun "A Greater Penn State for 21st Century Excellence," a fast-paced campaign focused on the three key imperatives of a public university: Private support will keep the doors to higher education open to hard-working students regardless of financial well-being; create transformative experiences that go beyond the classroom; and impact the world by fueling discovery, innovation and entrepreneurship. To learn more, visit greaterpennstate.psu.edu.