Penn State Schuylkill's RN to B.S.N. program delivers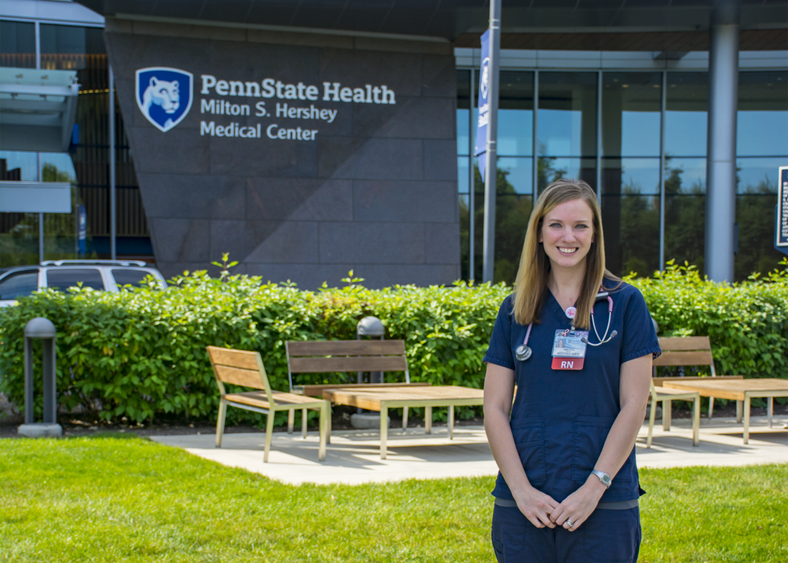 SCHUYLKILL HAVEN, Pa. — For Anastasia Barnhardt, it's the love of patient care that drives her passion for the nursing profession. With a newly minted B.S.N. degree from Penn State Schuylkill in its 12-month accelerated RN to B.S.N. program, Barnhardt, a native of Pottsville, Pennsylvania, has recently begun a new nursing position in the Neuroscience Intensive Care Unit at Milton S. Hershey Medical Center.
"A nurse is the professional who is in the room with a patient most of the time and often will be the one to notice a significant change — you can save lives by catching something early," Barnhardt said. She added that she is privileged to have the opportunity to make a difference in the lives of others by providing excellent patient care.
Barnhardt excelled in the 12-month degree program. She credits her professors, including her adviser, RN to B.S.N. program coordinator and Assistant Professor of Nursing Marianne Adam, for their wonderful teaching. "Dr. Adam was my adviser and she was very involved, ensuring that we were on track to graduate with our requisite coursework," said Barnhardt.
Adam speaks highly of her former student, calling her "bright, hardworking and committed to patient care." She said Barnhardt will continue to make valuable contributions to the nursing profession as her career progresses.
Barnhardt found several classes in the program of great interest, including a course on research. "With evidence-based practice, I could only read about research and not participate in it at this stage, but I thoroughly enjoyed reading research journals and publications on the topic of sepsis with a focus on those 18 and older," she said. Her PICO question — PICO is a mnemonic for the four components of a good clinical question — focused on whether or not quick intervention by a nurse could affect patient mortality.
For her capstone project, she researched area care and capacity for the treatment of diabetes; she added that the disease is the seventh leading cause of death in the U.S. Another class she enjoyed was Introduction to Nursing Informatics, a course that deals with all things electronic in a medical setting, including electronic health records, medical records and medication.
Barnhardt said, "I truly, truly love patient care and my job." Conscientious, enthusiastic and dedicated to the nursing field, she also works occasional shifts in the Emergency Department at Lehigh Valley Hospital Hazleton where she has worked full-time for two years.
In earlier years, while she was working as an aide at the former Pottsville Hospital on the psychiatric floor, Barnhardt explained, she initially had an interest in studying psychology, but that changed over time. "My long-term goal is to be a nurse anesthetist, an advanced role in a nursing specialty that requires an individual to be master's prepared," she added.
Nursing is becoming somewhat of a trend in her family. Her older sister is a director of nursing at a nursing home. Her younger sister recently graduated with a biology degree and is planning a career in nursing as well. "I have a cousin who has two more classes to finish in the RN to B.S.N. program at Schuylkill," she added.
A report from the Nursing Workface details an emerging nurse shortage due to multiple factors, including increasing demographic pressures. In addition to strong employment in the field, Barnhardt said that major health care facilities are looking to hire nurses with bachelor's degrees or evidence of pending enrollment in such programs.
Barnhardt said that she would recommend the accelerated RN to B.S.N. program to others in the field. "I love the Schuylkill campus and its size allows you to have the important one-on-one time with your professors."
For more information about the RN to B.S.N. program that is offered in both accelerated and traditional tracks, contact Marianne Adam at [email protected].