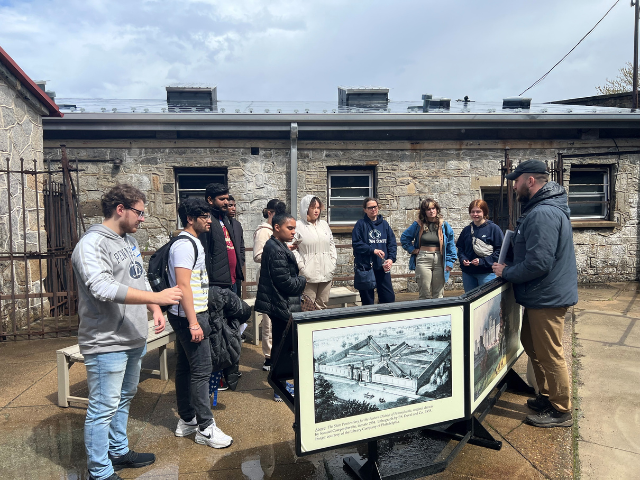 CENTER VALLEY, Pa. — Nearly 70 domestic and international students across multiple Penn State campuses, including Abington, Brandywine, Great Valley, Lehigh Valley and Schuylkill, joined together for a series of events about mass incarceration in the United States, including a visit to Eastern State Penitentiary in Philadelphia.
"Bringing domestic and international students from Penn State's campuses is vital in building connections across campuses and cultures," said Ryan Geiger, Penn State's global engagement coordinator, who worked with three faculty members in rehabilitation, arts administration and sociology at the Lehigh Valley campus to orchestrate the series.
The series provided an opportunity to engage in difficult, yet critical, conversations around the issue of mass incarceration while visiting a landmark institution in a major metropolitan city, Geiger said.
"Increasing students' awareness equips them to participate in further dialogue that can result in solutions to challenging global issues," said Geiger.
The series was inspired by Andjela Kaur, Penn State Lehigh Valley assistant teaching professor of rehabilitation and human services. Her aim was to give her students opportunities for real-world exposure to global historical systems and perspectives on mass incarceration, and especially how mental health and rehabilitation have been dealt with in prisons.
"Penn State Global made it possible to turn my academic ideas into programmable action," said Kaur.
The first event, on Feb. 28, took place at the Lehigh Valley campus with a lecture by Sean Kelley, executive director of Eastern State Penitentiary. Kelley enlightened the Penn State group on the penitentiary's pivotal place in history and the sociopolitical evolution of mass incarceration in the United States. He also spoke about his vision for the museum, including encouraging people to think freely and reflect on common sense and humane criminal justice reforms.
The second event, on April 1, was a breakfast meeting at the Brandywine campus with a lecture by Judge Stephanie Sawyer, from the Philadelphia Court of Common Pleas. Sawyer spoke about the Sentencing Foundation, an organization she founded that focuses on sentencing reform.
"Judges can be advocates for social justice," she said, "by focusing on education and skills training rather than lengthy prison sentences."
She also talked about college internship opportunities with the Sentencing Foundation, while shining a light on the outstanding work being done by a current intern, Julia Nagielska, an international student from Poland who attends Penn State Abington.
The visit to Eastern State Penitentiary was the third and final event, which took place on the afternoon on April 1. Students participated in thematic tours led by guides from the prison's education department. These themed tours allowed participants to look at different elements of incarcerated life, including mental health and disability, art and racial injustice.