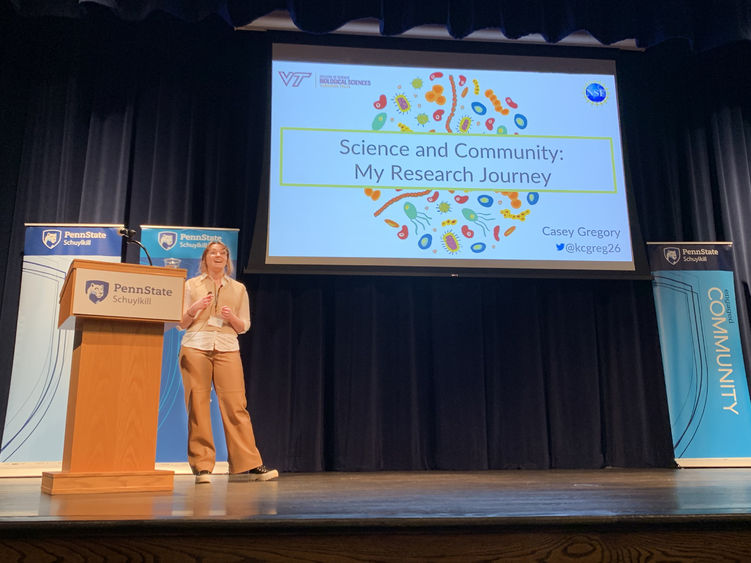 SCHUYLKILL HAVEN, Pa. — Penn State Schuylkill's Theta Chi Theta chapter of Beta Beta Beta (TriBeta), the national biological honor society, hosted the organization's Northeast District 2 convention on campus for the first time on Saturday, April 1. The event also marked the first time a TriBeta district convention was hosted by the University in at least a decade.
Seventeen colleges and universities from Pennsylvania, New Jersey, New York, Maryland and Delaware attended the convention, with 18 different TriBeta chapters in attendance and 39 student presentations on topics that included:
Improvements to neonatal medicine.
Cell growth and function.
DNA replication.
Infectious disease spread.
The event consisted of two oral presentation sessions and two poster sessions, where participating undergraduate researchers showcased their projects either through a poster or a presentation.
Keynoting the event was alumna Casey Gregory, who graduated from Penn State Schuylkill in 2019 with a bachelor's degree in biology. She returned to campus to speak to the nearly 70 student participants about the importance of community, both in life and within her research on honeybees, as well as the impacts scientific research has on society and the planet. Currently, Gregory is a doctoral candidate in Virginia Tech's biological sciences graduate program with a research focus on the impacts of antibiotic disturbance on the symbiotic gut microbiome of honeybees. Following her anticipated graduation in 2024, Gregory hopes to pursue a career with the United States Department of Agriculture to explore how microbes can be used to improve the health of pollinators.
"We were honored to be the host institution for the NE-2 district convention this year," said Brenna Traver, Penn State Schuylkill associate professor of biology and Theta Chi Theta adviser. "The Theta Chi Theta chapter students here at Penn State Schuylkill were immediately on board and excited to host the convention when I proposed the idea last April. They went above and beyond to ensure the meeting was a success. I would especially like to thank past-president Caitlyn Goggin and member Arabi Chavira for their dedication and support. The caliber of the undergraduate research and professionalism exhibited by the student presenters is outstanding, and never ceases to amaze me."
TriBeta is dedicated to improving the understanding of biological study and improving the understanding of biological study and extending human knowledge through scientific research. Each year, TriBeta chapters from various colleges and universities attend a District Convention where participating students present their scientific research before peers and a panel of judges.
At the conclusion of the convention, the district director, David Royer, announced the overall winners of two categories, the Frank G. Brooks Award for participants who presented their research, and the John C. Johnson Award for participants in the poster sessions.
Frank G. Brooks Awards
Best overall and first place: Laila Andaloussi Serraj – Drew University
Second place: Kimberly Manning – Elizabethtown College
Third place: Emily Harding – Elizabethtown College
Honorable mentionL Kaylynn Leap – Elizabethtown College
John C. Johnson Awards
Poster Session One
First place: Anika Pruthi – The College of New Jersey
Second place: Emily Wells – Moravian University
Third place: Manuel Gutierrez – Bloomsburg University
Honorable mention: Noa Bass – Monmouth University
Poster Session Two
Best overall and first place: Julie Asbury – Notre Dame of Maryland University
Second place: Sydney Jones – Cedar Crest College
Third place: Abedola Agboola – Lincoln University
Honorable mention: Emily Ferris – Monmouth University