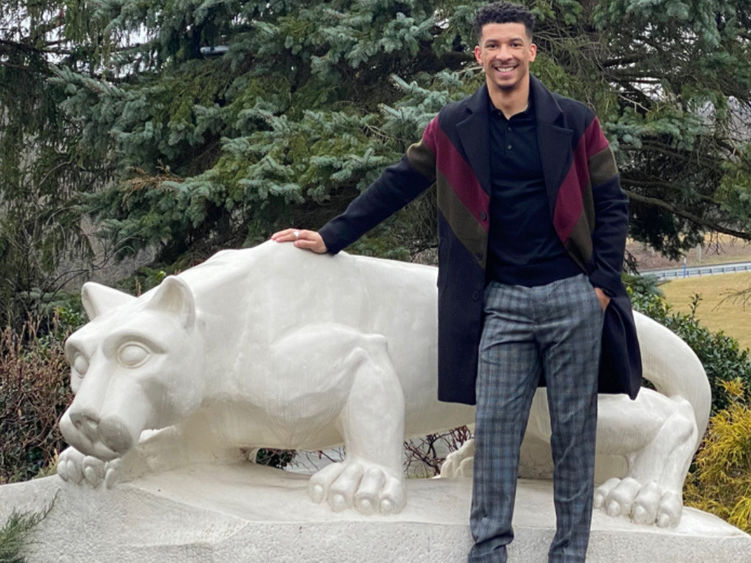 SCHUYLKILL HAVEN, Pa. — Through the eyes of alumnus Marcel Smith, class of 2014, college is the time for students to be intentional about their experiences. It's the time where they can explore all their passions and career interests and start creating a foundation that sets them up for success.
Smith, who attended Penn State Schuylkill from 2010-12, made history as one of the first male dancers on an NBA dance team, and the first male dance team captain for the NBA's Washington Wizards from 2021-22. Smith returned to campus recently to speak about his career trajectory, and how Penn State Schuylkill helped shape his approach to chasing his dreams.
Smith, a performer by nature, was active in the theater arts on campus. He landed lead roles in several productions, and he served as a lead choreographer, too. His drive and passion for the arts led him to take a leap of faith, switching his major from criminal justice to theater. With the help of advisers at Penn State Schuylkill, Smith was on track to attend the Berks campus to continue his education in theater arts, eventually finishing his degree at University Park. Smith graduated in 2014, earning his bachelor's degree in theater with a concentration in directing.
Following graduation, Smith became an actor off-Broadway in "The Wiz," a revival of "Rent," and "Ruined," before earning a spot on the NBA's Washington Wizards dance team. A current theater arts teacher to middle school students in Washington, D.C., Smith intends to impart valuable career advice to his students early on to help them feel they are on the path to success as they continue to grow.
Smith encourages everyone to find their talents and be unafraid to promote themselves through traditional networking and by creating a positive personal brand on social media.
"Finding your skillset is what helps make you, you. Tap into natural talents and find practical uses for them in a career path," said Smith. Additionally, he recommended everyone create to a timeline for themselves with action items and goals they hope to meet and document their successes and failures along the way, so that they can see how far they've come — and where they may need to improve.
"Pursuing your dreams isn't one-size-fits-all," said Smith. "Sometimes it doesn't matter which route you've taken to meet your goals, as long as you get to them successfully."
Smith ultimately wants students to remember to define their goals, track their forward movement in pursuit of those goals and understand their failures, and to establish strong, meaningful connections on campus and beyond.