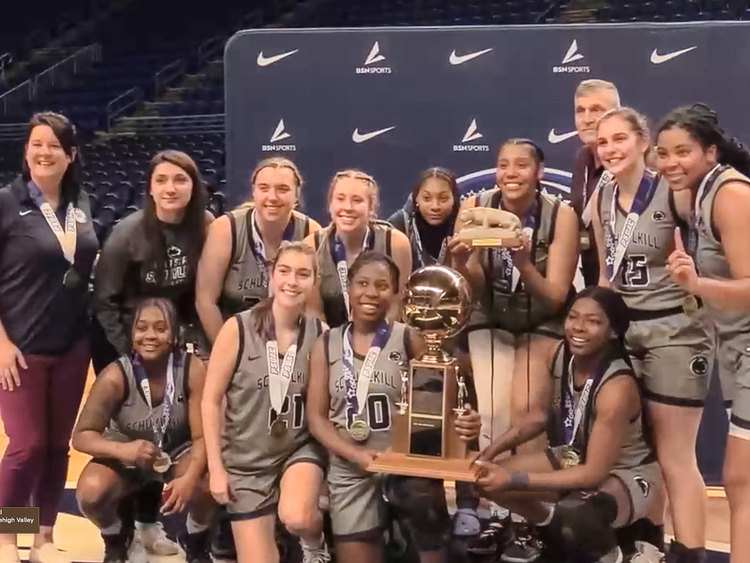 UNIVERSITY PARK, Pa. — Penn State Schuylkill's women's basketball team took home the PSUAC championship title for the first time in campus history after defeating Penn State Lehigh Valley 53-45 on Monday, March 6, at the Bryce Jordan Center.
The game was the team's ninth consecutive win and 25th win of the season.
Head coach Charles Killian said, "It was an exciting game and a fun game, and our girls showed a lot of character. We play excellent defense — team defense."
That defensive strength was showcased in the championship game as they held the highest scoring team of the PSUAC, Lehigh Valley, to just 45 points. Over the course of the season, Lehigh Valley averaged 83 points a game.
Second-year player Tajae Stevenson earned PSUAC East Division's Player of the Year honor, averaging 15.4 points per game. In a post-game interview she said, "The game plan was to show mental toughness, and everyone kept their heads … we worked together as a team. I'm just glad I was able to hit shots and help my team to come out as the winner today."
The team earned a 35% shooting percentage and 11 offensive rebounds during the championship game.
"I am so proud of these women," said Penn State Schuylkill Chancellor Patrick M. Jones. "They gave us an exciting season and earned the title, 'Champion.' Well done, ladies!"
Next up, the team heads to the 2023 USCAA Small College National Basketball Championships March 12–16 at Virginia State University in Richmond, Virginia.