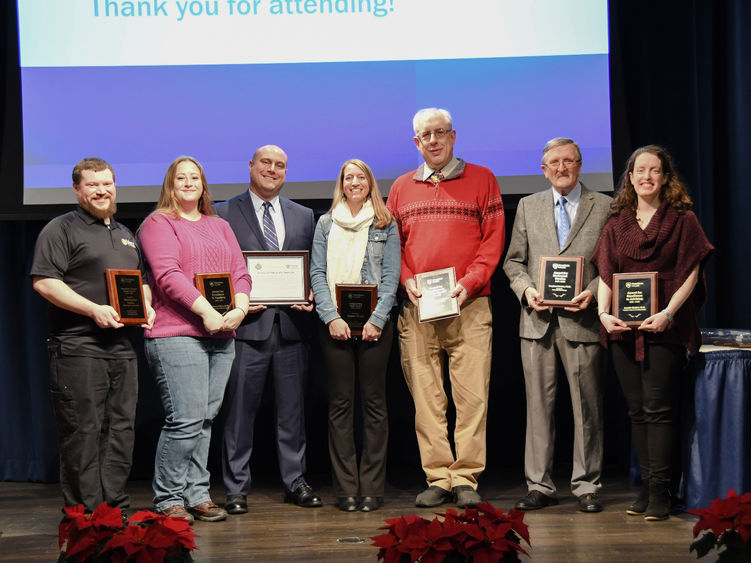 SCHUYLKILL HAVEN, Pa. — As the fall semester came to a close, Penn State Schuylkill's faculty and staff joined together to recognize employees who reached years of service milestones in 2022, and to celebrate those who received annual honors, including the Outstanding Staff Award and faculty awards for advising, teaching, research and service. The campus also awarded a professional excellence citation to a member of University Police and Public Safety and honored exemplary campus partners for their service.
Outstanding Staff Award
Robin Welsh, academic adviser, earned this year's Penn State Schuylkill Outstanding Staff Award, which is awarded annually to a full-time, nonacademic employee who has provided exceptional service on behalf of the campus. Over the last few years, Welsh proved her dedication to Penn State Schuylkill and its students when — not once, but twice — she stepped up to take on an interim role as advising manager. During the time in the COVID-19 pandemic when the majority of Penn Staters were learning and working remotely, Welsh balanced running the advising department from home, advising a full roster of students virtually, and helping her own young children with their remote schooling.
Valerie Henne-Hallman, regional human resource strategic partner, announced the award and said, "A steady and gentle presence, Robin is known on campus for her warm smile and her special ability to help students and colleagues feel at ease, even when they're grappling with difficult situations. … Penn State Schuylkill is a better place because of Robin's leadership and commitment to not just the work, but the people."
Faculty Awards
Excellence in Faculty Advising Award
Janelle Gruber, lecturer in corporate communication, earned Penn State Schuylkill's 2022 Excellence in Faculty Advising Award. The award recognizes faculty members who demonstrate a dedication to faculty advising. While announcing the award, Darcy Medica, director of academic affairs at Penn State Schuylkill, said, "Janelle's nominator stated that "She knows each corporate communication student's interests, strengths and weaknesses, and reaches out to them multiple times a semester to make sure they are on track. … She cares deeply about the major, the discipline, and each student."
Faculty Service Award
Harold Aurand, teaching professor of history, earned Penn State Schuylkill's 2022 Faculty Service Award, which recognizes excellence in service to Penn State or to the community. In addition to his teaching duties, Aurand has served as Penn State Schuylkill's campus representative to the University Faculty Senate since 2008. He served as president of the local faculty government from 2015 to 2017. Medica said, "His historical expertise has been an asset to service activities, including our campus' 75th anniversary celebration, the Schuylkill Chamber of Commerce Centennial, and the Schuylkill County Bicentennial." Aurand also has served on the board for Eckley Miners' Village Associates and Schuylkill Haven's Walk-In Arts Center committee to seek certification as a Pennsylvania Regional Folk Art Center. 
Excellence in Teaching Award
Rebecca Bolton, lecturer in physics and mathematics, earned Penn State Schuylkill's 2022 Excellence in Teaching Award, which recognizes and encourages an exemplary commitment to excellence in teaching. Medica said, "Rebecca is a consummate educator and works to evaluate and address the needs of her students as individuals, while also ensuring high levels of quality in their work and accountability in their actions."
Distinguished Service Award
New this year, the Distinguished Service Award honors a part-time employee who has provided dedicated service to the campus community. The inaugural recipient of this award is Stephen Roman, instructor in philosophy and sociology and adviser for the civic and community engagement minor. An alumnus of Penn State Schuylkill, Roman returned to teach ethics at the campus in 2016 after retiring from the U.S. Army as a lieutenant colonel. Medica said, "Steve engages with our students with a high level of energy and is always concerned with student learning and success. Beyond the classroom, Steve is one of our greatest supporters of campus events and initiatives."
Professional Excellence Citation
Timothy Moyer, police officer, was honored with the 2022 Professional Excellence Citation, which recognizes a University Police and Public Safety (UPPS) employee who demonstrates professionalism and excellence. Moyer was recognized for his commitment to protecting and serving while showcasing the UPPS values of integrity, respect, responsibility, discovery, excellence and community.
Exemplary Campus Partner Awards
New this year, the Exemplary Campus Partner Award recognizes a campus partner or partners for dedication and commitment to Penn State Schuylkill. The inaugural recipients of this award are Christopher Zarker, chef manager for Metz Culinary, the vendor partner managing the campus' Hidden Stream Café, and Olivia Rollins, assistant manager of the campus Barnes & Noble bookstore.
Years of Service Awards
Also during the ceremony, the campus community celebrated faculty and staff members who reached milestone service anniversaries in 2022:
20 years of service
Christopher Barket, maintenance — utility, facilities and operations
Warren Duffy, associate professor, English
Jonathan Kukta, director of business services and business instructor
Vincent Mitchell, IT and audio/visual support specialist
Darlene Young, tutoring coordinator and mathematics instructor
15 years of service
Lisa Cecchini, financial aid and veterans benefits coordinator
David Pothering, IT support specialist
Cory Scherer, associate professor and program coordinator, psychology
10 years of service
Roger Lehman, public safety officer
Five years of service
Susan Faust, staff assistant for development and alumni relations
Gina Whalen, assistant teaching professor, business
Nicholas Windell, public safety officer
Congratulations to all!