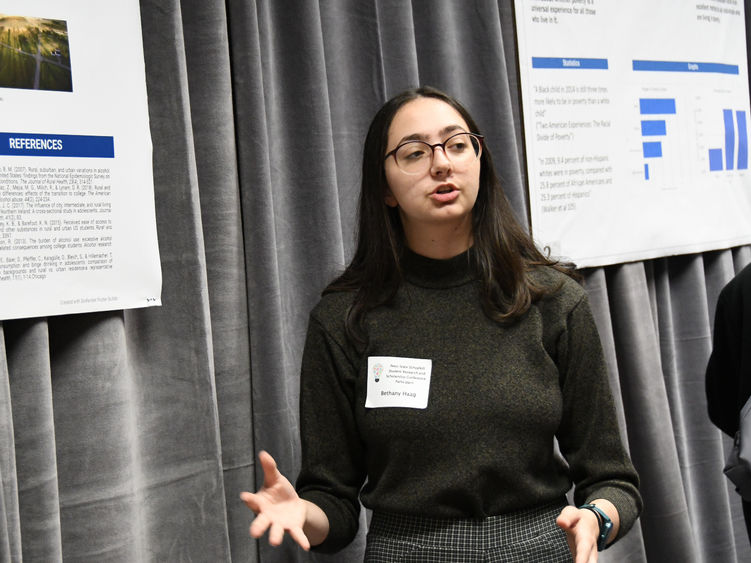 SCHUYLKILL HAVEN, Pa. — Penn State Schuylkill undergraduate students presented their original research at the biannual Student Research and Scholarship Conference on Wednesday, Nov. 30. Sixteen students from a variety of disciplines — including biology, arts and humanities, physical science and social sciences — presented topics that ranged from a virtual reality experience to improve understanding of electric fields, to synthesis of chemical compounds to discover novel treatments for disease, and examination of important cultural and societal issues.
The event, co-coordinated by Juyoung Song, associate professor of criminal justice, and Mary Ann Smith, lecturer of biology, showcased the students' semester-long work on their respective projects.
Our students' impressive research reminds me that the future is in good hands.

—Darcy Medica , director of academic affairs at Penn State Schuylkill
"These exceptional students are thinking about ways to mitigate disease with novel drug discovery, to improve learning using virtual reality, to address alcohol abuse in targeted geographies, and more. I am so proud of them all," said Darcy Medica, director of academic affairs at Penn State Schuylkill.
Following the conference, five scholars were selected as winners and are eligible to be considered to present at the Penn State Eastern Regional Undergraduate Research Symposium in spring 2023. They are Ethan Carvajal, Bethany Haag, Katheryn Joyce, Andrew Sepp and Alexis Snyder. After the campus's spring Student Research and Scholarship Conference, winners of both sessions will be evaluated, those with the highest scores in each category earning the ability to participate in the regional event.
The full list of student presentations is available to view here.
Penn State Schuylkill is proud to offer a strong research community on campus, where students are committed to exploring their passions and curiosities across a wide breadth of disciplines, alongside fellow peers and faculty, as early as their first semester of studies.
Students interested in participating in the research conference in the future should reach out to Song at [email protected] or Smith at [email protected].