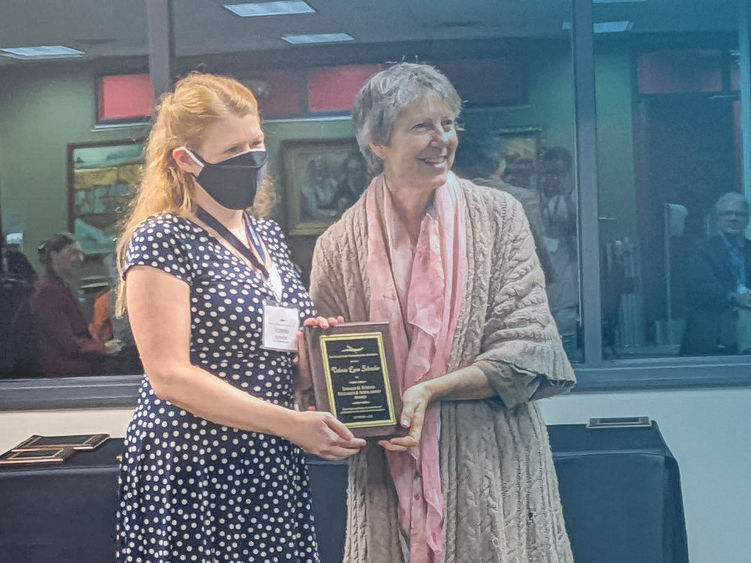 SCHUYLKILL HAVEN, Pa. — Penn State Schuylkill was well represented at the 2022 Pennsylvania Communication Association conference held Sept. 30 to Oct. 2. Two students and two faculty members shared original research at the conference that was held at East Stroudsburg University. Penn State Schuylkill has been developing a presence at PCA over the last few years, and the campus is slated to host the PCA conference in 2024.
Several members of the Penn State Schuylkill community shared original research at the conference. Poetic Session, a second-year student at Penn State Schuylkill, presented a paper at the conference with her faculty mentor, Valerie Schrader, professor of communication arts and sciences. The paper titled "Exploring music, animation and other performative elements through rhetorical criticism" was part of an undergraduate research panel. 
Brianna Hall took first place in the undergraduate writing competition for a paper written under Schrader's mentorship, titled "Social Constructism and Facebook comments about school masking policies." In addition, Janelle Gruber, lecturer of corporate communication, presented a paper as part of a panel for the communication education interest group called "Creating Community: A Case Study Exploring a Hybrid Course Offering in an Upper Division Corporate Communication Course." 
Schrader has been active in the leadership of PCA. She organized and ran the undergraduate research interest council for the 2022 conference and was elected second vice president for 2023.  Schrader also was honored at this year's conference with the Donald H. Ecroyd Research and Scholarship Award for her research in rhetorical criticism, which examines messages and meanings within various texts. Schrader has a strong presence in her field of research and has published approximately 30 peer-reviewed research articles in communication and theater journals, and presented over 50 conference presentations at international, national, regional and state communication and theater conferences.
PCA is a statewide organization that has been in existence for more than 80 years. The work shared at PCA's annual conference continues to advance and grow the field of communication. Penn State Schuylkill faculty and students plan to attend the 2023 conference to be held at Slippery Rock University and host the PCA conference in 2024 on the Penn State Schuylkill campus.
"The Pennsylvania Communication Association is a wonderful organization that I've been part of since my graduate school days, and I'm thrilled that we will be hosting the conference here in 2024! It's a very welcoming organization that connects scholars in the discipline, explores important topics related to communication studies, and celebrates the work of undergraduate scholars, graduate students, and faculty," said Schrader. "I often encourage both my colleagues and my students to participate in PCA because of its friendly atmosphere and its dedication to quality, peer-reviewed scholarship."