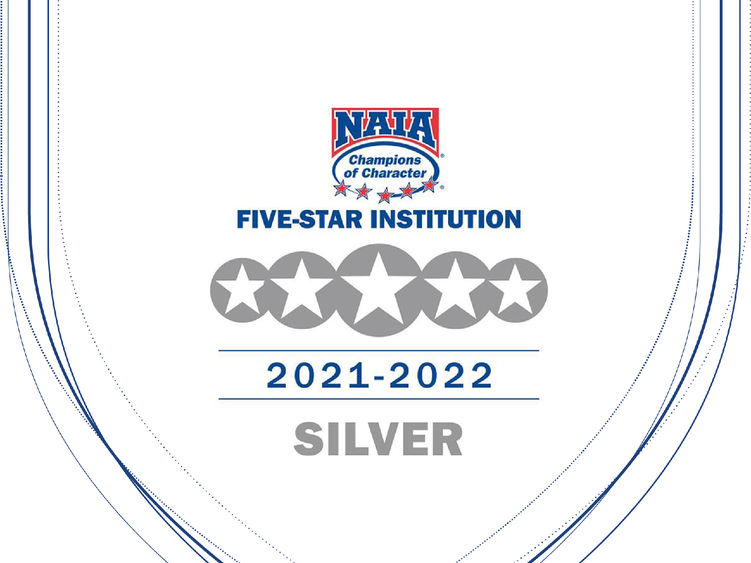 SCHUYLKILL HAVEN, Pa. — The National Association of Intercollegiate Athletics recently released its National Award Day winners for the 2021-22 academic year, celebrating Penn State Schuylkill as a silver Champions of Character Five-Star Institution. The conference also awarded 14 Penn State Schuylkill students its Scholar Athletes Award, and seven of the campus' athletics teams received the Scholar Team Award.
Champions of Character
The Champions of Character Five-Star Institution Award rates athletics programs by assigning points based on character training, conduct in competition, academic focus, and character recognition and promotion. Institutions are further awarded based on exceptional student-athlete grade-point averages and by having minimal to no ejections during competition for that academic year.
This year, Penn State Schuylkill was designated a silver-level Champions of Character Five-Star Institution, surpassing the campus's previous bronze designations.
Scholar-Athlete Awards
The Daktronics NAIA Scholar-Athlete Award recognizes excellence in the classroom among NAIA student-athletes who are juniors or seniors in good academic standing with a cumulative GPA of 3.5 or higher. Students must have attended two full years as non-transfer students or one full year as transfers and must participate in sports eligible for NAIA postseason competition.
Men's Baseball
Sean Duffy, fourth-year
Kyle Ferguson, third-year
Jacob Leininger, fourth-year
Patrick Ryan, fourth-year
Owen Zimmerman, third-year
Men's Basketball
Lucas Centola E Silva, third-year
Women's Softball
Caitlyn Goggin, fourth-year
Emily Maher, fourth-year
Kristina McConnell, fourth-year
Samantha Palaca, fourth-year
Sierra Santarsiero, fourth-year
Melanie Torrales, third-year
Women's Soccer
Kelsey Atkinson, fourth-year
Rachel Wiest, third-year
Scholar-Team Awards
Seven of Penn State Schuylkill's athletic teams were recognized as NAIA Scholar Teams, based upon the team's average GPA of 3.0 or higher over the 2021-22 academic year.
Women's Cross Country – 3.89 
Women's Softball – 3.58
Women's Soccer – 3.27
Men's Baseball – 3.23
Men's Basketball – 3.04
Women's Basketball – 3.03
Women's Volleyball – 3.02
"I'm so proud of our student-athletes' hard work in the classroom and on the field/court," said Bryan M. Valentine, director of student affairs and athletics. "They're role models, mentors, advocates and leaders. Our student-athletes represent themselves and their university in a manner that makes all of us proud."
Penn State Schuylkill is the only Penn State campus with membership in NAIA's Continental Athletic Conference. Learn more about athletics at Penn State Schuylkill.