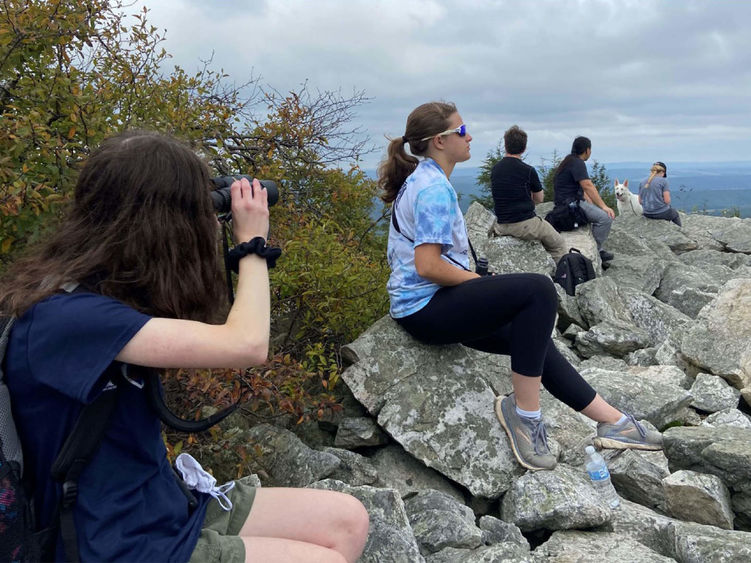 SCHUYLKILL HAVEN, Pa. — Penn State Schuylkill held a virtual induction ceremony for Theta Chi Theta, the campus chapter of Beta Beta Beta (TriBeta), the national biological honor society, on Thursday, March 3.
The following students were inducted to regular membership:
Logan Maurer
Madison Meyer
Samantha Palacz
Dylan Reber
Valerie Sleva
The following student was promoted to regular membership:
The following students were inducted as associate members: 
Sophia Bates
James Bell
Arabi Chavira
Aloura Gavalis
Lily McDonald
Kathryn Silverberg
In addition to inducting and promoting members, several students were recognized as the organization's officers-elect for the upcoming 2022-23 academic year. Those students include:
President-elect: Grace Muench
Vice president-elect: Caitlyn Goggin
Historian-elect: Samantha Palacz
Treasurer-elect: Dylan Reber
Secretary-elect: Maddie Meyer
"TriBeta really helped me get involved with my major," said President-elect Grace Muench, a third-year biology student. This is Muench's second year serving as an officer for Theta Chi Theta, having been the organization's treasurer in the 2021-22 academic year. "Being an officer has helped me invest myself in the club because I feel responsible for it," she continued.
This in-person event featured guest speaker Haley Kitasato, senior management analyst on an epidemiology surveillance special project for the City of San Antonio Health District, who attended virtually via Zoom. Kitasato offered students advice as they continue and complete their studies, encouraging them to evolve with their experiences in her talk titled, "Adaptability is Key: The Unexpected Evolution of a Biologist."
Looking back on an eventful year
Despite challenges presented by the COVID-19 pandemic, including the inability to meet indoors for some of the 2021-22 academic year, the group found ways to stay active and expand their understanding of and passion for the biological sciences through a host of enriching extracurricular activities.
In the fall 2021 semester, Brenna Traver, the organization's faculty adviser and associate professor of biology at Penn State Schuylkill, took a sabbatical to focus on her research examining honey bee colony decline. In her stead, Lucas Redmond, assistant professor of biology, stepped in as the group's temporary adviser. Redmond's research examines a population of gray catbirds on and adjacent to campus, and his work in the field helped keep the students engaged while studying in the lab was not feasible.
To stay safe, the organization held several of their weekly meetings and events outdoors. Over the past academic year, the group journeyed to Hawk Mountain to hike and observe birds, later segueing to mist netting with Redmond. Redmond and his student researchers use mist nets, or finely woven mesh nets, to safely capture birds within their habitat for further observation.
The group made room for fun outside of their research, including hosting an event that has become a regular one — the Butler Semiannual Games. The concept was developed during the pandemic by Briana Butler, a third-year student who was inducted into associate membership in Theta Chi Theta in 2021, and functions like a field day. "They play corn hole, ladder ball, have agility races, and play giant Jenga with trivia on the blocks at these events," Traver explained.
This spring, the group installed a flow hive on campus, which allows the students to harvest honey from bees without having to open the hive and disturb the bees. And as the semester comes to a close, they will document the past year of fun and events in an organizational scrapbook.
"I am especially proud at how they came together during the pandemic to form a community that was able to safely continue to meet, engage with one another, and be each other's support system through these unusual times," said Traver. "While teaching is my passion, working with student organizations is so much fun. I appreciate the time to get to know the students outside of the classroom. It has been an honor to advise TriBeta."
Planning for the next year
The objectives of the society are to "promote scholarship in the biological sciences, to promote the dissemination of biological knowledge and to encourage research," Penn State Schuylkill's new inductees look forward to contributing to that objective.
As she considers what the organization will do next year, Muench credits the organization with helping her get involved on campus. "It gives students research opportunities with faculty, and it is a great way to make friends with people that share similar interests," she said.
To learn more about Penn State Schuylkill's biology program and options, visit the campus's biology webpage.