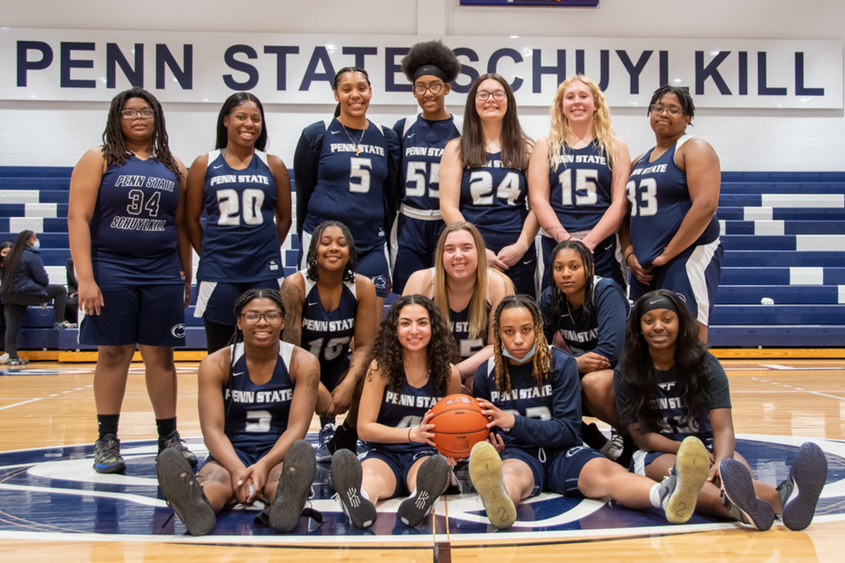 SCHUYLKILL HAVEN, Pa. -- The Penn State Schuylkill women's basketball team, with only three returning players — fifth-year Alyssa Gerber, and two second-year returners, Desiree Ellison, and Sherly Valentin — turned what might have been a successful rebuilding season into a Penn State University Athletic Conference (PSUAC) championship run, culminating in a razor-thin 51-59 championship game loss to Penn State Beaver on Saturday.
After a slow 0-5 start to the season, the Lady Lions hit a winning streak with only two losses the remainder of the season — a National Association of Intercollegiate Athletics (NAIA) matchup with Michigan Dearborn at the end of the fall 2021 semester and an early January loss to their PSUAC East Division rival Lehigh Valley. However, in February, the Lady Lions would turn around that earlier loss to Lehigh Valley in a 71-48 rout of the then-undefeated (in conference play) team, helping them clinch the East Division title and enter the PSUAC playoffs as the top-seeded team in the East.
Team fields top conference honors
In early December, Gerber earned recognition as the first Player of the Week in women's basketball in the NAIA's newly formed Continental Athletic Conference. Gerber, along with teammate and first-year Tajae Stevenson, regularly topped the PSUAC statistical leaderboard for the 2021-22 season, and both players ended the season in the top 10 (across the entire conference) in both points and rebounds per game. Gerber also hit the 1,000-point career milestone earlier this season.
But it was decidedly a team effort. Returning point guard Desiree Ellison also played a critical role in her team's success, finishing the season in the conference's No. 3 spot for steals, as well as cracking the top ten in assists. First-year point guard Nadia King also secured top 10 places on the PSUAC leaderboard, landing in the number four spot for steals and assists, making significant in-game contributions to the team's championship run.
When the PSUAC released their All-Conference list last week, it was no surprise that Gerber earned the East Division's Player of the Year accolade, while Stevenson took home the Rookie of the Year award. Teammate Valentin received this year's John Fritz Sportsmanship Award. Coach Charles Killian was named women's basketball's Coach of the Year across both conference divisions for his efforts in coaching this young team of primarily first-year players into an on-court powerhouse with a deep bench of talented athletes.
Killian is proud of his team's efforts: "It was a successful season, despite not coming away with a PSUAC championship. However, we are still hoping to bring home some hardware [trophy] from the USCAA's." The women's basketball team will next compete in the United States Collegiate Athletic Association (USCAA) Basketball Small College National Championship - DII Women's Basketball tournament to take place March 7-10 in Richmond, Virginia.
Despite their loss to the more seasoned Penn State Beaver team last weekend, this is a team to celebrate. There is much to celebrate in women's athletics at Penn State Schuylkill, with the women's basketball team joining both the fall 2021 women's soccer and women's volleyball teams in what can best be described as inspiring and determined drives in championship-level seasons.
Join us in congratulating Gerber, Stevenson, Killian, and the entire 2021-22 women's basketball team on their outstanding accomplishments this year. Follow Penn State Schuylkill athletics here.