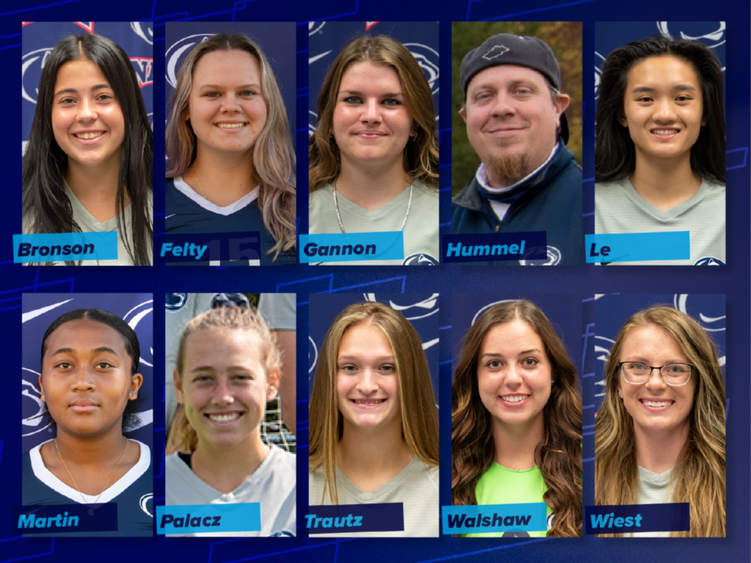 SCHUYLKILL HAVEN, Pa. — Penn State Schuylkill's women's soccer and volleyball teams earned impressive honors from the Pennsylvania State University Athletic Conference (PSUAC) All-Conference teams announced this month. The awards, nominated by each campus and voted on by coaches and athletic administrators, recognize outstanding achievement on the court or field during regular season play. Additionally, the PSUAC awards the John Fritz Sportsmanship Award to one outstanding student-athlete from each conference team.
Women's soccer sweeps PSUAC top honors
This year, Penn State Schuylkill women's soccer swept the top conference honors. First-year student-athlete Ariana Trautz, from Reading, earned both Player of the Year and Rookie of the Year honors. Trautz had an outstanding first season as a Lady Lion, scoring a league-leading 24 goals, including four game-winners. She also racked up four hat-tricks — scoring three or more goals in a single game — during the season.
Zoe Gannon, from Mohrsville, also a first-year student-athlete, was named Defensive Player of the Year. Gannon not only displayed exceptional defensive skills, but she also scored four goals (including two game-winning goals) during regular season play.
And Jon Hummel, in his first year as head coach, was named Coach of the Year.
Additionally, the women's soccer team took six of 21 spots on the All-Conference team:
First Team
Nia Bronson, First-Year, Defender
Zoe Gannon, First-Year, Defender
Nancy Le, First-Year, Forward
Ariana Trautz, First-Year, Forward
Kaley Walshaw, First-Year, Goalkeeper
Honorable Mention
Palacz, Third-Year, Midfielder
John Fritz Sportsmanship Award
Rachel Wiest, Fourth-Year
The Penn State Schuylkill women's soccer team came back from a 1-9 2019 season (the 2020 season was canceled due to COVID-19 mitigation efforts) to earn a spot in the 2021 PSUAC championship game. Moreover, this team has excelled with just 13 team members, 10 of whom are first-year student-athletes. Their successes facing teams with more experience and deeper benches are a testament to how special the 2021 Penn State Schuylkill women's soccer team is.
Women's volleyball earns PSUAC championship game spot
The 2021 Penn State Schuylkill women's volleyball team was in the position of defending its 2019 PSUAC East Division title, despite having only one returning team member from that championship team. The arrival of fourth-year transfer student Maddy Felty helped this team of mostly first-year athletes compete to the final championship round.
Felty also was named to the PSUAC First Team in the middle hitter position, posting strong defensive and offensive numbers over the course of the regular season. The sole returning player from the 2019 season, Jontae Martin earned the PSUAC John Fritz Sportsmanship Award.
Looking ahead
After finishing strong for the fall 2021 season, the Penn State Schuylkill women's soccer and volleyball teams are looking forward to future success. Congratulations to the All-Conference award winners, student-athletes, coaches, and athletic department administration for a great fall season! Can you see yourself as a Penn State Schuylkill student-athlete? We look forward to helping you reach your full potential. Learn more about the Penn State Schuylkill athletic program, or contact Kayla Felty, interim athletic director, at 570-385-6047.