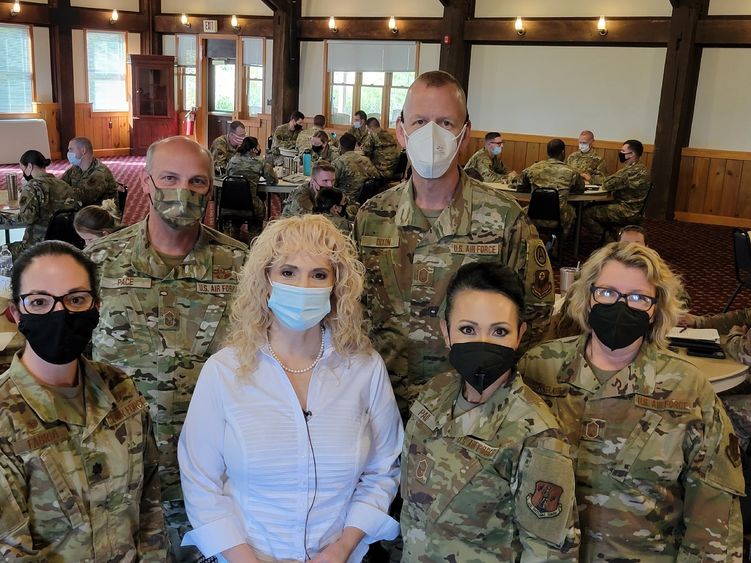 SCHUYLKILL HAVEN, Pa. — Gina Whalen, assistant teaching professor of business and coordinator of Penn State Schuylkill's business division, was invited to share her expertise in leadership and transformative learning theory this fall, delivering three presentations to local and regional audiences.
Whalen has been teaching business courses since 2017 at Penn State Schuylkill and World Campus, where she quickly established herself as an authority on subjects including leadership and soft skills development. Prior to her time at Penn State, Whalen spent years working in training and educational development for regional manufacturing and industrial facilities.
These work experiences, coupled with the research she completed for her doctoral dissertation on transformative learning theory, positioned her to share a nuanced perspective with presentation audiences including:
Students from Penn State World Campus
Supervisors within the Pennsylvania National Guard Operations Wing
Tamaqua Chamber of Commerce business leaders
Cultivating positive feedback skills in military and civilian life
Whalen kicked off her speaking engagements at a leadership conference for noncommissioned officers (NCOs) in the 193rd Special Operations Wing of the Air National Guard in mid-September.
In her presentation, Whalen defined and outlined the difference between constructive feedback and destructive criticism. "It's either constructive feedback or destructive criticism," Whalen explained, "but feedback is an opportunity for a leader to grow their team — to get those individuals to a better place. When done with the intention of developing team members, we use feedback. We're not here to criticize. And think about it: We've all had feedback that has helped us become more effective."
Whalen explained that this talk was specifically for NCOs in supervisory roles, with a goal to help the leaders provide feedback as an intentional part of their roles. "Providing constructive feedback is something that will help these officers in their civilian and military lives," Whalen said.
Before concluding her speech, Whalen assigned her audience some homework. "At the end of my presentation, the participants had an opportunity to practice writing a constructive feedback script that would aid them in an upcoming challenging feedback conversation," Whalen explained. "By planning ahead, they will not be taken off-guard by their own emotional reactions to the situation."
"I wanted to give the listeners tangible action items," Whalen said. "I wanted them to have the opportunity to employ this knowledge as soon as we separated after our talk."
Applying theoretical concepts to business practices
Whalen's second presentation was a marked departure from the two others she delivered this semester. The Tamaqua Area Chamber of Commerce invited Whalen to deliver the keynote speech at their annual dinner in late September, and Whalen saw the perfect opportunity to share meaningful lessons she learned while working on her doctoral dissertation exploring transformative learning.
The concept of transformative learning theory is a dense one, and Whalen's first task was to provide a non-academic understanding of it to her audience. In her speech, Whalen explained that transformative learning is triggered by a disorienting dilemma, or a life crisis event, that challenges our worldview and assumptions of ourselves.
After this triggering event, Whalen explains that, "You must first sit with the uncomfortable feelings and the knowledge that your world has shifted. But the real transformational aspect exists in recognizing that you are not alone," she said. "By talking to other people who have had the same experience, you have a broader view of the world."
For Whalen, transformative learning theory is all about empowering people. "As we evaluate our beliefs and our values, our world gets bigger. We get a more inclusive perspective," she said.
To help her audience understand theory, she explained it through the lens of the COVID-19 pandemic. "Everyone's business suffered to some degree during the pandemic, and this is where we can tap into the power of transformative learning," she said. "By talking to other people who have had the same experiences, you get a broader view of the world — a deeper understanding of it — because you've shared that experience. You learn from one another, and it positions you to help others in their transformative learning journeys, too."
Whalen concluded this presentation by encouraging people to be part of someone else's transformative learning journey. "It's not easy, but it's valuable," she said.
Refining students' soft skills
The final presentation Whalen delivered this fall was akin to her Air National Guard presentation in that she discussed the difference between criticism and feedback. Whalen delivered this talk to an audience of Penn State World Campus students, the majority of whom were in graduate programs. For the last few years, Whalen has been presenting for students at the World Campus Student Leadership Conference, and this one was hosted at the HUB-Robeson Center at University Park on Sept. 27.
But unlike her Air National Guard presentation, this talk was framed around a different context. Whalen discussed how to provide constructive feedback to become more influential, regardless of whether the listener held a supervisory or leadership role. "My intention was that students would find this topic relevant in any career field or any personal situation," Whalen explained.
By delivering presentations like these, Whalen said she hopes to share knowledge that isn't taught in the classroom. "What happens in almost any workplace is that people are promoted up through the ranks based on their individual contributions. But when they get to a leadership or management role, they need a different set of skills to succeed — not the skill set they used to get to that position," Whalen added. "These skills really aren't common nature to most people."
Forging new leadership roles
Whalen's speaking engagements have concluded for the fall, but she is still busy keeping these skills sharp as she finishes teaching classes for the semester.
Whalen also is Penn State Schuylkill's faculty adviser for the Pi Sigma chapter of Alpha Sigma Lambda, the national adult honor society, and was recently elected to serve on the society's national board. While Whalen has shared so much knowledge across the commonwealth, she looks forward to sharing more on a national level.
To invite Whalen or other members of the business faculty to speak at events, contact Gina Whalen at [email protected].
Learn more about Penn State Schuylkill business degree offerings at schuylkill.psu.edu/business.