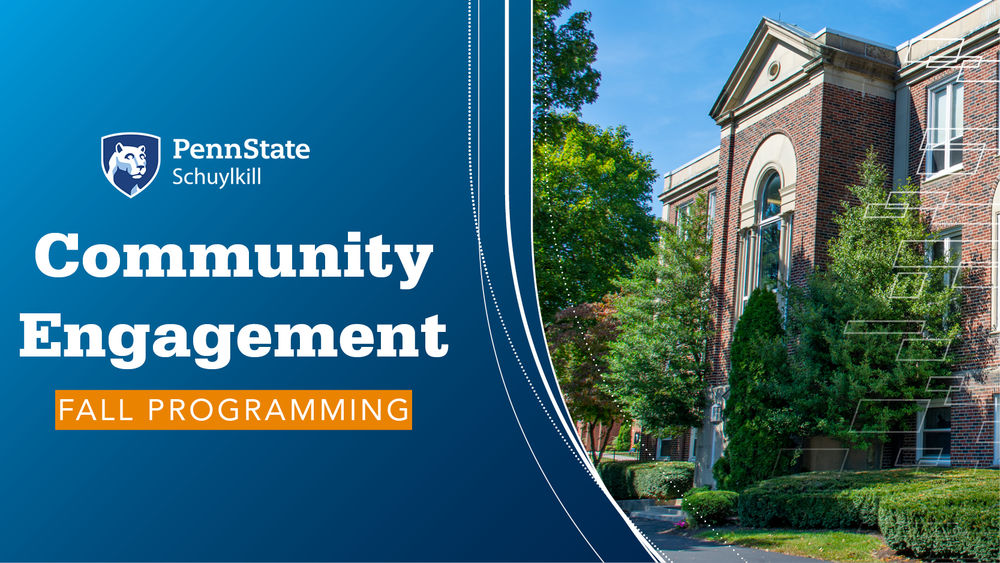 SCHUYLKILL HAVEN, Pa. — Penn State Schuylkill has released its community engagement programming schedule for the fall semester. Offerings include pre-college programs, professional development and certification courses, as well as services for companies.
Pre-college programs
SAT prep course
Penn State Schuylkill's SAT prep course has helped participants increase their SAT scores by as many as 140 points. This course is ideal for high school students who are looking to excel at their SAT to gain acceptance to their dream school and qualify for scholarships. Participants will learn tips, tricks, and traps common to the SAT exam.
Professional development programs
Practical Spanish for the workplace
If language barriers are affecting productivity in your workplace, Penn State Schuylkill's Practical Spanish for the Workplace coures is designed to help your business overcome that obstacle. Spanish I covers basic conversational Spanish for individuals who wish to communicate more effectively with co-workers, customers, clients, patients, and patients' families.
APICS/ASCM certification prep programs
APICS - certified production and inventory management
The APICS CPIM is the global standard education credential program of the Association of Supply Chain Management, ASCM. Every ERP system uses business rules originating from CPIM's body of knowledge. People with the APICS CPIM credential are highly sought after professionals in the manufacturing and supply chain industries. Part 1 of this two-part program covers basic concepts in managing the complete flow of materials that represents a supply chain from suppliers to customers. Supply chain concepts, basic terminology and relationships among activities in the supply chain are introduced. This course is the prerequisite for APICS CPIM module II.
APICS certified supply chain professional
With the APICS certified supply chain professional designation (CSCP), you'll increase your value to employers who know that a well-run supply chain is a key component of a forward-looking and competitive enterprise. The CSCP takes a broad view of the field, extending beyond internal operations to encompass the entire supply chain -- from the supplier, through the company, to the end consumer. The program provides professionals with the skill set necessary to understand and manage the integration and coordination of activities within today's increasingly intricate supply chains. This is an instructor-led comprehensive professional development and exam preparation program based on the current APICS® CSCP® Exam Content Manual. This comprehensive training program combines print materials with interactive web-based study tools to provide a customized learning experience. Taught by Penn State approved and APICS® certified instructors, classes are originated at Penn State Scranton.
APICS certified in logistics transportation and distribution (CLTD)
Manage the performance of your supply chain and position yourself for success with a certification in logistics transportation and distribution (CLTD) This program is designed for traffic managers, logistics managers, warehouse operations and district managers and reverse logistic managers. Seeking the APICS-CLTD® certification will make you a more valuable asset to your organization, keeping you and your organization more competitive in today's global economy. Taught by Penn State approved and APICS® certified instructors, classes are originated at Penn State Scranton.
Change Management Certification Program
The Change Management Certification Program, in partnership with Prosci, is an interactive, three-day learning experience where participants gain the knowledge, skills and tools to drive successful change initiatives. During the program, participants apply Prosci's holistic change management methodology to a current project. By the end of the program, participants have the foundation of a Change Management Plan to address and enhance a specific project.
This program is ideal for organizational development professionals, human resources business partners, continuous improvement specialists, project managers, and more, and teaches participants how to prepare the approach to organizational change, manage that change, and sustain outcomes.
This session of the program is offered exclusively to Penn State faculty, staff, and alumni.
Human resources management (SHRM)
SHRM learning system course
Earning your SHRM-certified professional (SHRM-CP) or SHRM-senior certified professional (SHRM-SCP) credential establishes you as a recognized expert in the human resources field. This course consists of 36 hours of classroom instruction, including a review prior to the new certification exam. Participants will receive SHRM Learning System materials and access to online learning, legislative updates and practice tests.
Please register early to receive your materials on time for class.
SHRM Essentials of Human Resources
This course addresses six key human resource subjects in a user-friendly format and is ideal for those just starting out in the human resources profession, or those looking for an effective way to boost their employee management skills.
Please register early to receive your materials on time for class.
Grant Writing for Beginners
Grant Writing for Beginners provides participants with foundational knowledge of grant writing for nonprofit organizations, using a group format that includes lectures, demonstrations, group discussions, and plenty of time for questions and answers.
Advanced Grant Writing Tips and Tricks
Advanced Grant Writing Tips and Tricks is a four-part workshop series that builds off the skills cultivated in Grant Writing for Beginners, and is a good fit for people who are already familiar with the grant writing process and would like to advance their skill set.
Grant Writing Toolbox
The Grant Writing Toolbox workshop offers grant-writing tips, teaches participants how to effectively communicate with grant awarders, and more.
Full programming details and contact information
For a full overview of Penn State Schuylkill's community engagement course offerings, visit the campus website or contact Shannon Del Conte, director of community engagement, at [email protected] or 570-385-6112.