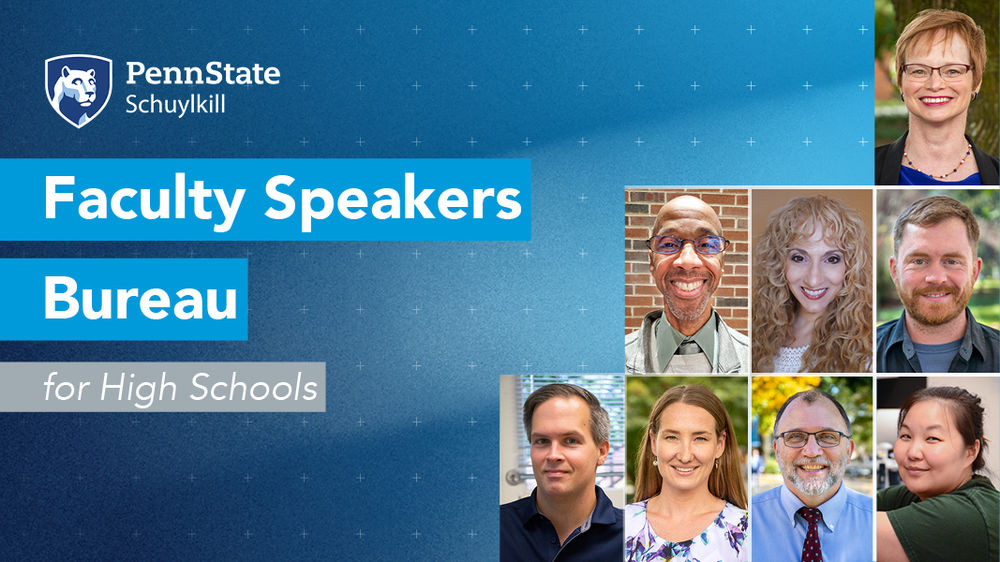 SCHUYLKILL HAVEN, Pa. — This past spring, Penn State Schuylkill faculty members, through the campus' Faculty Speakers Bureau, delivered presentations to high school classes on topics as varied as Arthur Miller's "The Crucible," anatomy and physiology, career exploration, and chemistry. Several Schuylkill County schools participated in the initiative, including Schuylkill Haven, Mahanoy City and North Schuylkill high schools.
Kate Zimmerman, director of cooperative education at Penn State Schuylkill, spoke to high school students about the importance of career planning and exploration. At Penn State Schuylkill, Zimmerman helps students gain real-world work experiences and prepare for their post-college career.
During her talks with North Schuylkill and Mahanoy City high school classes, Zimmerman explained how many opportunities students have at the high school level as well as how they can prepare for their future by building their skill sets and experiences throughout their secondary education.
"We also did a personality assessment and résumé critiques," Zimmerman explained. "It was a fun and interactive experience, and I look forward to being able to do more of these presentations in the future."
Valerie Schrader, associate professor of communication arts and sciences at Penn State Schuylkill, lent her rhetorical analysis and literature expertise to an English class at Schuylkill Haven High School. The tenth graders were studying "The Crucible," an American classic written by Arthur Miller.
"Their teacher and I decided it would be ideal to focus on how performance can contribute, take away from, or change the messages in the script," Schrader said as she described her experience. "During the class, we analyzed four or five clips of recorded performances from various theaters and discussed how things like sets, costumes, movement, and directorial and acting choices affected the messages in the show.
"The students were absolutely wonderful. They understood the messages in the show and had excellent insights about how performance can tweak those messages, and they weren't shy about sharing the connections that they saw. I was really impressed with this group, and I hope that some of them will be joining us at Penn State Schuylkill in the future because I would love to work with them again," she concluded.
Penn State Schuylkill's Faculty Speakers Bureau will continue offering expertise to supplement educators' high school curricula. Members of the Faculty Speakers Bureau for High Schools offer programming in disciplines including:
business
career preparation
health sciences
humanities
social sciences
STEM
Topics among these disciplines range from exploring the intersection of criminology and psychology, to preventing honeybee population decline, to critical film analysis and more.
To review a comprehensive list of available topics and submit a request for a speaker, visit the Faculty Speakers Bureau for High Schools web page.