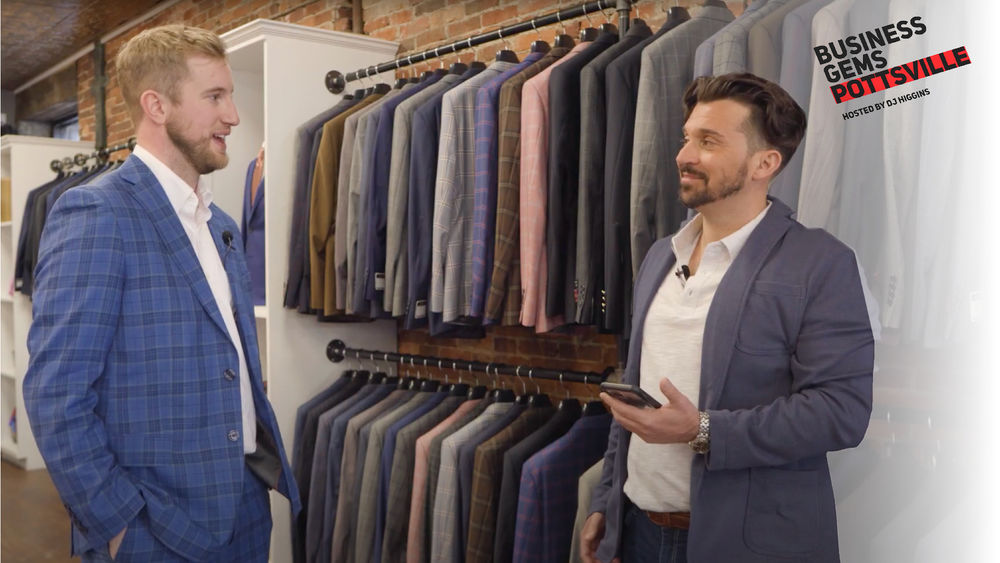 SCHUYLKILL HAVEN, Pa. — From a restaurant that serves gourmet, mix-and-match grilled cheese to a specialty men's clothing store with panache, Schuylkill County is home to an amazing small business community. And David "D.J." Higgins, assistant teaching professor of film/video and music, is using his talent to get those businesses the attention they deserve with a new video series titled "Business Gems."
Embracing a new community
Higgins is a Massachusetts native who recently relocated to Schuylkill County when he joined the faculty at Penn State Schuylkill in August 2019. Since this move, Higgins has established himself as a prolific creator within the community, directing the award-winning short film "Sanitize This!" and launching an informal humanities journal titled "Animo Quarterly."
As Higgins settled into his new Schuylkill County home and visited the local attractions, his neighbor connected him with Savas Logothetides, owner of Pottsville's Wheel, a gourmet grilled cheese restaurant, and president of the Pottsville Area Development Corporation (PADCO). Once they got to know one another, the pair realized that their professional interests intersected in supporting their community.
"Savas has a really innovative vision for how he imagines Pottsville's personality to be portrayed," Higgins explained. "So I thought one of the best things that I could bring to the community would be a camera — start showcasing some of these businesses from behind the scenes."
And thus, Higgins produced the first episodes of "Business Gems" as a proof of concept for the series.
Connecting small businesses with big audiences
The first episode centers on Wheel and Logothetides specifically. In it, Higgins asks Logothetides 20 questions — from his favorite foods to his favorite films — none of which were shared with Logothetides prior to the interview.
"You can see these business owners light up with some of the questions they weren't expecting to hear, and that's where you get a glimpse into their personalities. That's how you get to know these people and this community," Higgins said about his directorial process.
In the second episode of "Business Gems," Higgins explores Drasdis & Son, a men's clothier owned by Joseph Drasdis. Drasdis is not only a local business owner, but he also is a Penn State Schuylkill alumnus who graduated in 2018 with a degree in business in the marketing/management option. During his time as a student, Drasdis connected with Logothetides through an internship at PADCO.
"My internship with PADCO and, specifically, the executive director, Savas Logothetides, not only gave me valuable knowledge and connections, but also spurred my passion to get even more involved with the efforts to help revitalize downtown Pottsville," Drasdis said. "This video was able to show a more personal view of my business and what we are trying to achieve in the city."
"I believe in Pottsville's potential," Higgins said. He explained that one of the most rewarding parts of this project has been observing business owners collaborate so they all succeed. "In order to grow, everyone understands that everyone has to do well," he continued.
And Higgins is grateful to see how his efforts have been supported by the local community.
"We're able to take the world into Wheel and Drasdis & Son. When you have a community rally behind independent film, you can help bring them to the rest of the nation, or even internationally," he said.
Maintaining a competitive edge
To make truly engaging and dynamic content that people want to watch and captures their attention, the quality of these videos is paramount. Media consumption has increased drastically as digital media platforms thrive, and content creators are competing for attention.
"You're competing for views and, more specifically, you're competing for people's time," Higgins said. "How do you get people to care about what you're doing when there are so many artists who equally care about what they're doing?"
To create the highest quality content he could, Higgins relied on the professional network he began to form when working on "Sanitize This!" Thus far, each episode of "Business Gems" has been filmed and edited by Stefan Fulton with sound support from Ashley Reinhard. Both held similar roles on the "Sanitize This!" set.
"I saw how Stefan worked," said Higgins, "and realized we were compatible. And with his background in documentaries, I knew he'd be a great fit for this project."
But creating films is time consuming and expensive, and these projects are a labor of love.
"The toughest part about independent film is that it's not shot on cellphones," Higgins said. "The quality is critical, and I was able to rely on Stefan and Ashley who were able to create something worthy of this cause."
Higgins explained how professionally the production was handled, including following a shot list and completing multiple edits. He also explained that the video aesthetic was inspired by Anthony Bourdain's "No Reservations."
Some funding for these early projects has been provided through PADCO, but the production crew made their largest investment in sweat equity.
"One of the hallmarks of independent filmmaking and these low- or no-budget projects is that there is a small team of trusted individuals who share similar passions and visions," Higgins said of the team that created these first videos. "These are passion projects, and I'm making these films because I want to, because I believe in this place and in what I'm doing." 
Looking to the future and where to watch 'Business Gems'
"I'm looking to involve students as we grow," said Higgins. "But for now, I'm trying to build the brand and secure the funding."
As he works out those logistics, Higgins is enjoying his time in his new community and seeking out subjects for future projects.
"After the pandemic, focusing on the resilience of these business owners has been inspiring," said Higgins. "Let's meet the people behind these businesses and help us get back on our feet."
All episodes of "Business Gems" are available on YouTube.