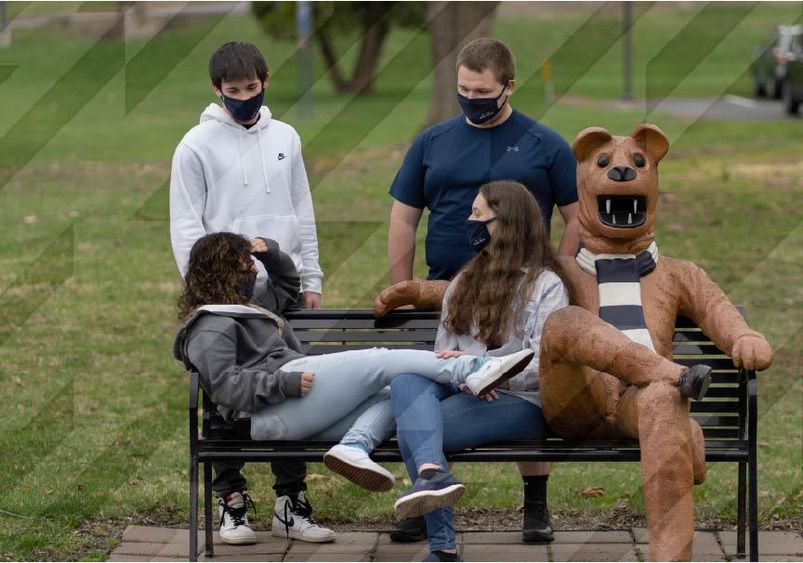 In 2019, the College of Nursing and Penn State Schuylkill announced the delivery of the college's four-year Bachelor of Science in Nursing program at the commonwealth campus. Fast forward to early 2021 and the first cohort is poised to begin the curriculum's highly structured sequence of nursing courses. So, now, with the face of health care being shaken up courtesy of the pandemic, how are the soon-to-be-nurses doing?
One of the 16 students wrapping up their anatomy coursework and prepping for fall semester, Mia Raguso, offers her thoughts on why Penn State Nursing, why Penn State Schuylkill, and ultimately, why nursing is her calling today, more than ever.
Raguso is a first-generation college student, who shares her love for all things health care related started when she was young. Her parents, like most parents of first-generation students, celebrate their daughter's accomplishments but not without hesitation spurred by the threat of future pandemics. Raguso believes the pandemic has reinforced the value of nurses and her nursing education is the key to a healthier world, so she worries less about future pandemics. The pride Raguso exudes when she talks about coming to Penn State is palpable, pairing that pride with her education bolsters her hope for the future. A future where she helps her community and does what she loves.
True to the very core of next generation nurses, Raguso shares she is energized by the prospect of someday not only caring for her direct patients but also the outward impact she could have on her communities. "For me, nursing isn't just helping other people, it also helps me grow because I find it so interesting," said Raguso. "I love learning new things about the human body and I hope to one day, not only be able to help sick and injured patients in the hospital, but that, as I grow it helps me become a better person and hopefully be able to spread that knowledge and message to other people too."
Raguso earned her certified medical assistant (CMA) when she was 16 and ultimately plans to become a nurse practitioner because she knows the potential as an NP is great, not only for her career prospects but the opportunity to help others. Penn State Schuylkill offers the only four-year nursing program in the county. A four-hour drive for Raguso, a New York native, but she touts the small class sizes and individualized attention as a driving force for her move to Schuylkill's on-campus living. Raguso values the opportunity to ask questions, and feels her smaller classes are ideal for those who share her learning style.
The future of nursing and public health is fortified in the passion of students like Raguso and her classmates. Raguso is joined by 15 other aspiring nurses, all who share a common commitment to caregiving and find value in the vision of One Penn State 2025, the University's plan to create a fluid, personalized, and collaborative environment that enables students, faculty, and staff to achieve their goals regardless of their location in the world.