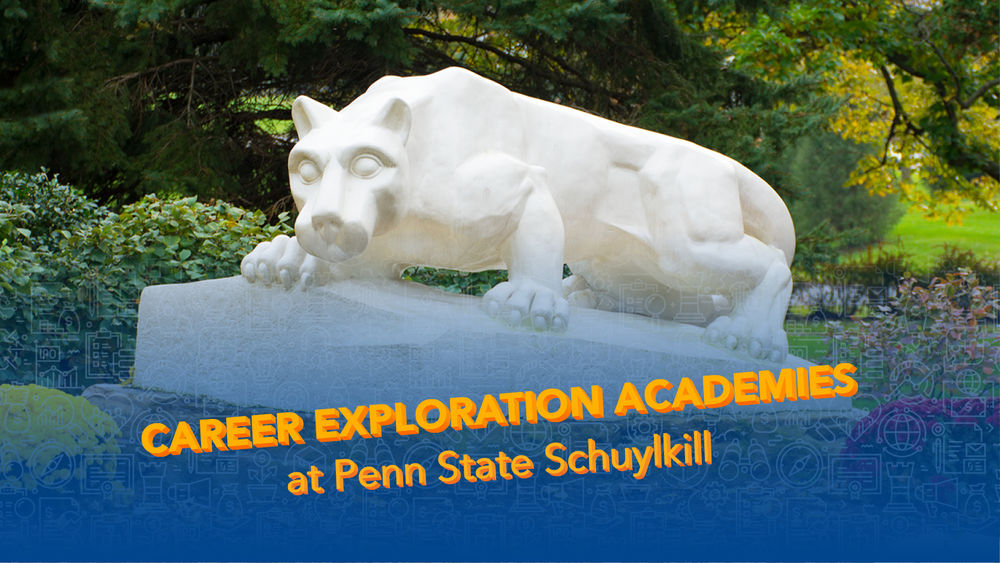 SCHUYLKILL HAVEN, Pa. — Penn State Schuylkill will offer seven online Career Exploration Academies for high schoolers this summer. These weeklong experiences are intended to help students consider their plans after high school and feature expert instructors, fascinating guest speakers, and engaging activities that are both fun and informative.
With academies in disciplines including communication, criminology and psychology, cybersecurity and coding, health careers, and entrepreneurship, students in grades nine through 12 can explore a wide variety of career options in an entertaining, relaxed setting.
Creative Communication Academy
Are you creative? Do you enjoy creating social media content? Perhaps you enjoy writing, drawing or videography. If this sounds like you, enroll in the Creative Communication Academy to explore how your interests today could lead you to a career tomorrow. This academy will explore various areas of strategic communication and how they relate to jobs in marketing, communications, advertising and more.
This academy will familiarize participants with:
Graphic design using Adobe Spark.

Branding, including logos, color palettes and taglines.
Designing social media posts and videos.

Event promotion.

Web design.

Photography, including how to take good photos without a professional camera.
Communication skills are consistently ranked as a top competency that employers look for in job candidates, and this seminar will help students build in-demand communication skills while exploring opportunities in creative jobs.
Registration
The Criminal Mind Academies I & II
This virtual career exploration academy is perfect for high school students interested in criminal justice and law enforcement careers. The curriculum focuses on motives and causes for crimes, including a psychological perspective and the criminal justice system response. Part I introduces budding detectives and criminologists to portions of criminal justice and psychology that are specific to crime. Students will have the opportunity to:
Engage in personality testing.
Explore criminal profiling.

Interact with guest speakers who work in the criminal justice field.
Part II delves further by exploring historical cases of crime, the psychological ailments that implored them, and the crossover of how psychological disorders perpetuate crime.
Registration
Cybersecurity and Coding Academies I & II
Coding skills are among the most in-demand in today's job market, and you can get your first taste of real-world experience in this two-part workshop that will introduce you to computer programming and computational thinking. 
No prior coding experience is required to benefit from the basic and fun exercises using some of the most popular programming languages used today. These seminars will introduce you to the basics and help you prepare for additional programming courses to enhance those basic skills. This career exploration academy is perfect for students who want to explore careers in fields such as: 
Computer networking.

Video game design.

Database management.

Machine learning.

Robotics.
In addition to the coding experiences, you will also learn cybersecurity basics. Cybersecurity is a rapidly growing field that deals with securing data against an ever-growing number of threats that often result in data loss and theft. You will apply the coding skills you learn to:
Code a password generator.
Review the security settings in popular systems you use every day, such as email and social media, to examine how hackers could potentially gain access to your private data.

Explore several "ethical hacking" tools that experts use to determine whether their systems are vulnerable to hackers.
Explore a challenging, rewarding and rapidly evolving career path. Sign up for this virtual career exploration academy today.
Registration
Health Careers Academy
Now more than ever, the importance of health care careers is clear. Talented health care professionals are in demand, and the industry's workforce needs will continue to expand rapidly. High schoolers who participate in this weeklong career exploration academy will learn the basics of nursing, radiology and more, including discussing pathways to becoming a physician.
Each day of the academy, a new professional instructor will take the lead and provide students with insight to their specific field of expertise. Students will have the opportunity to:
Explore instruments and tools used to diagnose patients.
Spend a morning virtually with a local physician to experience firsthand what her work is like.

Take a virtual trip through the world of a radiologic technologist.

Discover the relationship between science and health care.
By the end of the week, our medical experts will leave students with an understanding of what it's like to work in a profession that helps save lives and keep the public safe.
Registration
Teen Entrepreneur Challenge
The 2021 Teen Entrepreneur Challenge (TEC) at Penn State Lehigh Valley is open to Schuylkill County's high school students. TEC educates, trains and prepares the next generation of innovators for success. High school sophomores, juniors and seniors learn key strategies for starting a business or business concept and how to develop an entrepreneurial edge.
Experiences and outcomes include:
Develop a business profile that will address an issue we will face as a nation in a post-COVID world.

Featured speakers from local businesses and virtual 'field trips.'

Real-world case studies and problem-solving activities.
Explore ideas on sustainability, improving existing processes, and adaptability.

Explore STEAM educational programming & develop new technology skills.

Program culminates with a pitch competition including prizes.
Registration
The Teen Entrepreneur Challenge is a $350 investment. Classes will meet Tuesdays through Fridays beginning July 6 through July 16, 2021, and meet at 10:00 a.m. for approximately three hours. Additional time may be required outside of classroom hours to complete assignments. Register for the Teen Entrepreneur Challenge here.
To learn more about pre-college programming and other community engagement initiatives at Penn State Schuylkill, contact Shannon Del Conte, director of community engagement, at [email protected].