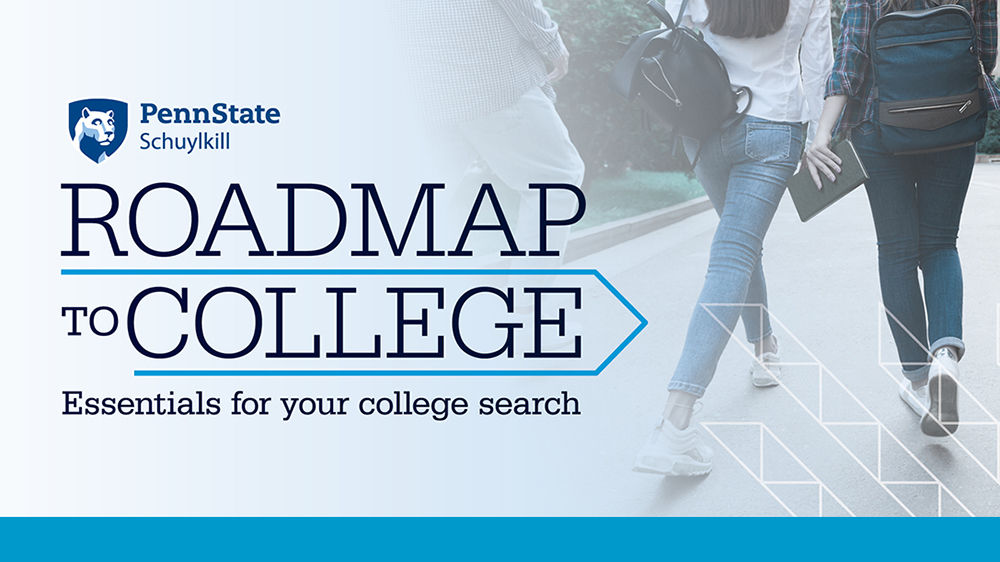 SCHUYLKILL HAVEN, Pa. – "Roadmap to College: Essentials for Your College Search" is a new initiative from Penn State Schuylkill that aims to help high school students and their families in preparing to navigate the evolving landscape of higher education. This five-week program is free for high school students (grades nine through 12) and their parents or guardians, regardless of where the student hopes to attend college.
Roadmap to College was created to help students and families better understand the college selection and application process, providing participants with the knowledge to make well-informed and well-timed decisions. Topics covered will include finding the right program and institution to demystifying the financial aid process.
"The college search and admissions processes can be confusing and intimidating," Penn State Schuylkill Chancellor Patrick M. Jones said. "Through participating in 'Roadmap to College,' high school students and their family members will learn how to make informed choices and will better understand the application and financial aid processes."
Workshops will be led by Penn State Schuylkill faculty and staff, including representatives from Admissions, Financial Aid, Academic Affairs, Student Affairs, and the Career Development Center. Each hour-long session will feature a presentation with a moderator and time for questions.
Shannon Del Conte, director of community engagement, said, "I'm delighted that we're able to offer this invaluable service to our communities. No matter their background, all students and their families will benefit from the wide range of material covered in these workshops."
The weekly sessions will take place at 6 p.m. EDT Tuesdays beginning March 16. The spring 2021 series will be held virtually via Zoom technology due to COVID-19 state and federal guidelines. Although participants are encouraged to register for all five sessions, attendance in all sessions is not required.
Spring 2021 "Roadmap to College" Schedule
March 16
"Why College? Preparing for and Understanding the Benefits of Higher Education"
March 23
"Finding the Right College for You"
March 30
"Selecting the Major for Your Career Goals"
April 6
"Making the Most of Your College Experience and Career Preparation"
April 13
"Applying to College and for Financial Aid"
For more information or to register for "Roadmap to College: Essentials for Your College Search," visit schuylkill.psu.edu/roadmap.