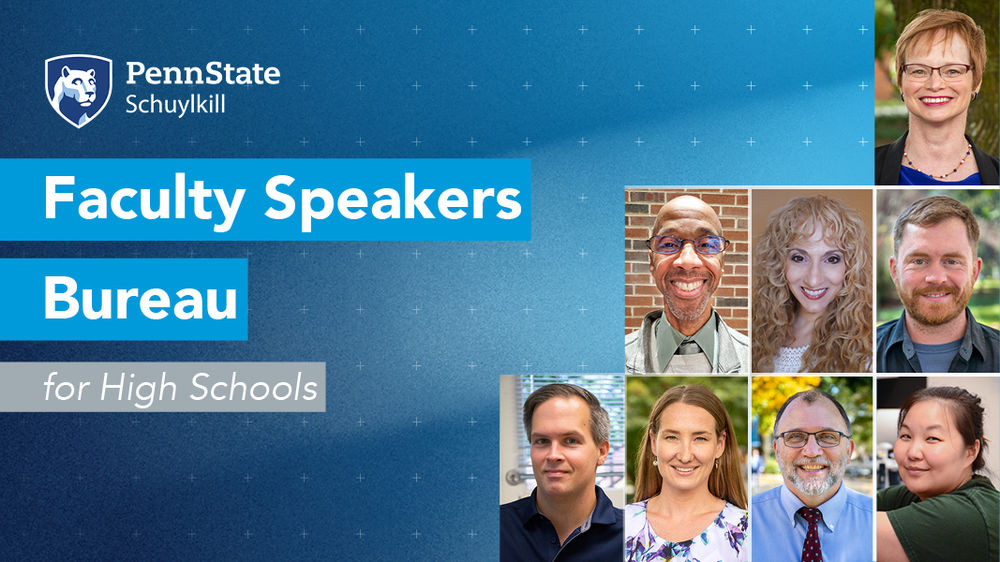 SCHUYLKILL HAVEN, Pa. — Penn State Schuylkill's new Faculty Speakers Bureau for High Schools aims to connect faculty members with high school classrooms to enrich the learning experience.
The initiative will support high school teachers and administrators in broadening their students' classroom learning by engaging a Penn State Schuylkill faculty speaker. These subject matter experts are available to supplement curriculum through the examination of a specific topic.
"This initiative delivers on one of the pillars of our land-grant mission, which is to engage with our communities in order to make them better places to live," said Penn State Schuylkill Chancellor Patrick M. Jones. "High school teachers who bring one of our faculty members into their classrooms for a presentation will provide their students with exposure to world-class faculty and research while building a bridge to the college experience."
Members of the Faculty Speakers Bureau for High Schools offer programming in disciplines including:
business
career preparation
health sciences
humanities
social sciences
STEM
Topics among these disciplines range from exploring the criminal mind, to preventing honeybee population decline, to critical film analysis and more.
"Our faculty offer expertise in an incredible array of subject areas," said Darcy Medica, director of academic affairs at Penn State Schuylkill. "We're looking forward to connecting in this way with our regional schools — virtually for now, and when it's safe to do so, in person."
To review a comprehensive list of available topics and submit a request for a speaker, visit the Faculty Speakers Bureau for High Schools web page.