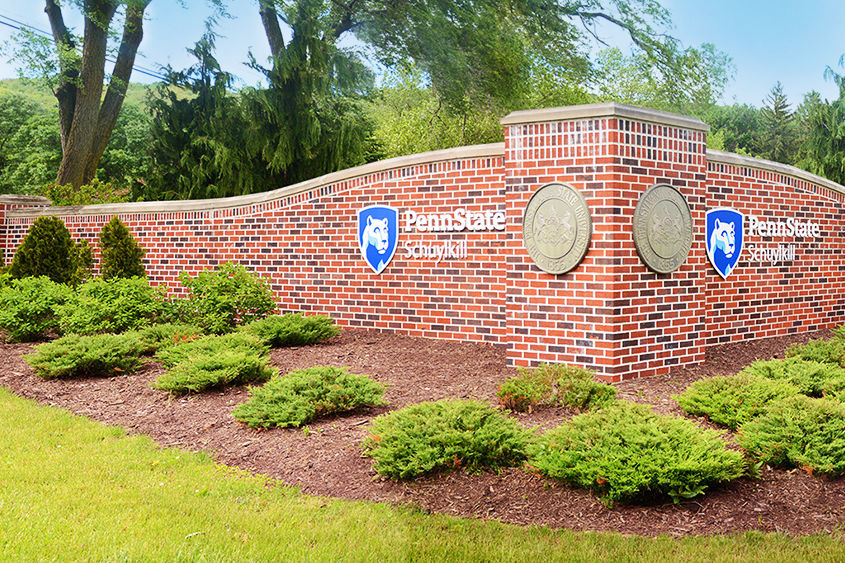 SCHUYLKILL HAVEN, Pa. – As the fall semester came to a close, Penn State Schuylkill's faculty and staff came together online to recognize employees who reached years of service milestones in 2020, and to celebrate the employee who received last year's Outstanding Staff Award. Earlier in the semester, annual faculty awards for advising, teaching, and service were announced.
Outstanding Staff Award
Penn State Schuylkill's Outstanding Staff Award is awarded annually to a full-time, nonacademic employee who has provided exceptional service on behalf of Penn State Schuylkill. Earlier this year, the campus's faculty, staff and students were invited to nominate deserving employees. The nomination guidelines require that nominees "demonstrate integrity, respect, and excellence in all aspects of their position," and the selection committee evaluated nominees on their creativity, innovation, and initiative in support of Penn State's threefold mission to:
provide access to an affordable, high-quality education;
conduct and promote research to improve people's lives; and
engage with our communities to make them better places to live.
During a year that called upon so many members of the Penn State community to go above and beyond, Jon Peters, manager, information technology services, was selected as the 2019-20 recipient of Penn State Schuylkill's Outstanding Staff Award.
"A consummate professional, Jon Peters is known on campus for his lightning-fast responsiveness and ability to innovatively and creatively solve any technical problem we come across," said Penn State Schuylkill Chancellor Patrick M. Jones. "Jon's steady leadership in response to the COVID-19 pandemic allowed Penn State Schuylkill to continue serving our students, employees and communities in a challenging and technologically difficult time."
For his part, Peters said, "It certainly was a team effort. Every member of the IT team stepped up during this challenging year. Thank you for this honor. It means a lot to be recognized."
Annual faculty awards
Earlier in the fall semester, Darcy Medica, Penn State Schuylkill's director of academic affairs, announced recipients of the campus's annual faculty awards:
Excellence in Faculty Advising Award
Brenna Traver, associate professor of biology, earned Penn State Schuylkill's 2020 Excellence in Faculty Advising Award. New this year, the award recognizes faculty members who demonstrate a dedication to faculty advising. Medica said, "Faculty advising makes such an incredible difference for students, and it also requires a lot of time and effort on behalf of our faculty members. Dr. Traver consistently goes the extra mile for her advisees, and she is truly deserving of this recognition."
Faculty Service Award
Art Zilleruelo, assistant teaching professor, English, earned Penn State Schuylkill's 2020 Faculty Service Award, which recognizes excellence in service to Penn State or to the community. In addition to his teaching duties, Zilleruelo serves as associate coordinator of Penn State Schuylkill's Honors Program, faculty writing tutor, and as a member of Penn State's faculty senate. Medica said, "Dr. Zilleruelo puts his heart into every role he takes on. He personifies excellence in service to our students and our campus."
Excellence in Teaching Award
Nancy Schorschinsky, mathematics instructor, earned Penn State Schuylkill's 2020 Excellence in Teaching Award, which recognizes and encourages an exemplary commitment to excellence in teaching. Schorschinsky is known for her dedication to her students and to the quality of instruction they receive. Medica said, "Instructor Schorschinsky is passionate about helping students succeed. She goes above and beyond to employ innovative teaching techniques to boost student learning."
Years of service awards
Also during the December ceremony, Valerie Henne-Hallman, regional human resources strategic partner, announced faculty and staff members who reached milestone service anniversaries in 2020:
40 Years of Service
Charles Cantalupo, distinguished professor of English, comparative literature, and African studies
30 Years of Service
Mark Abel, assistant teaching professor of kinesiology
Michael Gallis, associate professor of physics
Ping Wang, professor of mathematics and statistics
25 Years of Service
Todd Roberts, maintenance worker general B
20 Years of Service
Nicole Andel, associate teaching professor of English and humanities
Julie Meyer, instructional designer
Donald Ney, maintenance worker general A
Penny Shade, maintenance worker utility
Melinda Spolski, coordinator of counseling and student disability resources
Matthew Wayman, head librarian
Rosalie Yeager, administrative support assistant, Career Development Center
10 Years of Service
Catherine Cooper, administrative support assistant, academic affairs
Alex Fidler, maintenance worker utility
Valerie Schrader, associate professor of communication arts and sciences
Five Years of Service
Gianna Agnello-Porambo, assistant director of admissions
Lucas Redmond, assistant professor of biology
Don Somers, facilities supervisor and assistant director, business services
Juyoung Song, assistant professor of criminal justice
Deborah Spotts, administrative support assistant, business services
Bryan Valentine, director, student affairs and engagement
Travis Williams, admissions counselor
Congratulations to all!