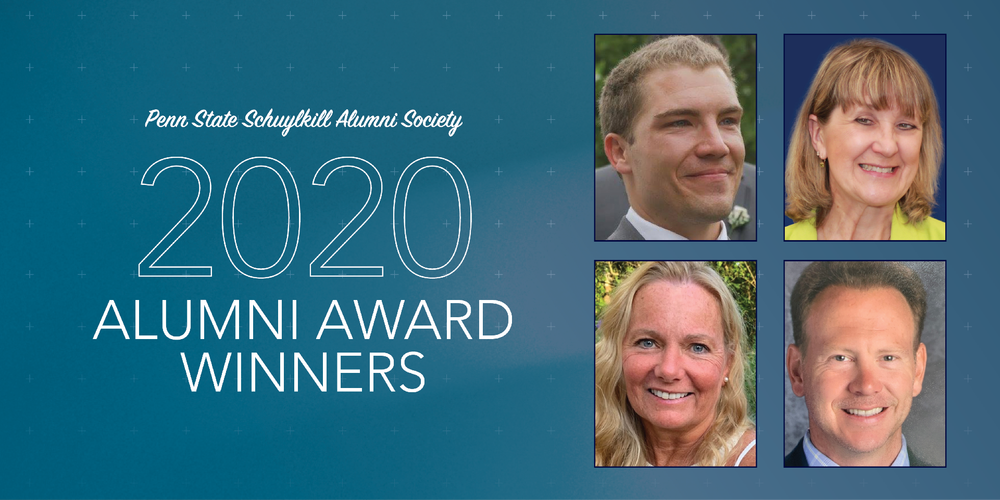 SCHUYLKILL HAVEN, Pa. – Each fall, the Penn State Schuylkill Alumni Society recognizes a select group of alumni, and sometimes friends, for their contributions to the campus, professional achievements, and impact on the greater Penn State community. This year, the Penn State Schuylkill Alumni Society has named four honorees in three primary categories: Outstanding Alumni, Outstanding Young Alumni, and the Pride and Spirit Award.
"We are grateful to these awardees for all of their contributions to our campus and to Penn State as a whole. They are difference-makers in their communities, and they embody our Penn State Values," said Penn State Schuylkill Chancellor Patrick M. Jones.
Outstanding Alumni
The Outstanding Alumni Award acknowledges the achievements of Penn State Schuylkill alumni for their continued contributions to Penn State as well as their impact within their communities. This year, the society chose two nominees to receive the Outstanding Alumni award: Jeanine Gleba, class of 1987, and Shawn T. Fitzpatrick, class of 1996.
Jeanine Gleba
Jeanine Gleba attended Penn State Schuylkill for two-and-a-half years before completing the bachelor of science in operations management degree at University Park in 1987, eventually earning a master's degree in education from Rutgers University in 1994.
While at University Park, Gleba met her husband, Bill — also a Penn State alumnus, and they were married at the Nittany Lion Inn. Twenty-nine years later, she and Bill are the proud parents of three adult children. Gleba describes her family as "bleeding blue & white," so it is no surprise that two children followed in their Penn State footsteps – one graduating with the class of 2018, and the youngest a member of the Schreyer Honors College in the class of 2021. Gleba and her husband are also long-time Penn State football season ticket holders.
The Erin Brockovich of hearing aids
After her post-graduate 13-year career as a systems analyst, Gleba opted to stay at home to care for her young children. However, it was during this period that Gleba took on an activist role. Due to her own daughter's congenital hearing loss, Gleba helped to spearhead a grassroots advocacy campaign to ensure that the children of New Jersey had access to the hearing devices they need. On December 30, 2008, Grace's Law — named for Gleba's daughter — was signed into law, mandating hearing aid insurance coverage in New Jersey for children aged 15 and younger.
After the passage of Grace's Law, Gleba entered the political arena serving as deputy mayor and councilwoman in her hometown of Washington Borough, New Jersey, for six years. Eventually, her passion for advocacy and driving positive change would lead Gleba into a new career direction, and she is currently the advocacy manager at United Ostomy Associations of America Inc.
Gleba has published numerous articles in various magazines and journals over the years and is the author of "Making Her Point Loud and Clear — The Story of a Warrior Mom on a Mission." She currently serves on the board of the NJ Audiology and Speech-Language Pathology Advisory Committee, and the Wound Ostomy Continence Nurses Certification Board.
Due to her work in the community and effectiveness in creating positive change, Gleba received the Outstanding Alumni award for 2020.
Shawn T. Fitzpatrick
Shawn T. Fitzpatrick is a 1996 graduate of Penn State University with a bachelor of science degree in elementary education and is currently a member of the Penn State Schuylkill Campus Advisory Board. Fitzpatrick began his undergraduate coursework at Penn State Schuylkill before completing his degree at University Park.
Lifelong learning
Fitzpatrick worked as a classroom teacher while attending night courses to earn the master of science degree in educational leadership and administration — with principal's certification from Wilkes University in 2003. Fitzpatrick then served as assistant principal of Blue Mountain Elementary East and then as principal of Hamburg Elementary, when he returned to school at night and on weekends to earn a doctor of education degree in educational leadership and administration from Immaculata University in 2013. He studied assessment and grading practices at the elementary level for his dissertation.
In 2017, he was commissioned by the Commonwealth of Pennsylvania and currently serves as the Superintendent of Schools for the Schuylkill Haven Area School District, where he has overseen numerous process and curriculum improvements as well as building and renovation projects. In this role, Fitzpatrick encourages a spirit of collaboration with Penn State Schuylkill, inviting campus faculty to share expertise and provide tips for college readiness with district students.
In his free time, Fitzpatrick is a part-time broadcaster for local sports at the Pottsville Broadcasting Co.
Fitzpatrick is an influential member of the Schuylkill County community, where he lives and works. He provides a daily example to his students on how educational opportunities translate into professional success.
Because of his prominent community presence, professional accomplishments, and advocacy for the Schuylkill campus, Fitzpatrick received the Outstanding Alumni award for 2020.
Outstanding Young Alumni
Ralph "RJ" Wawrzyniakowski
The Outstanding Young Alumni Award is awarded to recognize similar achievements for alumni under the age of 35. This year the Schuylkill alumni society selected Ralph "RJ" Wawrzyniakowski as the 2020 Outstanding Young Alumni award recipient. Wawrzyniakowski attended Penn State Schuylkill for two years before earning baccalaureate and master's degrees in Engineering at University Park in 2009 and 2012, respectively.
Penn State for life
Wawrzyniakowski currently lives in Beaver County, Pennsylvania, where he is engineering project manager at Pennsylvania American Water. He is a member of the Penn State Alumni Association and Vice President of the Beaver Valley Area Chapter of the Penn State Alumni Association.
Wawrzyniakowski continues to be involved in Penn State activities, including THON, where he helps with fundraising activities. He is also active in his community, volunteering at his local YMCA. For the past ten years, Wawrzyniakowski has been a regular donor to the Central Pennsylvania Blood Bank. He also leads yearly tours of local high school and college students to water treatment plants to promote understanding of how water and sewer issues impact everyday lives.
He is a member of the American Water Works Association (AWWA) committee for storage tanks and helps develop regulations and guidelines for water and wastewater projects for the future. He received the AWWA Rising Tide award in 2013 and has worked consistently to improve the water/wastewater fields for energy usage, water conservation, and community outreach.
Because of his ongoing involvement with the Penn State Alumni Association, professional achievements, and his meaningful work in the community, Wawrzyniakowski received the Outstanding Young Alumni award for 2020.
Pride and Spirit
Karen Kenderdine
The Pride and Spirit Award may be awarded to a person whose contribution to the success of the Penn State Schuylkill campus is significant and meaningful. Karen Kenderdine is the senior vice president and manager of relationship services at Mid Penn Bank Trust Department, where she manages trust clients' investment and personal needs, and designs and implements estate and gift plans.
Community engagement
She is active in the community serving on numerous nonprofit boards, currently serving as chairperson of the Luzerne/Schuylkill Workforce Investment Board, chair the board for Downtown Shenandoah Inc. Center for Education, Business and Arts, vice chair of the Schuylkill Economic Development Corporation, treasurer of the Northeast Pennsylvania Manufacturers and Employers Association, is a member of the Campus Advisory Board of Penn State Schuylkill, and is a past president of the Schuylkill Chamber of Commerce.
Kenderdine is an invaluable advocate for Penn State Schuylkill, having served on the Campus Advisory Board since 2018. She is currently a member of the executive committee and chair of the development committee. She has been instrumental in generating financial support for many vital campus programs, such as facilitating the establishment of an endowment to support the Penn State Schuylkill "LionLaunch" program.
Kenderdine has been integral in the collaboration of Penn State Schuylkill with Downtown Shenandoah Inc. to establish the Center for Education, Business, and Arts. This community center will help provide people throughout the county and beyond with the tools, resources, and education they need to learn, grow and strengthen their skills.
Kenderdine also served as a mentor for Penn State Schuylkill students, providing career preparation advice, mentorship, and connecting students with internships and other opportunities through the campus's ESTEEM — Empowering Students Through Engagement and Expert Mentoring program.
Kenderdine cares about Penn State Schuylkill students and the success of the campus, and for these reasons, she received the Pride and Spirit award for 2020.


Celebrating our honorees
Traditionally, the campus announces the awardees in connection with a banquet, allowing the campus community to gather in celebration of the honorees. Currently, the Alumni Awards Dinner is on hold until circumstances permit.
"We look forward to celebrating this year's awardees in person when it is safe to do so," said Patty Shoener, alumni relations and stewardship officer. "Each one of them has brought so much pride to our Penn State Schuylkill family, making a difference in their communities and beyond."