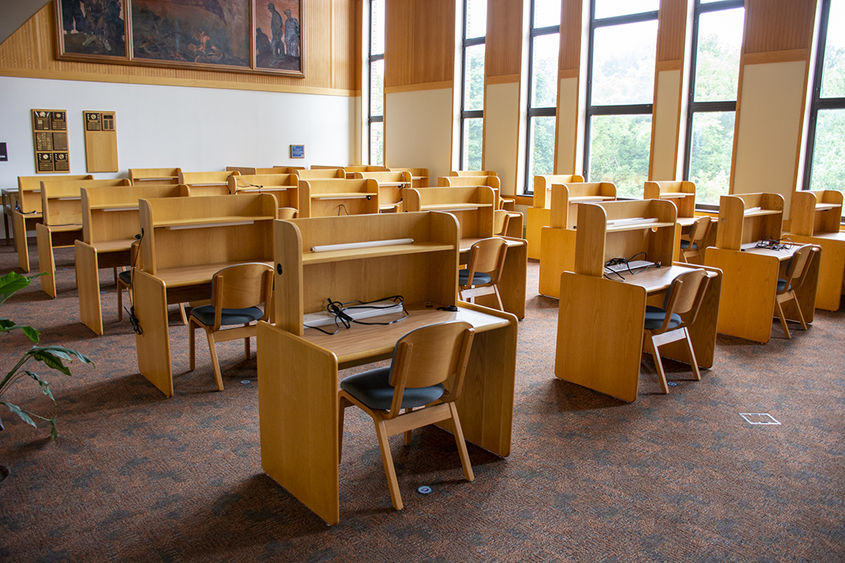 SCHUYLKILL HAVEN, Pa.  — As Penn Staters gear up to resume their studies this fall, Penn State Schuylkill has been working hard to prepare for students' safe return to campus. In addition to modifying campus facilities to optimize safety and mitigate the spread of COVID-19, the campus is installing technology to support and enhance remote-learning.
Students can expect to see the following when they return:
Classroom furnishings have been arranged to allow for social distancing.
Plexiglass shields have been installed in front of all classroom podiums.
Dividers have been installed in the Student Community Center and the science labs.
Individual tables and chairs that can be easily disinfected have replaced the fabric lounge furniture in the Health & Wellness Building atrium.
Walkways have been installed outside Morgan Auditorium and the gymnasium, allowing for one-way entrances and one-way exits from those spaces.
Additionally, touchless faucets will be installed in the bathrooms and 62 hand sanitizing stations will be available in high-traffic areas across campus.
To enhance the remote-learning experience and manage large classroom spaces while students and faculty practice social distancing, Penn State Schuylkill has augmented classroom technology to help faculty guide students through their courses while staying engaged.
Students and faculty will have access to the following classroom technology this fall:
Document cameras, known as HoverCams, which will facilitate hands-on learning, especially as students rotate into and out of science labs.
Touch screens at all podiums, which will act as a substitute for whiteboards and simulcast written information to in-person and remote learners.
Large projection screens, which have been installed in atypical classroom spaces such as the gymnasium to help students see presentations while social distancing.
Personally assigned microphones for faculty teaching in large spaces, which will keep our faculty safe because they won't have to share equipment, while also improving audio for remote learners and ensuring students who attend classes in person will be able to hear clearly.
Webcams, which will allow faculty to toggle views between the HoverCam and themselves.
Expanded wireless internet capacity across campus and spaces designated for students to participate in Zoom classes.
In addition, to reduce the need for shared technology in computer labs, students will use personal laptops or will borrow laptops from the University.
"The health and safety of our students, faculty, and staff is paramount," Penn State Schuylkill Chancellor Patrick M. Jones said. "These measures are designed to help keep everyone safe while allowing us to deliver the world-class education for which Penn State is known."
As staff work fastidiously to enact these changes, Penn State Schuylkill looks forward to the campus community's safe return.