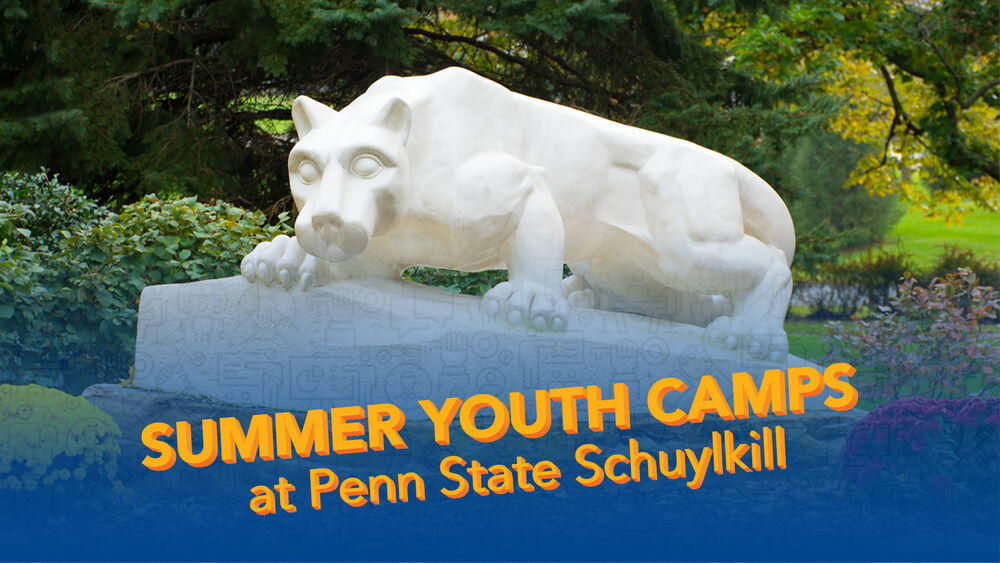 SCHUYLKILL HAVEN, Pa. – High schoolers looking to explore career paths in criminology, psychology, cybersecurity and coding will have the opportunity to participate in virtual summer camps offered by Penn State Schuylkill beginning in mid-July. The campus will also offer a book club that guides high schoolers through "The Giver" and "The Book Thief," contemporary classic novels exploring themes including morality and humanity.
"Although many plans have changed over the last few months, Penn State Schuylkill's desire to provide educational programming to our local youth remains steadfast," said Shannon Del Conte, the campus's director of community engagement. "This year's virtual programs provide insight into in-demand careers and connect youth in our communities with experienced, knowledgeable Penn State Schuylkill faculty and staff."
Virtual Summer Camps
Virtual Criminal Mind Camp, grades 9 through 12
Monday, July 13, through Friday, July 17 — 10 a.m. to Noon
This virtual camp is perfect for high school students interested in criminal justice and law enforcement careers, as well as those interested in learning more about the criminal mind. The curriculum focuses on motives and causes for crimes, including a psychological perspective, and the criminal justice system response. Campers will learn how the human psyche and crime integrate in this interdisciplinary learning experience led by Ronald Kelly, assistant teaching professor and program coordinator of administration of justice, and Cindy Drazenovich, instructor of psychology.
This camp features guest speakers, including psychologists and people who work in the prison system, and will explore:
how criminal theory and psychology inform how some people become involved in criminal activity while others do not
how psychological illness plays a role in crime
historic and infamous criminal cases
This camp is a $79 investment and is delivered via Zoom. Register for the Virtual Criminal Mind Camp here.
Virtual Cybersecurity and Coding Camp, grades 9 through 12
Monday, July 20, through Friday, July 24 — 10 a.m. to noon
Coding skills are among the most in-demand in today's job market, and campers can get their first taste of real-world experience in this 5-day workshop that will introduce participants to computer programming and computational thinking.
No prior coding experience is required to benefit from this workshop that will walk campers through basic and fun exercises using some of the most popular programming languages used today. This course will introduce participants to the basics and help them prepare for additional programming courses to enhance those basic skills. This camp is perfect for students who want to explore careers in fields such as:
cybersecurity
computer networking
video game design
database management
machine learning
robotics
With the fundamentals covered in this camp, students will be equipped to tackle whatever coding challenges they face next! Brian Gardner, camp instructor, will also guide students through cybersecurity basics. Cybersecurity is a rapidly growing field that deals with securing data against an ever-growing number of threats that often result in data loss and theft.
This camp is a $79 investment and is delivered via Zoom. Register for the Virtual Cybersecurity and Coding Camp here.
Summer Book Club, grades 9 through 12
Wednesdays, July 29 through Aug. 19 — 10 to 11:30 a.m.
We invite high schoolers to join Ciletti Memorial Library staff to participate in a virtual book club this summer. Students will read two contemporary classic novels, "The Giver" and "The Book Thief," and meet weekly to discuss what they've read. Library Supervisor Rosanne Chesakis and Circulation Assistant Marcella Cazonie will guide discussions regarding:
Is society as it appears?
The power of knowledge
Daring to be different
Humanity and dehumanization
Identity and morality
The Summer Book Club is a $25 investment and includes both books. Registration closes on July 22 to ensure that books arrive to participants in time. Register for the Summer Book Club here.
More from Penn State Schuylkill's Office of Community Engagement
For more information about youth programming and community engagement, professional development, and entrepreneurial events, visit Schuylkill's Office of Community Engagement webpage.