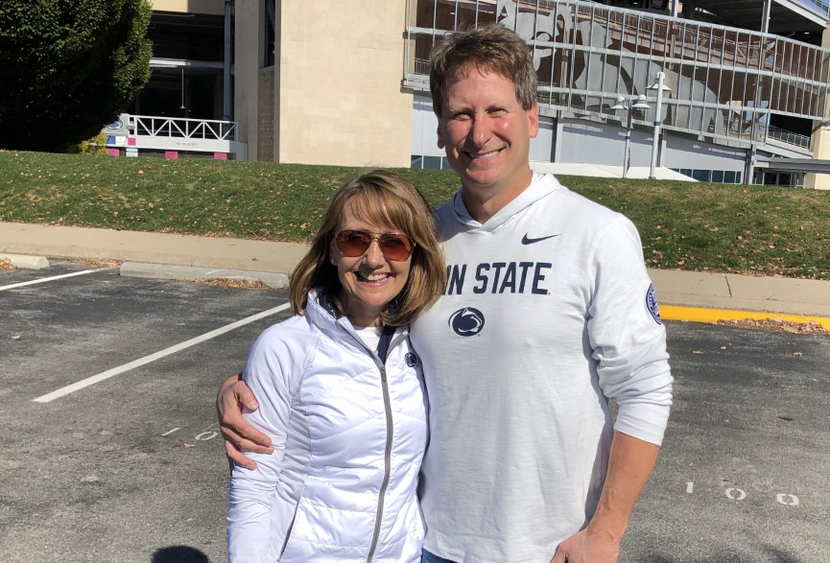 SCHUYLKILL HAVEN, Pa. -- A growing number of rural communities across the United States are facing shortages of lawyers, law clerks, doctors, nurses and other essential legal and medical professionals. Penn State alumna Dr. Kimberly Hashin and her husband Albert J. "BJ" Evans, Esq., recognize this challenge and have committed $25,000 to establish a scholarship at Penn State Schuylkill. It will award $5,000 annually over the next five years to encourage students from Schuylkill County to pursue careers in these critical fields in their hometown region.
The Dr. Kimberly Hashin and Atty. Albert Evans Scholarship at Penn State Schuylkill will be awarded to full-time undergraduate students who:
• are majoring in or planning to major in administration of justice, biology, or nursing,
• have achieved a grade point average of at least 3.5, and
• have a home address of record located in Schuylkill County, Pennsylvania. 
Hashin and Evans see this scholarship as a way to help support the development of qualified professionals in what they consider vital public services.
"BJ and I both believe that the medical and legal professions are critical services in small communities. By establishing this scholarship, we hope to encourage the next generation of attorneys and medical professionals in Schuylkill County," stated Hashin.
Evans added, "Our hope is that this scholarship will provide local students with the opportunity to obtain a college education and have a successful professional career right here in Schuylkill County. We would like to see them succeed and become our future business partners."
Hashin and Evans are both Schuylkill County natives -- Hashin is from Minersville and Evans from Schuylkill Haven -- who chose to return to the area to establish successful careers and raise their family. Hashin is a 1993 graduate of Penn State College of Medicine and a physician with Lehigh Valley Physician Group. She also serves as a member of the Penn State Schuylkill Campus Advisory Board. Evans is an attorney with Fanelli, Evans, and Patel, P.C., located in Pottsville, Pennsylvania.
"Kimberly and BJ are longtime supporters of Penn State Schuylkill who acknowledge the critical role of higher education in helping our communities thrive and maintaining a robust, vibrant workforce," emphasized Patrick M. Jones, Penn State Schuylkill chancellor. "We are grateful to the Hashin-Evans family for this generous gift that will change lives and invest in Schuylkill County's future."
Both Hashin and Evans come from families with strong support systems -- families that not only sustained their educational efforts, but also encouraged a sense of philanthropic responsibility.
"Our parents imparted on us the importance of generosity and to always help others," said Evans. "The people of Schuylkill County have been an important part of our successes. It is very gratifying to be able to give back to a community that has been so good to us."
Hashin and Evans live in Schuylkill Haven with their two children, 18-year-old Albe and 11-year-old Alan. Hashin comes from a Penn State family, and along with her parents, Mike and Cookie Hashin, is part of a proud tradition of Penn State football fans. Evans is the son of Bert and Josette Evans of the Evans Network of Companies located in Schuylkill Haven, themselves creators of several Penn State Schuylkill scholarships.
The Dr. Kimberly Hashin and Atty. Albert Evans Scholarship at Penn State Schuylkill will advance "A Greater Penn State for 21st Century Excellence," a focused campaign that seeks to elevate Penn State's position as a leading public university in a world defined by rapid change and global connections. With the support of alumni and friends, "A Greater Penn State" seeks to fulfill the three key imperatives of a 21st-century public university: keeping the doors to higher education open to hardworking students regardless of financial well-being; creating transformative experiences that go beyond the classroom; and impacting the world by fueling discovery, innovation, and entrepreneurship.
To learn more about "A Greater Penn State for 21st Century Excellence," visit greaterpennstate.psu.edu. To discuss ways to make a gift to Penn State Schuylkill, contact Eileen Kuperavage, director of development, at 570-385-6260.