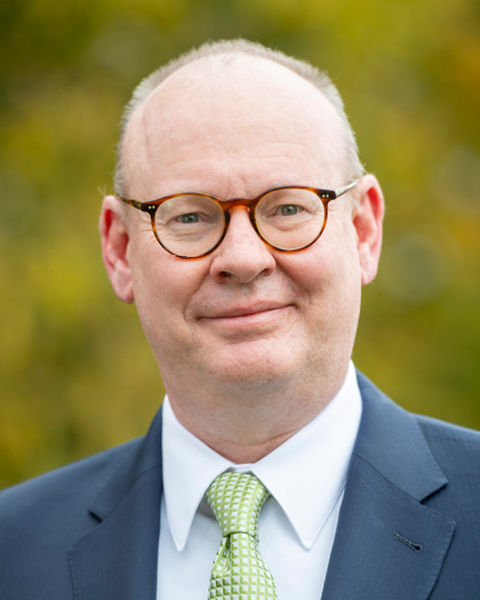 Kiefer-Jones Building, 113
200 University Drive
Schuylkill Haven, PA 17972
Biography

Dr. Patrick M. Jones is professor of music and chancellor of Penn State Schuylkill. During his tenure he has overseen the addition of degree programs in areas of great demand such as nursing, cybersecurity, and information technology, as well as upgrades to the campus' physical plant— including new laboratories for chemistry, nursing, and radiological sciences, a learning center, and technology and equipment upgrades to classrooms and recreation facilities. In addition, the campus partnered with the business and non-profit community to develop and launch Penn State Schuylkill Co-op in fall 2020.

Dr. Jones serves on the boards of directors of the Schuylkill Chamber of Commerce and Schuylkill Chamber Foundation, the Schuylkill Economic Development Corporation, tecBridge, and Primary Health Network—which is the largest Federally Qualified Health Center in Pennsylvania and serves over 70,000 patients annually in 17 counties. He also serves on advisory committees for Downtown Shenandoah's Center for Education, Business, and the Arts and the Schuylkill Family Medicine Rural Residency Program at Lehigh Valley Hospital–Schuylkill.

Dr. Jones served in a variety of academic and administrative roles prior to coming to Penn State, including Assistant Vice President for Academic Affairs at Drexel University, Director of Veteran Enrollment Practice and Director of the Setnor School of Music at Syracuse University, and Chair of the Music Education Department at Boston University. He has also held leadership positions in national and international scholarly societies, presented papers at academic symposia around the globe, and published book chapters and research articles in numerous peer-reviewed journals.

In addition to his academic career, Dr. Jones served for thirty years in both the Army and Air Force, retiring from the Air National Guard at the rank of Colonel. His assignments included serving as a musician, unit commander, and Chief of Air National Guard Bands and Advisor to the Air Force Director of Public Affairs. In this role, he led joint force and total force strategy, planning, and policy development, presidential budget submissions, and guided units toward readiness. As Chief of Bands, he was responsible for units across the country and a worldwide mission that included diplomatic outreach globally and troop entertainment in deployed locations throughout the Middle East, Central and Southwest Asia, and the Horn of Africa.

Dr. Jones holds a bachelor of science degree in music education from West Chester University, a diploma of fine arts in conducting and wind literature from the University of Calgary, a master of arts degree in conducting from George Mason University, and a doctor of philosophy degree in music education from Penn State University. He is also a graduate of the Armed Forces School of Music, Air National Guard Academy of Military Science, Squadron Officer School, Air Command and Staff College, and Air War College.

Patrick and his wife Karen Weiss Jones, director of development at Penn State Abington, are native Pennsylvanians and proud members of the Penn State family.