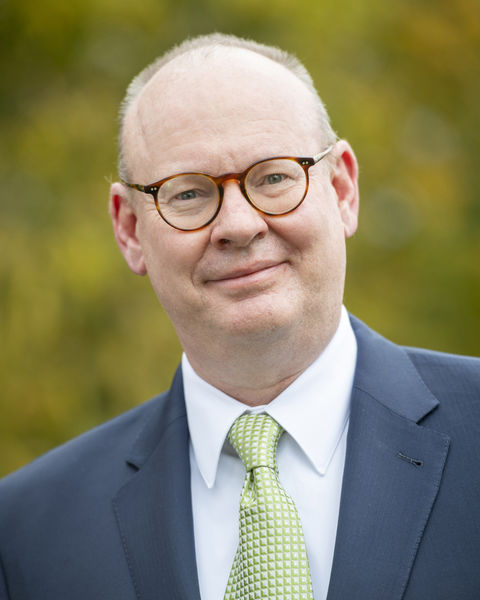 Office Location
Kiefer-Jones Building, 113
200 University Drive
Schuylkill Haven, PA 17972
Biography

Dr. Patrick M. Jones is chancellor of Penn State Schuylkill, and professor of music. As Chancellor, he serves as the chief executive officer and principal academic leader of the campus and is responsible for the quality of academic programs in teaching, research, and service; strategic planning; budgeting; philanthropy; faculty and staff development; outreach; and alumni relations.

Dr. Jones served in a variety of administrative roles prior to coming to Penn State, including Assistant Vice President for Academic Affairs at Drexel University, Director of Veteran Enrollment Practice and Director of the Setnor School of Music at Syracuse University, and Chair of the Music Education Department at Boston University. Dr. Jones has also held leadership positions in national and international scholarly societies, published research in numerous peer-reviewed journals, presented papers at academic symposia around the globe, and served as a member of editorial boards and an external reviewer for scholarly publications and research grants.

In addition to his academic career, Dr. Jones served for thirty years in both the Army and Air Force, retiring from the Air National Guard at the rank of Colonel. His assignments included being a musician, unit commander, and Chief of Air National Guard Bands/ANG Bands Advisor to the Air Force Director of Public Affairs. In this role he engaged in and led joint force and total force strategy, planning, and policy development, guided units toward readiness, managed budgets, and qualified personnel to become commissioned officers. As Chief of Bands he was responsible for units across the country and a worldwide mission that included diplomatic outreach globally and troop entertainment in deployed locations throughout the Middle East, Central Asia, and the Horn of Africa.

Dr. Jones holds a Bachelor of Science degree, cum laude, in music education from West Chester University; a Diploma of Fine Arts in conducting and wind literature from the University of Calgary; a Master of Arts degree in conducting from George Mason University; and a Doctor of Philosophy degree in music education from Penn State University. He is also a graduate of the Armed Forces School of Music, Air National Guard Academy of Military Science, Squadron Officer School, Air Command and Staff College, and the Air War College.

Patrick and his wife Karen Weiss Jones, director of development at Penn State Abington, are both native Pennsylvanians and proud members of the Penn State family.